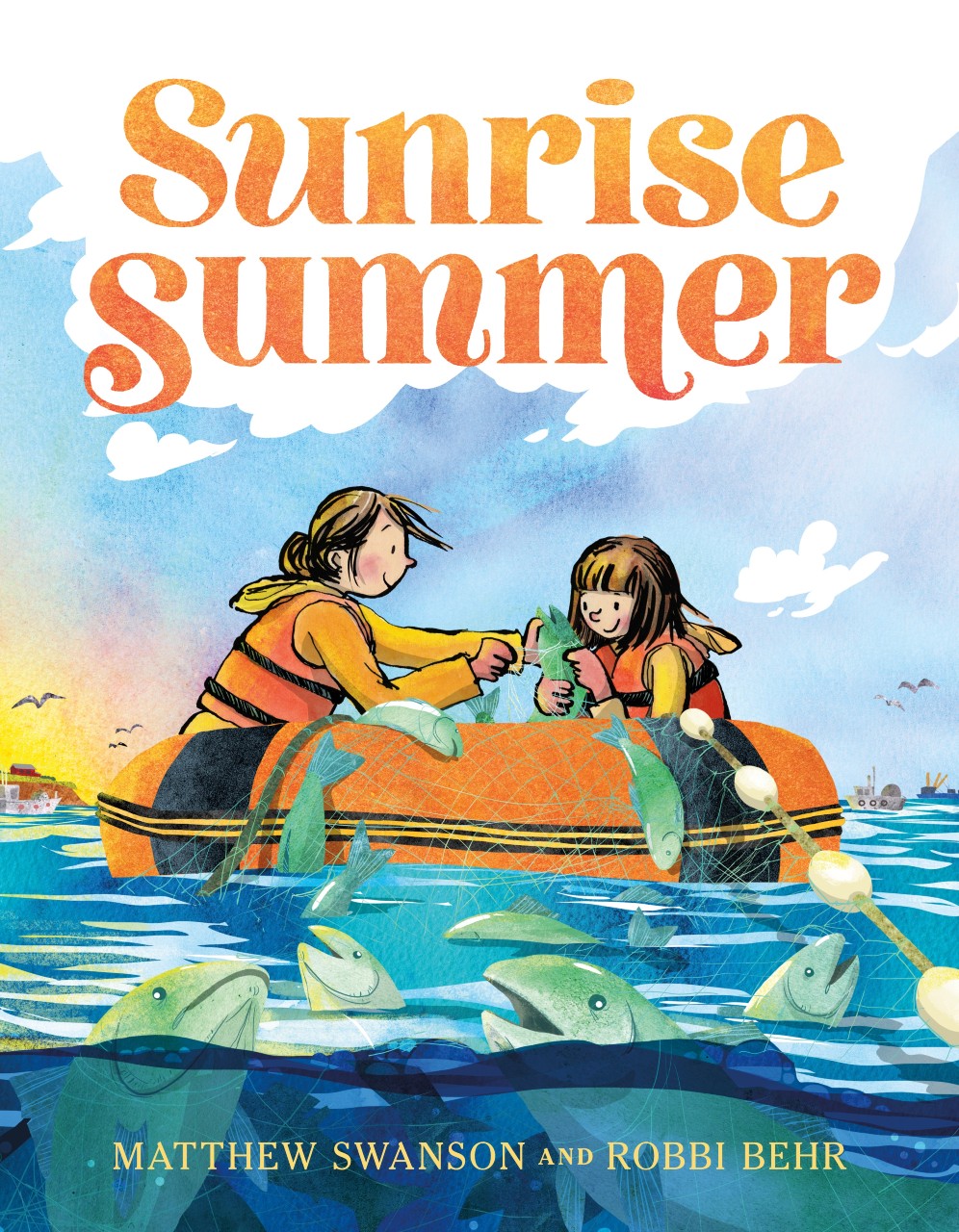 Title: SUNRISE SUMMER
Author: Matthew Swanson and Robbi Behr (Illustrator)
Pub. Date: April 20, 2020
Publisher: Imprint
Formats: Hardcover, eBook
Pages: 48
Find it: Goodreads, Amazon, Kindle, B&N, iBooks, Kobo, TBD, Bookshop.org
Sunrise Summer is a surprisingly personal picture book about one family's summer fishing in Alaska. Unlike many other stories about summer adventures, the family in this book spends their holiday fishing for salmon – a profession and process that many children and their parents probably haven't thought much about. Told from the perspective of an unnamed young girl (who is later revealed to be based on the authors' own daughter), Sunrise Summer tells the story of the first summer she's old enough to go out fishing with her family.
Sunrise Summer is a great book that really captures how excited the authors' are about this rather unique summertime profession their family enjoys. I love the pride their main character takes in her family's work and being old enough to participate. The book explains both her part in the fishing crew and salmon fishing process in simple, easy to understand ways which kept even my six year old (who has never even seen a fish in open water) focused on the story. And she was so interested in what it was the little girl was doing that we read through the authors' informative last few pages which talk a lot more in depth about salmon fishing, conservation and more!
Robbi Behr's illustrations are phenomenal and capture both the natural beauty of the Alaskan landscape as well as the finer, unique details that go into the salmon fishing scenes. You can tell a lot of love and care went into them and the illustrations tell as much or even more of the story than the words themselves. And I really just love how happy the girl in the book always looks – even when things are tough. It's great – and empowering for young readers who may not see themselves as the fishing type before seeing how much she loves it!
I was really excited to check this book out just because I love Matthew Swanson and Robbi Behr's work (check out their highly illustrated series, The Real McCoys!) but I guess I never expected this to be an autobiographical story about their own family! Who knew they had such a cool and unique summer job on top of writing and illustrating?
About the Book
When a girl and her family travel four thousand miles from home, it's not your typical summer vacation. Everything is different on the Alaskan tundra–where the grizzly bears roam and the sockeye salmon swim–including the rules. A girl can do things she wouldn't, and couldn't, do at home.
She can wake up at midnight to work with her mom on a fishing crew. She can learn what it means to be an essential part of a team. She can become a braver, stronger, and ever-more capable version of herself. She can take her next big step.
She's ready for her first real sunrise.
Praise for Sunrise Summer
"[The narrator's] eagerness and pride over being part of this work is palpable, and each moment feels important, locked in Behr's artwork as an individual frame among many or as a sweeping two-page spread that captures its magnitude and beauty. The excellent back matter reveals that this story is about the creators' own family, laying out their history as commercial salmon fishers, protections in place to prevent overfishing, and how some Alaska Natives continue to catch salmon according to their traditions. Eye-opening and awesome." —Booklist, starred review
"With irrepressible enthusiasm and an astute sense of detail, the child recounts the elaborate preparations (almost all supplies have to be brought in), the connection to nature and a close-knit community, and the grueling but exciting work itself. . .Readers may not be ready to sign on, but they'll feel grateful for being afforded a spectacular front-row seat." —Publishers Weekly, starred review
"Paired with ebullient first-person prose, the illustrations immerse readers in the changing colors of the sky and waves throughout the thrilling event . . . An informative first-person story that combines family history with STEM concepts for a summer to remember." —Kirkus Reviews

"Detailed and vibrant illustrations . . . This is an engaging tale about a summer vacation that is far from ordinary." —School Library Journal
Giveaway
3 winners will receive a finished copy of SUNRISE SUMMER, US Only.
a Rafflecopter giveaway
About Robbi & Matthew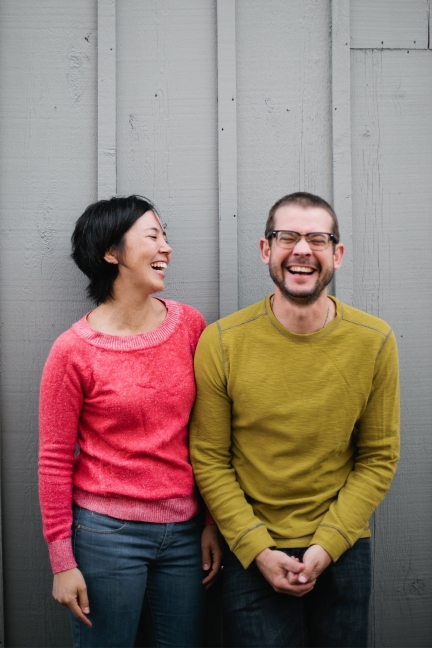 When Matthew Swanson and Robbi Behr aren't making books (Babies Ruin Everything; Everywhere, Wonder; and the Real McCoys series) and raising kids (four, so far, which is probably enough), they run a commercial salmon fishing operation on the Alaskan tundra, where Robbi has spent every summer since she was two years old.
Website | Twitter | Facebook | Instagram
Tour Schedule
Week Two: