A REVIEW COPY OF PINOCCHIO: THE SIGNATURE COLLECTION EDITION ON BLU-RAY COMBO PACK WAS PROVIDED BY DISNEY AND FINGERPAINT MARKETING IN EXCHANGE FOR A FAIR AND HONEST REVIEW. NERDOPHILES WAS IN NOT COMPENSATED FOR THIS REVIEW. OUR OPINIONS ARE OURS AND OURS ALONE.

Pinocchio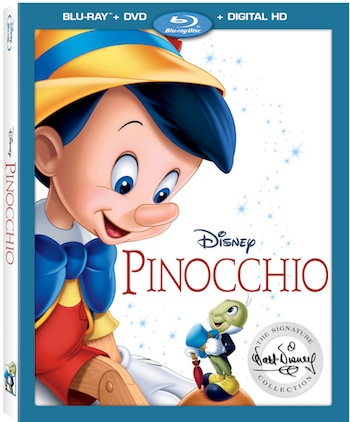 Release Date: January 31, 2017
Cast: Cliff Edwards, Dickie Jones, Christian Rub, Evelyn Venable
Director: Ben Sharpsteen and Hamilton Luske
Studio: Walt Disney Productions
Extra Feature Rating: ★★★☆☆
Rating: ★★★☆☆
Format: Blu-Ray Combo Pack
Review Spoilers: Low
Amazon | IMDB | Wikipedia | RT
If you haven't watched Pinocchio in a while, now is the perfect time to revisit the Disney classic about the little wooden puppet who dreams of being a real boy. While this isn't the first blu-ray release of Pinocchio it's been a while since you've been able to buy this movie in stores. The Diamond Edition series skipped over the film despite Pinocchio being one of Walt Disney's very first animated features so it's been in the vault for about six years now. Luckily the Signature Collection has brought it back for a whole new set of viewers to enjoy!
It has probably been well over a decade since I've seen Pinocchio and I have to admit it was a lot of fun rewatching it.
Pinocchio really is a timeless story. It's a story about love and family – and struggling to tell right from wrong. Even though at times it seems like one of the less appreciated Disney classics, Pinocchio is a film that has had a lot more of an influence on the history of Disney and our general appreciation of the company in general than I think most people realize.
We all know Pinocchio, Jiminy Cricket, and Geppetto. The characters and the story are iconic. And even years later I had no problem singing along to the iconic "When You Wish Upon A Star" and the upbeat "I've Got No Strings." (The original definitely beats the creepy version of "I've Got No Strings" that they used in the Age of Ultron trailers!)
If you're in the mood for a feel good film (and these days who isn't) then it might be time to revisit Pinocchio. Just don't get caught up in the creepier plot points… like Pinoccho repeatedly getting kidnapped or little children being turned into donkeys. Or the questionable themes of some of Geppetto's cuckoo clocks. Just be happy for Pinocchio that he's a real boy and for Geppetto who finally has a family of his own!
Special Features
One of the hard parts about re-releasing such a classic film is undoubtedly that it has been re-released so many other times now. Coming up with new special features and finding ways to make them stand out among the many others that came before has to be hard.
Unfortunately, the Signature Collection special features are a little hit or miss. While there are a couple pretty good featurettes, the real gems are the 'classic' special features from earlier home releases of Pinocchio.
Of the four new special features created for the Signature Collection, the two best ones are Walt's Story Meetings: Pleasure Island and In Walt's Words: Pinocchio. I absolutely love these featurettes and they are a continuation of a series started with the Signature Collection release of Snow White.
The Pleasure Island story meeting is recreated from transcripts kept in the Disney archives of an actual meeting Walt and his people had to discuss what became the fairly creepy Pleasure Island sequence. The recreated audio is matched with storyboards and other archival material. It's really cool to hear them talking about their plans for 'Boobyland' (the original name for the island) and you get to hear a discussion about a whole song that was cut out of the film – "Three Cheers for Anything!"
Meanwhile, the In Walt's Words featurette follows a similar style. It is a mix of audio recordings of Walt himself discussing Pinocchio in interviews set against a backdrop of photos from production, animation, and archival footage of the work on the film. This featurette really helps put the effect that Pinocchio had on the company and the history of animation. There's even a brief discussion about the Disney war effort, the effects of the war on people's day to day life.
Sadly, the other two special features are rather forgettable.
To celebrate the Signature Collection release of Pinocchio, Disney reached out JR Aquino, Tanner Patrick, and Alex G – three popular artists on Youtube – to help create a new, unique version of the iconic "When You Wish Upon A Star."
Dubbed The Pinocchio Project: "When You Wish Upon A Star," you get to see the three of them collaborating (two in person, one via Skype) and then the final product. It's only a few minutes long so it's worth watching if you're bored. I'd say the same thing about the final special feature, Oswald the Lucky Rabbit in "Poor Papa" but it at least has a lot more historical significance. Who can pass up a look at some of Walt's earliest work with his poor, abandoned (and now reclaimed) original creation – Oswald the Rabbit?
Really, the classic special features are what save this release.
The absolute best special feature is a nearly one-hour long documentary discussing the creation of Pinocchio. This one covers all the bases. Modern filmmakers and Disney histories discuss the film, the way it influenced the company moving forward, and more. They share storyboards, discussions of the original Pinocchio serialized stories, and discuss the actual process of making the film. It's really cool to watch and, honestly, if you only watch one special feature on this release you should probably pick this one.
There are two other really cool making-of featurettes included, too. One is about "The Sweatbox" – a projector room where Walt Disney gathered his people around him to watch and criticize various projects. It was a crucial part of the editing process for old school Disney films and it's really neat to see how Walt used this review process to piece together the Disney classics we lover.
Even cooler, though, is a featurette from the Disney archives. Possibly used as an instructional video for Disney employees, the film is about nine or ten minutes long and describes the process of building sets and creating live action references for animators creating the movie scenes we've all come to know and love. The example they use is Jiminy Cricket coming through Geppetto's window and it shows how they made a giant window and let a real human climb through it to help create animation references for scale and depth. How awesome is that?
There are a few other classic features including three deleted scenes, some of the original film trailers, a featurette on modern toymakers, and more. There's also an audio commentary in the Signature Collection special feature menu if you're a commentary fan.
Final Thoughts
I'm really glad that Pinocchio has finally made it's way back out of the Disney vault. Admittedly, this release could have been better. Don't get me wrong. I will always recommend that you pick up the latest release of pretty much any Disney film because you never know when it might go back into the vault again. Since Pinocchio was skipped over in the last string of classic re-releases, you may not want to risk missing it this time around.
Still, I wish that the special features for the Signature Collection release were a bit more worthwhile. The classic features help to make up for them but other than giving you another chance to own the film, this edition doesn't have much to offer. Pick it up to fill out your Disney collection and to get the digital code fro Disney Movies Anywhere if you need it. But if you have the earlier Platinum blu-ray release, you don't really need to upgrade.