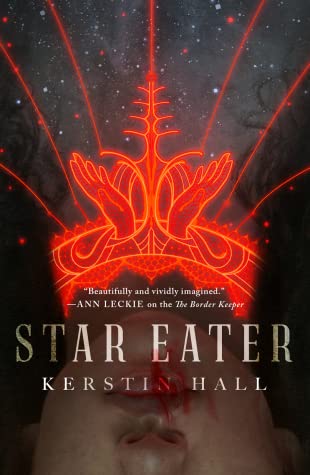 Title: Star Eater
Author: Kerstin Hall
Publication Date: June 22, 2021
Find it: Goodreads | Amazon
Synopsis:
Elfreda Raughn will avoid pregnancy if it kills her, and one way or another, it will kill her. Though she's able to stomach her gruesome day-to-day duties, the reality of preserving the Sisterhood of Aytrium's magical bloodline horrifies her. She wants out, whatever the cost.
So when a shadowy cabal approaches Elfreda with an offer of escape, she leaps at the opportunity. As their spy, she gains access to the highest reaches of the Sisterhood, and enters a glittering world of opulent parties, subtle deceptions, and unexpected bloodshed.
A phantasmagorical indictment of hereditary power, Star Eater takes readers deep into a perilous and uncanny world where even the most powerful women are forced to choose what sacrifices they will make, so that they might have any choice at all.
Nerdophiles Review:
No one can say the premise of Kerstin Hall's Star Eater isn't unique.
The book follows a magical nun in a futuristic, dystopic, floating city; she is a member of a secretive Sisterhood that runs society and fights men who have succumbed to a wasting disease that transforms them into vicious monsters.
Oh, and the magic nuns are also cannibals.
The Sisterhood requires mothers to be 'martyred,' or put into comas so that the younger nuns can feed off their flesh to replenish their magic powers.
When Elfreda becomes involved in a series of high-profile political murders, she realizes that secrets about herself and her society are entwined and that she is the key to the survival or destruction of her Sisterhood.
Star Eater is a sci-fi murder mystery action book wrapped in a fantasy-horror shell. The murder mystery action is the main driving force, and the cannibalistic nuns and the monstrous men are colorful window-dressing. It won't be to everyone's taste (ha!), but it does a great job of blending the genres seamlessly.
This book was borderline too scary for me, especially since I read it at night! I personally didn't love the horror aspects of the cannibal scenes, and there is also a potentially triggering scene that describes a ritualistic rape (think Handmaid's Tale). The actual cannibalism is only described in greater detail once, and then more glossed over the subsequent times it happens.
My other complaint is that while some aspects of the world-building were done very well, others were slap-shod. I didn't even realize the city was floating until near the end of the book. The ending was very abrupt, and the consequences of the resolution weren't made very clear.
Overall, Star Eater is one of the most unique YA books I've read in a long time – it felt immersive and intriguing, even in its weaker moments, and I recommend it for readers with a taste for action, mystery, and horror.