I love The Real McCoys! When I first checked out this series I didn't expect to have nearly as much fun as I did with it. As much as I enjoy middle grade books I usually don't stray into the contemporary or mystery genres too much. (Seriously, I'm only now picking up my first Diary of a Wimpy Kid book like a dozen or so titles in.) But, wow, these books are next level fun.
The characters are quirky, the stories are engaging, and the books are just generally fun all around. But then you add in the illustrations and you have what is effectively a can't miss series. Unlike a lot of books, the illustrations don't just compliment the story but they offer a completely new avenue in which the story can be told.
And I mean that literally.
At times the prose is literally in the illustrations which makes the reader almost a part of the experience. Whether the story is told overtop an ice cream cone or a plain page it's super fun to be a part of the story. And let's be real: there are no fully blank pages. There are comics of the characters, maps, diagrams, illustrations of evidence and more. Sometimes you might turn the page a bit, sometimes you might be reading in between illustrations of faces.
It's just incredibly fun.
I have a hard time getting my oldest to read through some of the books I've gotten but this one had him hooked from the first page I showed him. I've shown friends at work who probably haven't looked at a middle grade novel since they were in elementary or middle school themselves and even they agree: these books just look cool.
The Real McCoys series is the real deal. It's perfect for kids who love highly illustrated books because there are literally illustrations all over the place. But it's also a fun, captivating read for kids who love mysteries and love a good dose of humor. I love this series and I think your young readers will, too!
The Books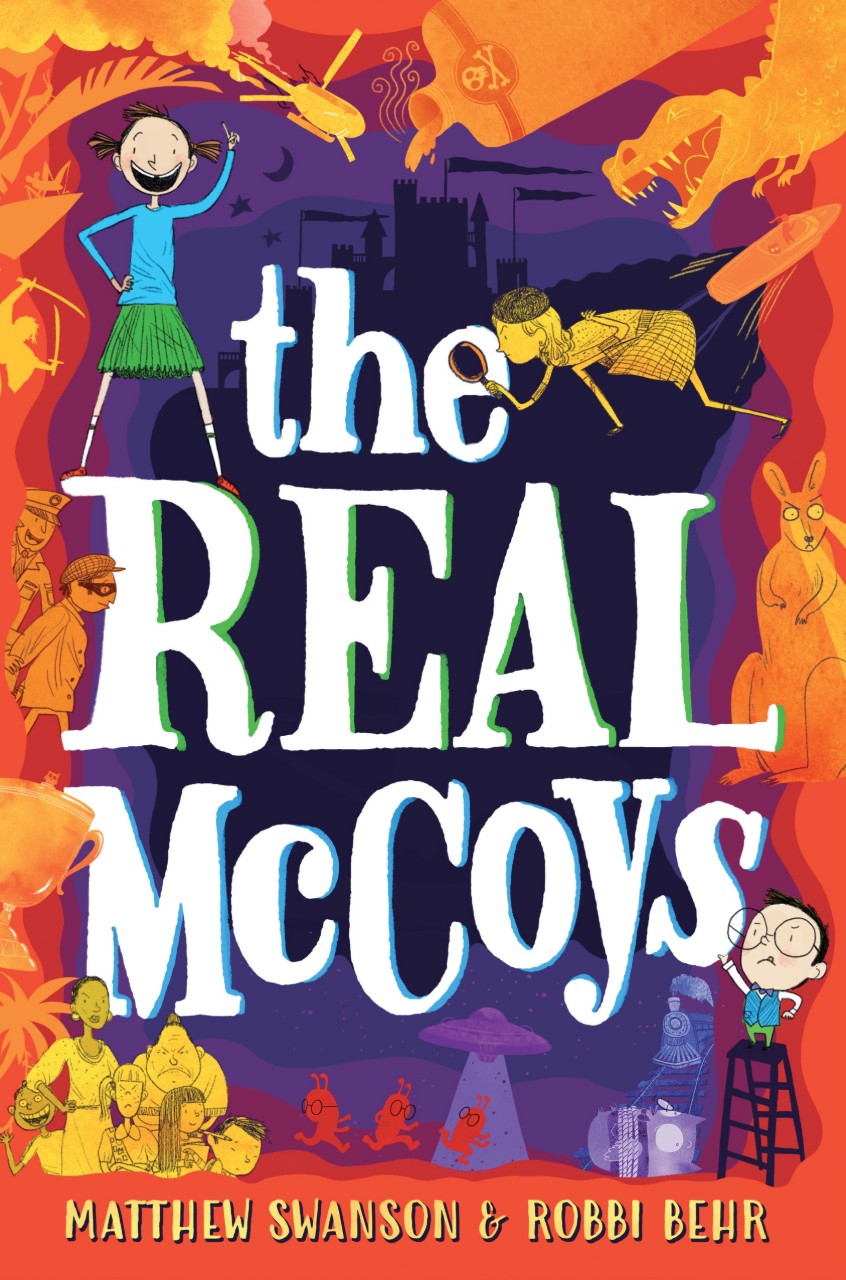 Title: The Real McCoys
Series: The Real McCoys #1
Author: Matthew Swanson and Robbi Behr (Illustrator)
Pub. Date: November 7, 2017
Publisher: Imprint
Formats: Hardcover, paperback, eBook
Pages: 336
Find it: Goodreads, Amazon, Kindle, B&N, iBooks, Kobo, TBD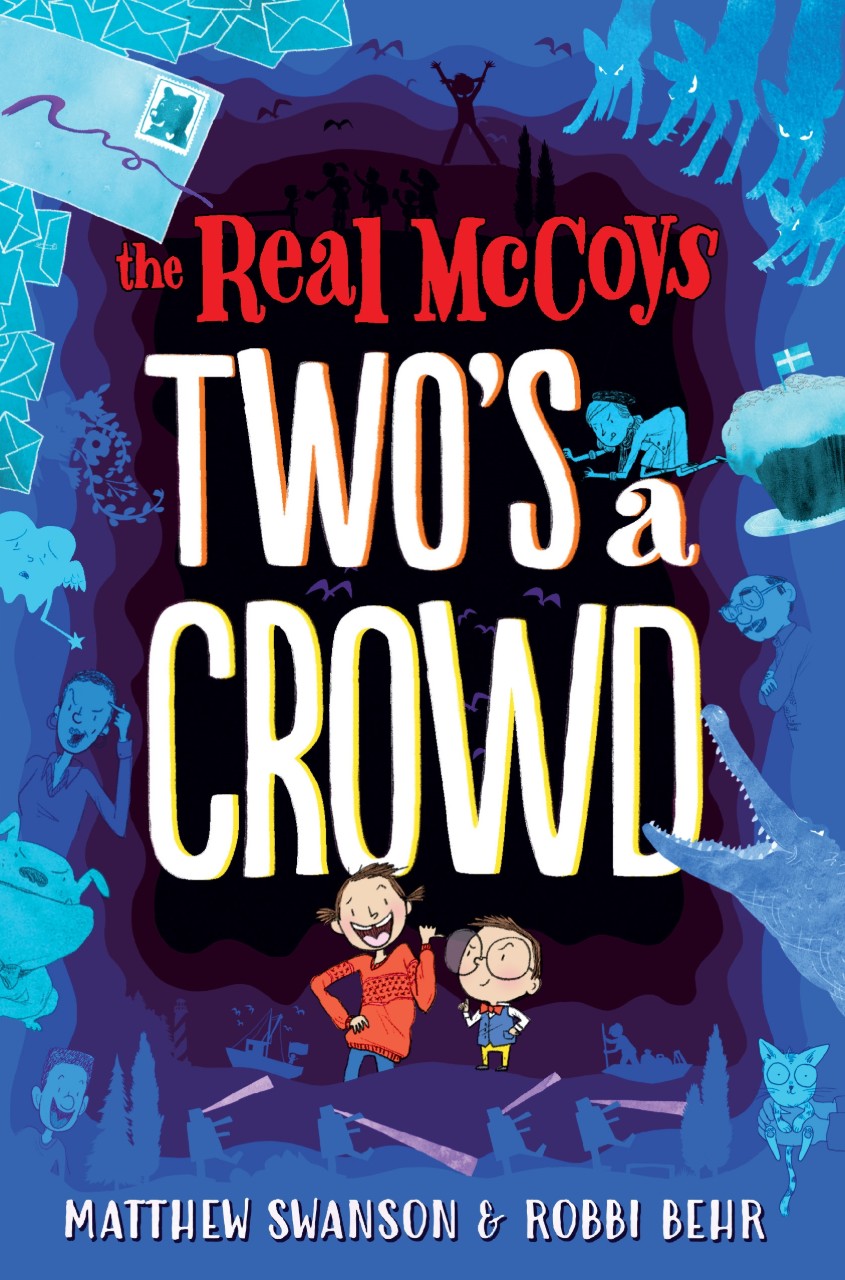 Title: The Real McCoys: Two's A Crowd
Series: The Real McCoys #2
Author: Matthew Swanson and Robbi Behr (Illustrator)
Pub. Date: November 6, 2018
Publisher: Imprint
Formats: Hardcover, paperback, eBook
Pages: 336
Find it: Goodreads, Amazon, Kindle, B&N, iBooks, Kobo, TBD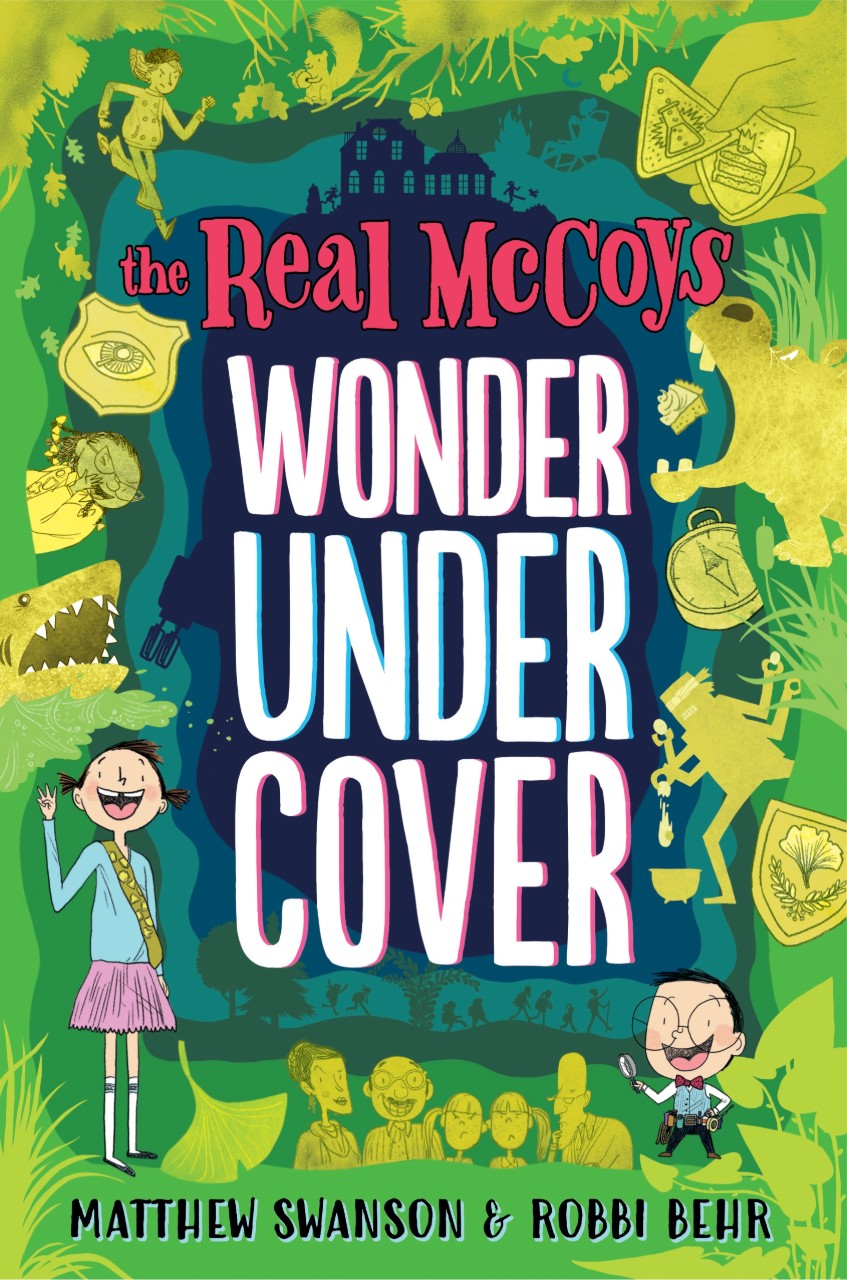 Title: The Real McCoys: Wonder Undercover
Series: The Real McCoys #3
Author: Matthew Swanson and Robbi Behr (Illustrator)
Pub. Date: November 5, 2019
Publisher: Imprint
Formats: Hardcover, eBook
Pages: 352
Find it: Goodreads, Amazon, Kindle, B&N, iBooks, Kobo, TBD
Giveaway
Enter this giveaway! You want to read these books. If you only enter one of the book tour giveaways we post make it this one. I cannot overstate how much fun these books are to read!
a Rafflecopter giveaway
Synopsis for 'The Real McCoys'
Her name's Moxie. Moxie McCoy.
Bold, opinionated, and haplessly self-confident, the world's greatest fourth-grade detective faces her biggest challenge! When someone kidnaps beloved school mascot Eddie the Owl, Moxie is on the case–but she's forced to fly solo now that her best friend (and crime-solving partner) has moved away.
Moxie must interview her classmates–both as potential new best friends and as possible suspects. She finds clues and points fingers but can't save the owl on her own. Enter Moxie's little brother, Milton. Quiet, cautious, and boring as a butter knife, he's a good listener.
Can the Real McCoys form an unlikely alliance and solve the crime of the century?
Praise for 'The Real McCoys'
"A marvelous standalone sequel that will inspire random acts of kindness." —School Library Journal, starred review

"An outstanding, truly unique reading experience." —Booklist

Praise for The Real McCoys:

"Readers will breeze through this ingenious combination of text and art, eager for Moxie and Milton's next case." —School Library Journal, starred review

"Swanson's witty text is enhanced exponentially by Behr's bold, original artwork to create a uniquely told whodunit with wide appeal … An exceptional book." —Booklist, starred review

"Delightfully topsy-turvy…readers will hope to see more of both siblings soon." —Publishers Weekly, starred review

"An exceptional middle-grade read packed with giggles for young sleuths who love to explore a little off the beaten path." —Kirkus Reviews

"An ingenious new series…an innovative reading experience that surprises and delights. Wordplay, witty descriptions and visual jokes abound." —The Washington Post

"Swanson and Behr have created a gem with this hilarious elementary-level read with graphic novel tendencies." —The Bulletin of the Center for Children's Books

"This clever, funny, delightful book is just what this crazy world needs. The surprising and inventive interaction between text and illustration shows that two brains are, indeed, better than one–especially when they belong to Matthew Swanson and Robbi Behr." —Andrea Beaty, #1 New York Times bestselling author of Ada Twist Scientist

A Junior Library Guild Selection
About the Creators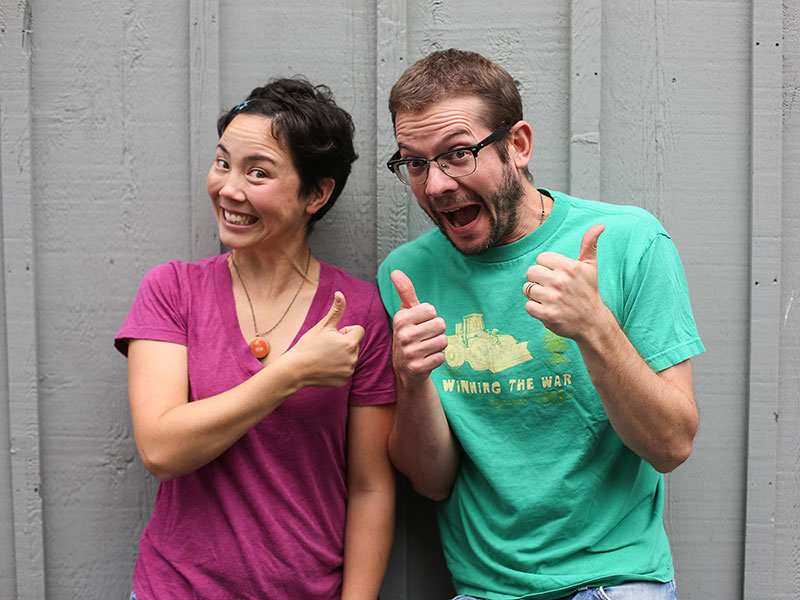 WE ARE MATTHEW SWANSON AND ROBBI BEHR—
A WRITER/ILLUSTRATOR, HUSBAND/WIFE, TASKMASTER/LOAFER DUO
WE LIVE AND WORK AND MAKE STUFF TOGETHER IN THE HAYLOFT OF AN OLD BARN ON THE EASTERN SHORE OF MARYLAND.
Combining Robbi's illustrations and Matthew's words, we run two small presses— Idiots'Books (illustrated picture books for adults) and Bobbledy Books, (a picture book and music club for kids). Together, we have published more than 60 volumes, including titles with Macmillan, Chronicle Books and LB Kids. We speak, teach, and run workshops on collaboration and creative entrepreneurship (with appearances at TEDx, Mom 2.0,Alt Summit, and ICON7). And we blog about our ongoing adventures in creative mishap.
ROBBI BEHR
is an illustrator/print maker/commercial salmon fisherwoman who earned a BA from Williams College and an MFA from the Savannah College of Art and Design. When she is not drawing stuff or eating ice cream or watching sappy late-90s chick movies, she is, in all likelihood, fast asleep.
Twitter | Facebbok | Instagram | Pinterest | Goodreads
MATTHEW SWANSON
is a writer/art director/blues harmonica player who has so far failed in every attempt to be swashbuckling. He managed to secure a BA from Williams but was summarily rejected from every MFA program to which he applied—thus emboldening Robbi to remind him almost daily that he is a master of nothing.