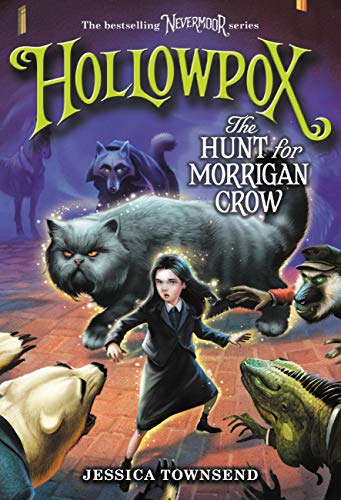 Title: HOLLOWPOX: THE HUNT FOR MORRIGAN CROW
Series: Nevermoor #3
Author: Jessica Townsend
Pub. Date: October 27, 2020
Publisher: Little, Brown Books for Young Readers 
Formats: Hardcover, Paperback, eBook, Audiobook
Pages: 560
Find it: Goodreads, Amazon, Kindle, Audible, B&N, iBooks, Kobo, TBD, Bookshop.org
I love Jessica Townsend's Nevermoor series and I could not be more thrilled to be a part of the Hollowpox book tour! There are few book series that I have loved as much as this one. Full of adventure, magic, friendship, and a good dose of absurdity, the Nevermoor series has kept me hooked from the very moment I cracked open the first book. Hollowpox: The Hunt for Morrigan Crow – the third book so far in the series – was no different. I was glued to the pages from start to finish.
For those of you who haven't had the chance to venture into the world of Nevermoor yet, the series follows a girl named Morrigan Crow who was once believed to be cursed (and fated to die) who instead finds herself whisked away to a strange, magical world by a very odd man named Jupiter North. She learns to believe in herself and embrace her own incredible (and potentially dangerous) abilities. Along the way she makes friends, finds a family in the strange denizens of Jupiter's absurd hotel, and finds a home in Nevermoor.
Now, if you haven't read the first two books, I'll try to stay somewhat vague but still be wary of reading too much of this review. That said, even readers who are familiar with the series will be surprised by Hollowpox – or really any of the books. Each of the Nevermoor books introduces readers to some new aspect of the world of Nevermoor, the often kooky Wunderous Society, and the mysterious power of Wunder itself.
It's honestly impressive how craftily Jessica Townsend manages to open up whole new dimensions of a world readers already think they know. And she does it in such a way that it seems almost natural. The reader, along with Morrigan, are being introduced to all of these new, crazy, unbelievable things – and we're all happy to go along with it.
Without giving too much away, Hollowpox is actually a surprisingly timely continuation of Morrigan Crown's adventures. The book tackles issues that young readers will find both relevant and contemporary while also delving deeper into the various aspects of Nevermoor. Like the books that have come before it, it's a non-stop thriller that will keep readers young and old alike frantically flipping pages until the very end.
I really cannot speak highly enough about this series. I've said it before and I'll say it again – Nevermoor deserves to be this generation's Harry Potter. We're three books in now and I hope that the series reaches even more readers. With the holidays coming up (and a Trick-or-Treat-less Halloween looming) it's the perfect series to pick up for the young reader or even adult fantasy lover in your life!
Seriously, though, read these books! And check out the giveaway below for a chance to win a copy of Hollowpox!
About the Book
The captivating and heart-pounding third book in the instant New York Times bestselling Nevermoor series, as heroine Morrigan battles a new evil.
Morrigan Crow and her friends have survived their first year as proud scholars of the elite Wundrous Society, helped bring down the nefarious Ghastly Market, and proven themselves loyal to Unit 919. Now Morrigan faces a new, exciting challenge: to master the mysterious Wretched Arts, and control the power that threatens to consume her.
But a strange and frightening illness has taken hold of Nevermoor, turning infected Wunimals into mindless, vicious Unnimals on the hunt. As victims of the Hollowpox multiply, panic spreads. And with the city she loves in a state of fear, Morrigan quickly realizes it's up to her to find a cure for the Hollowpox, even if it will put her – and everyone in Nevermoor – in more
danger than she ever imagined.
"Townsend…immerses her readers in a world that intermixes the magic of the Emerald City with Howl's pithiness, Percy Jackson's humor, Coraline's darkness, and perhaps a dash of the depravity of Katniss' District One. Fantasy fans will not be disappointed."—Kirkus Reviews, starred review.
Giveaway
a Rafflecopter giveaway
About the Author
Jessica Townsend lives on the Sunshine Coast in Australia, but has lived on and off in London for a few years. She was a copywriter for eight years, and in a previous role, was the editor of a children's wildlife magazine for Steve Irwin's Australia Zoo. She is the author of Nevermoor: The Trials of Morrigan Crow, Wundersmith: The Calling of Morrigan Crow, and Hollowpox: The Hunt for Morrigan Crow.