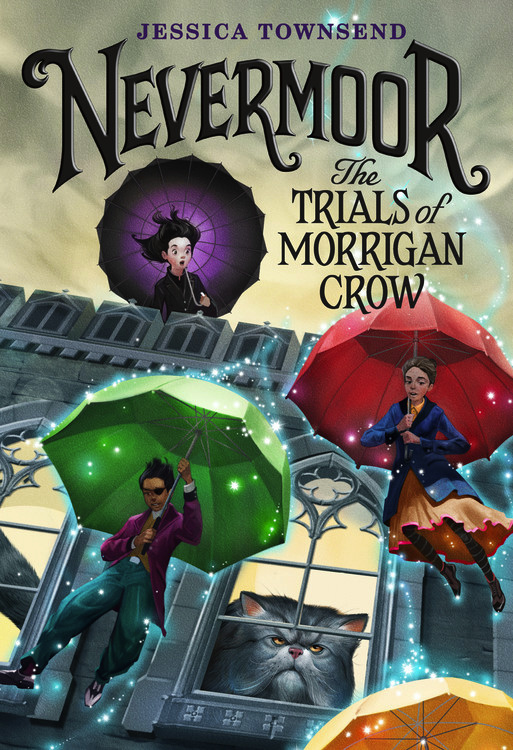 Title: Nevermoor: The Trials of Morrigan Crow
Series: Nevermoor #1
Author: Jessica Townsend
Release Date: October 31, 2017
Publisher: Little, Brown Books for Young Readers
Review Spoilers: Low
GoodReads | Amazon


Rating:
One of our favorite middle grade novels of 2017, Nevermoor: The Trials of Morrigan Crow is the start to an amazing new series that will keep young readers hooked from start to finish. I loved every moment of it and I can honestly say that Nevermoor basically has everything we could hope for in a middle grade fantasy.
Nevermoor follows an eleven year old girl named Morrigan who lives in a fantastic world where magic exists at least to a small degree. At the very least curses exist and Morrigan herself is one of the curse children doomed to die at a young age. In the meantime everyone in her home state is given free reign to blame her for all of their problems. And yet Morrigan doesn't want to die even though it seems inevitable.
When her pre-determined passing comes early she's absolutely devastated until a strange man named Jupiter North comes to whisk her away to a strange land known as Nevermoor. There she learns that she may not just get to live but she may be able to stay in Nevermoor forever – as long as she can pass the trials to join the mysterious Wundrous Society. The problem is that people who get in generally have some kind of outrageous talent and as far as she knows she has none. But going home could mean certain death so she's determined to pass the trials and get admitted.
Of course, that's easier said than done especially when you didn't grow up in Nevermoor.
Nevermoor is an insane place where magic runs rampant. People travel by umbrella and either use them to hook on to high-speed public transportation or just to jump off the top of buildings for special occasions. The Hotel Duecalion where Jupiter and Morrigan live has a 'smoking room' filled with mood-changing, scented smoke and a giant talking cat housekeeper. And Morrigan's best friend and fellow Wundrous Society hopeful just happens to be a dragon riding prodigy.
The world of Nevermoor is just as exciting to explore as the story is to read!
Of course, the story is pretty great, too.
Morrigan Crow is a fantastic heroine and I fell in love with her from the beginning. She's such a precocious child and she has this sense of both wonder and determination throughout. So much of Morrigan's life had been pre-determined and coming to Nevermoor opened up some many possibilities she never would have even hoped to dream about.
One of the things that made the book feel so real to me (despite the obvious fantastic overtones) was the fact that Morrigan is still in the dark throughout so much of the book. She does some amazing things and tackles all of her trials to the best of her ability. But… let's just say that Jupiter is not the most straight forward patron. Despite it all she trucks along through all the impossible situations and shocking revelations that come.
Her relationships with her friends and Jupiter – who become her surrogate family – are a great part of the book. There's actually a fair amount of 'down time' throughout the story in which she really starts to connect with people. I really appreciated that because those moments also allow the reader to explore more about the world of Nevermoor as Morrigan learns these things from her friends.
There's just so much about this book I enjoyed. It's fun and quirky and clever. The characters are amazing and I loved every one of them from Morrigan to Jupiter to Hawthorne and Fen and Jack. And there are some really great reveals throughout that pay off in a big way. It's just such a solid book that I still think about and love every moment. Nevermoor is one of those series wheres its so agonizing to wait for the next book because you just want it now. I highly recommend Nevermoor: The Trials of Morrigan Crow for readers of all ages who love fun, fantastical series!