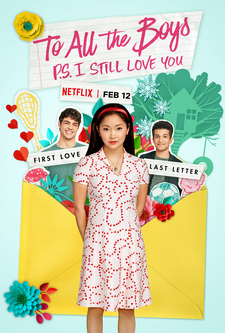 Release Date: February 12, 2020
Cast: Lana Condor, Noah Centineo, Jordan Fisher, Anna Cathcart, Emilija Baranac, Madeleine Arthur, Ross Butler, John Corbett, Holland Taylor
Director: Michael Fimognari
Studio: Overbrook Entertainment, Awesomeness Films, Ace Entertainment
Distributor: Netflix
Spoilers: High
IMDB| Rotten Tomatoes | Wikipedia
Rating: ★★★★☆
How do you follow up a hit like To All the Boys I've Loved Before?
The teen flick was the hit of the romantic movie genre in 2018, launching both Lana Condor and Noah Centineo into superstardom. And while the young adult rom-com is certainly making a comeback, especially on Netflix, To All the Boys had a level of charm and sweetness that was hard to beat.
A lot of it is attributed to the chemistry between Condor and Centineo, two people who seemed to have been destined to play Lara Jean Song Covey and Peter Kavinsky in the film adapted from Jenny Han's trilogy following this young romance. Fans gobbled up the first movie, and given its success and the fact that Han's story is a trilogy, it was all but confirmed that there would be more.
Which leads us to today, 544 days after the release of To All the Boys, with the sequel, P.S. I Still Love You.
Of course, young love rarely ever sails smoothly, and LJ and Peter's romance is no different. Sugary sweet moments of the couple going on dates and smiling while staring at each other with heart eyes are intercut with Lara Jean's own insecurity over her inexperience and the arrival of another childhood crush, John Ambrose McClaren (Jordan Fisher).
Book lovers know that John Ambrose McClaren is more than a fan favorite. He's the yin to Peter's yang. He's an academic, he's introverted, and he's a bit of a nerd. But the two of them were friends when they were in middle school, and along with Lara Jean, Gen (Emilija Baranac), Chris (Madeleine Arthur), and Trevor (Ross Butler) they formed quite a close friend group.
John Ambrose also happens to be another recipient of one of Lara Jean's letters. We get another endearing flashback to a young Lara Jean and John Ambrose spotting each other at a Halloween party at an age when funny costumes didn't exactly mesh well with "cool" costumes. She came as french toast and he came as devilled eggs, cardboard cut-out and all.
And while Peter is thoughtful, caring, and attentive as a boyfriend, it's hard to deny just how good of a boyfriend John Ambrose could be for Lara Jean. After all, they both chose to volunteer at Belleview, they both liked each other when they were young, and god damn it, they are both House Hufflepuff! The fact that Jordan Fisher is the one playing John Ambrose is just the cherry on top. Fisher plays a John Ambrose so smooth and charismatic it's hard to imagine a time when he was anything but the handsome and talented young man that he is today.
As far as giving Centineo's Peter some real competition, Fisher is up to the challenge. Even a staunch #TeamPeter loyalist like me has already asked for dual citizenship to the country of #TeamJohn.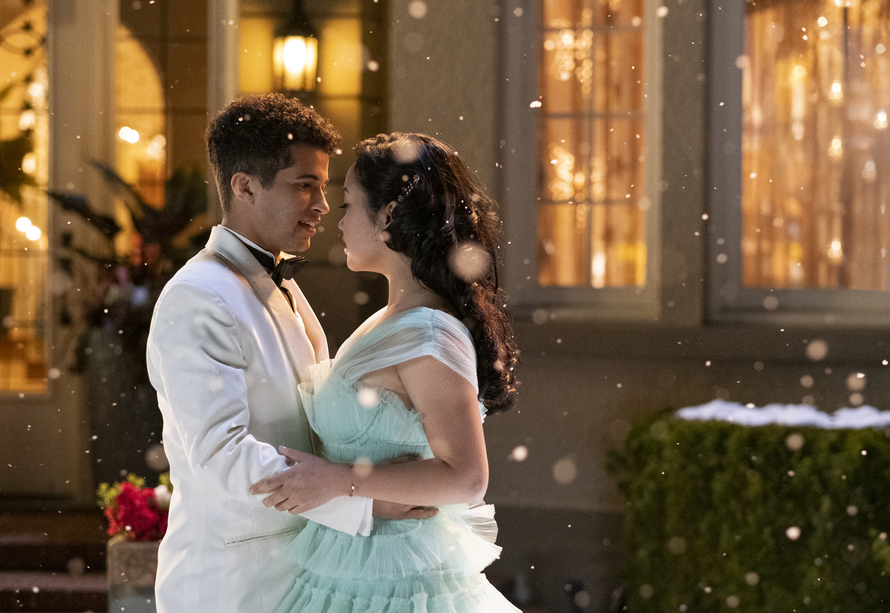 In comparison to the book, I actually find the Netflix sequel better paced. There were many frustrating moments in the book version of P.S. I Still Love You, when I found myself just begging these teenagers to understand the importance of communication. Thankfully the movie cuts out a lot of that teen angst in favor of a more streamlined story.
We still get Lara Jean feeling insecure about Peter and Gen, subsequently breaking up with him after finding out that he was waiting for her in the infamous hot tub scene from the first movie. We still get Lara Jean kissing John Ambrose only to realize that she actually loves Peter. We still get Stormy (Holland Taylor playing the gin-drinking fairy godmother we all want). We still get Papa Covey (John Corbett) and his romance with the divorcee neighbor Trina (Sarayu Blue).
The good is all still there. And getting more of the TATB universe is everything we could have asked for and more. Does it have the same impact as the first movie? The comparison is unnecessary. Just like Peter and Lara Jean's relationship, the story has to evolve or die. We can't redo what works because then it won't work. So, P.S. we still love the original but we also love this sequel.
Now give us always and forever, Netflix! We're ready to take the next step!
To All The Boys: P.S. I Still Love You is now streaming on Netflix!
(P.S. Fakesgiving is the real star of this movie. It's joining the halls of Festivus and Galentine's Day!)