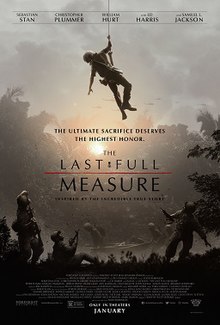 Release Date: January 24, 2020
Cast: Sebastian Stan, Christopher Plummer, William Hurt, Ed Harris, Samuel L. Jackson
Director: Todd Robinson
Studio: BCL Finance Group, Boss Collaboration, Foresight Unlimited, Lightbox Pictures, Provocator, SSS Entertainment, SC Films Thailand Co
Distributor: Roadside Attractions
Spoilers: Low
IMDB| Rotten Tomatoes | Wikipedia
Rating: ★★★★½☆
The Last Full Measure is the amazing film you haven't yet heard of, with Sebastian Stan and an A-list cast telling an incredible war story you never knew.
The Vietnam War drama arrived in movie theaters and deserves a look based on its ensemble alone. Stan, best known as Bucky Barnes/Winter Soldier in the Marvel Cinematic Universe, stars opposite his MCU colleagues Samuel L. Jackson and William Hurt, Ed Harris (Westworld), Bradley Whitford (The Handmaid's Tale), Linus Roache (Vikings), Christopher Plummer (Knives Out), Diane Ladd and the late Peter Fonda in his final film role.
But come for the cast, stay for the emotional story about a true American hero.
Airman First Class William H. Pitsenbarger (played by Jeremy Irvine of Mamma Mia! Here We Go Again) personally sacrificed his life to save dozens of soldiers trapped by enemy fire on one of the bloodiest days in the Vietnam War. Pitsenbarger is an honest-to-goodness hero, who joined the U.S. Air Force simply to make a difference. As a Pararescueman, he made the decision to descend into a firefight because he wanted to help total strangers. To say more would take away from the impact of the movie, but Pitz's integrity and selflessness are incredibly inspiring.
His colleague Tully (Hurt) and his parents Frank and Linda (Plummer and Ladd) have spent more than three decades campaigning for Pitsenbarger to receive the Medal of Honor by the time their request lands on the desk of Pentagon lawyer Scott Huffman (Stan in one of his most emotionally raw performances). Scott gets the paperwork on the day his boss has just resigned, and he's more concerned about finding himself a new job than dealing with something that happened well before he was born.
However, after Tully makes an appeal to Scott's boss Whit Peters (Roache in a supporting but impressive role), Scott is ordered to entertain his request. And looking into why Pitsenbarger deserved the Medal of Honor, but was instead downgraded to an Air Force Cross, opens up a decades-long story of sacrifice, pain, and reckoning.
The Last Full Measure isn't a thriller. Rather, it's a very human movie that traces one man's sacrifice and the many lives that were affected by it, as told through "the new guy" Scott.
Scott travels the country, and even back to Vietnam, to gather statements from those who were there on the day William H. Pitsenbarger saved so many lives. Everyone has their own tale to tell, having been affected by what happened differently, and being affected again by Scott dredging up the past. It's remarkable to see how each character, and each actor, handles the trauma differently—proving that no story is the same, but also showing them in a positive light. The Last Full Measure has one of the most three-dimensional depictions of war veterans in recent memory.
Writer and director Todd Robinson makes a very interesting creative choice, as well, to show Pitsenbarger's story in flashbacks sprinkled throughout the movie as each survivor talks to Scott. It makes the film that much more raw. We aren't told "this is what happened" but instead we get it in bits and pieces from each person's perspective, able to learn more and understand better, until near the end of the movie we are able to put all the pieces together just in time to see Pitsenbarger's final, fateful decisions. It makes everything resonate that much more because we have that complete picture.
But it's the cast that carries The Last Full Measure. What could have been a gloomy, tragic, emotionally overwrought melodrama is portrayed with class and poise. Stan anchors the film as Scott Huffman, and while his character is affected by what he sees and hears in an authentic way. Stan slowly digs deeper into his character, and his growth feels genuine.
Although Linus Roache only appears in three scenes as Scott's boss Whit Peters, the Homeland alum is spot-on playing a bureaucrat who isn't the prototypical bureaucrat; it makes you wish there was more of him, especially contrasted with Whitford, who has an anti-Josh Lyman moment portraying Scott's cynical colleague Carl Stanton. Christopher Plummer is amazing in every scene in which he appears, and the scenes between Samuel L. Jackson and Stan have a particular pop given the moments they've shared in the MCU. Their pre-existing chemistry with each other makes their interactions that much more interesting.
Even if you're not a history buff or interested in war movies, The Last Full Measure is a film you should see for how fantastic actors dedicated themselves to an important story. Each and every one of them is able to disappear into their characters, and we forget we're watching Academy Award winners, nominees, and Marvel heroes—instead we just see them as real-life heroes.
And it's incredible that it took more than 30 years to get William H. Pitsenbarger his Medal of Honor and almost 20 to get The Last Full Measure made, because Pitsenbarger's story is one that everyone needs to know.