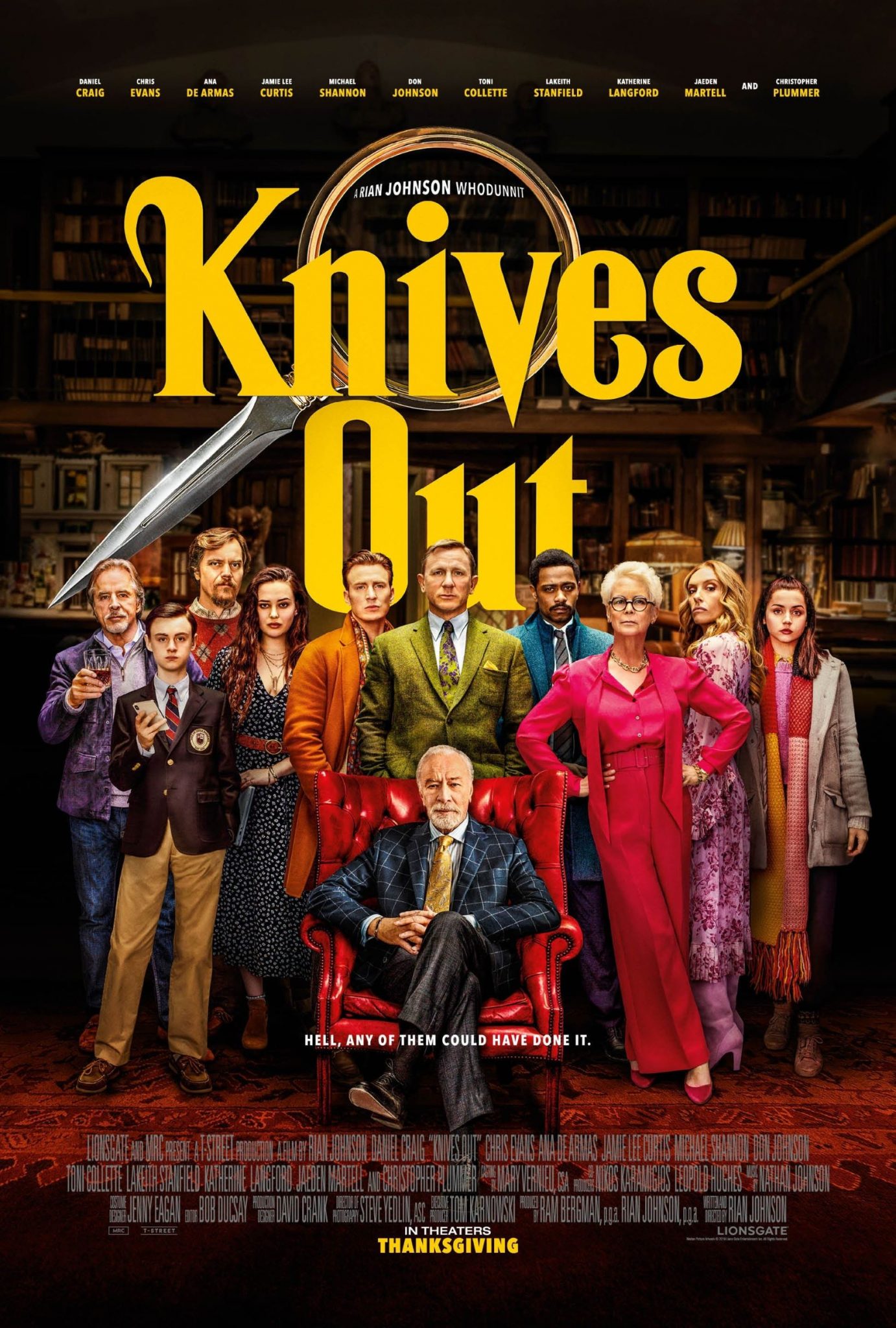 Release Date: November 27, 2019
Cast: Ana de Armas, Daniel Craig, Chris Evans, Jamie Lee Curtis, Michael Shannon, Don Johnson, Toni Collette, Lakeith Stanfield, Katherine Langford, Jaeden Martell, and Christopher Plummer.
Director: Rian Johnson
Studio: Media Rights Capital, T-Street
Distributor: Lionsgate
Spoilers: Low
IMDB| Rotten Tomatoes | Wikipedia
Rating: ★★★★★

Two years out from his divisive Star Wars entry (stupidly I might add, The Last Jedi fucking rules, and if you don't agree, kick rocks, you dolt!) Rian Johnson is back in theaters, this time delivering a whodunit that brings the genre out of the dusty drawing rooms of the British aristocracy and into the modern day with Knives Out.
Wealthy crime novelist Harlan Thrombey celebrated his 85th birthday with family, quite the celebration – until he's found dead the next morning. Now every one is a suspect and gentleman detective Benoit Blanche, played immaculately by Daniel Craig, is on the case. So how, why and most importantly whodunit?
The mystery of the film unravels at a great clip, with each bit of the puzzle coming into focus one after the other as the characters go over the events of the night in question and what they saw the others up to. Previous events are given new meaning as ancillary characters step in to tell the what really happened. Johnson's deft hand at dialogue shines throughout, the characters spitting venom at each other.
I could spend a thousand words singing the praise of each member of the cast. Again for Daniel Craig's delight of a detective, Michael Shannon's crotchety publisher with an alt-right son, Don Johnson's continued excellence (seriously, between this and his role on HBO's Watchmen we must surely be in the Johnsonissance).
Each cast member does a splendid job with their unique combination of vice, veneer of politeness and high society (or in de Armas' case legitimate kindness and humanity). Again, I could go on, but I can't do their performances justice in just words. While the plot with all its twists and turns is a great ride, it is the characters that really bring it to life. They are what make this yarn such a delight.
Like Looper and Brick before it, Knives Out showcases Johnson's total mastery at taking genres and injecting them with fresh blood, bringing old school whodunits to the modern cinema. There isn't enough good things I could say about the film, the biggest is that you should simply go see it. It's great time at the theater.
Knives Out is in theaters everywhere!
… Now where's his damn Star Wars Trilogy!