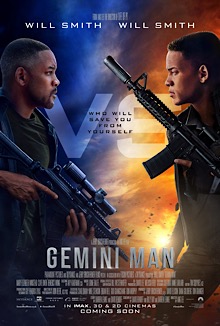 Release Date: October 11th, 2019
Cast: Will Smith, Mary Elizabeth Winstead Benedict Wong, Clive Owen, Will Smith
Director: Ang Lee
Studio: Skydance Media, Jerry Burckheimer Films, Fosun Pictures, Alibaba Pictures
Distributor: Paramount Pictures
Spoilers: Low
IMDB| Rotten Tomatoes | Wikipedia
Will Smith is Henry Brogen, an expert assassin – the best in the business- and a man who wants to retire. The only problem? His employers won't let that happen. So who do you send to kill the best in the business? What about…. the best in the business. His clone, we're talking about a clone of Will Smith. Listen it makes sense!
After toiling away in development hell for over 20 years, Gemini Man has hit screens everywhere, brought to life by visionary director Ang Lee and superstar Will Smith. Was it worth the wait? Eh.
The movie is a decent little action flick, in the vein of the action movies of the early Aughts. It feels very similar to the Bournes and what have you, though Gemini Man's action and combat is shot and edited in a much more comprehensible manner. The plot is nothing to write home about, the action is fine, so what's there to talk about. What makes Gemini Man unique? It's the dual performance of Will Smith.
Will Smith plays the older, grizzled Henry Brogen as well as his younger clone counterpart. He gives a fine performance, laudable for its restraint as compared to his usual. When it comes to the visuals however its another story.
It's tough to know what to judge 'fairly' in Gemini Man. Ang Lee shot the film with an insane frame rate of 120fps, after falling in love with it during his last feature Billy Lynn's Long Halftime Walk. That frame rate had a purpose for Billy Lynn but the theaters across the world weren't equipped for it then— and they still aren't. Unless you live near one of these 14 theaters you aren't going to be able to see Gemini Man as Lee intended it to be seen. That's a one problem.
Another, is that supposedly the HFR allows for the de-aging magic to look much better than we are used to. Since you're not going to be able to see it in that HFR, that potential benefit is lost. What you get is CGI that varies wildly in quality. In one scene, the young Will Smith looks perfect (even if he doesn't sound it) and in another it looks unwieldy, plasticky and bobble-heady. The quality of the image vacillates wildly and it is a huge distraction.
Gemini Man is fine. Ang Lee is a great director, Will Smith is a good actor, but you can't really see it the way it was meant to be seen. That might not make all the difference in the world, it certainly won't make this movie a masterpiece, but it might help hide the seams.