Big Hero 6 [Blu-Ray]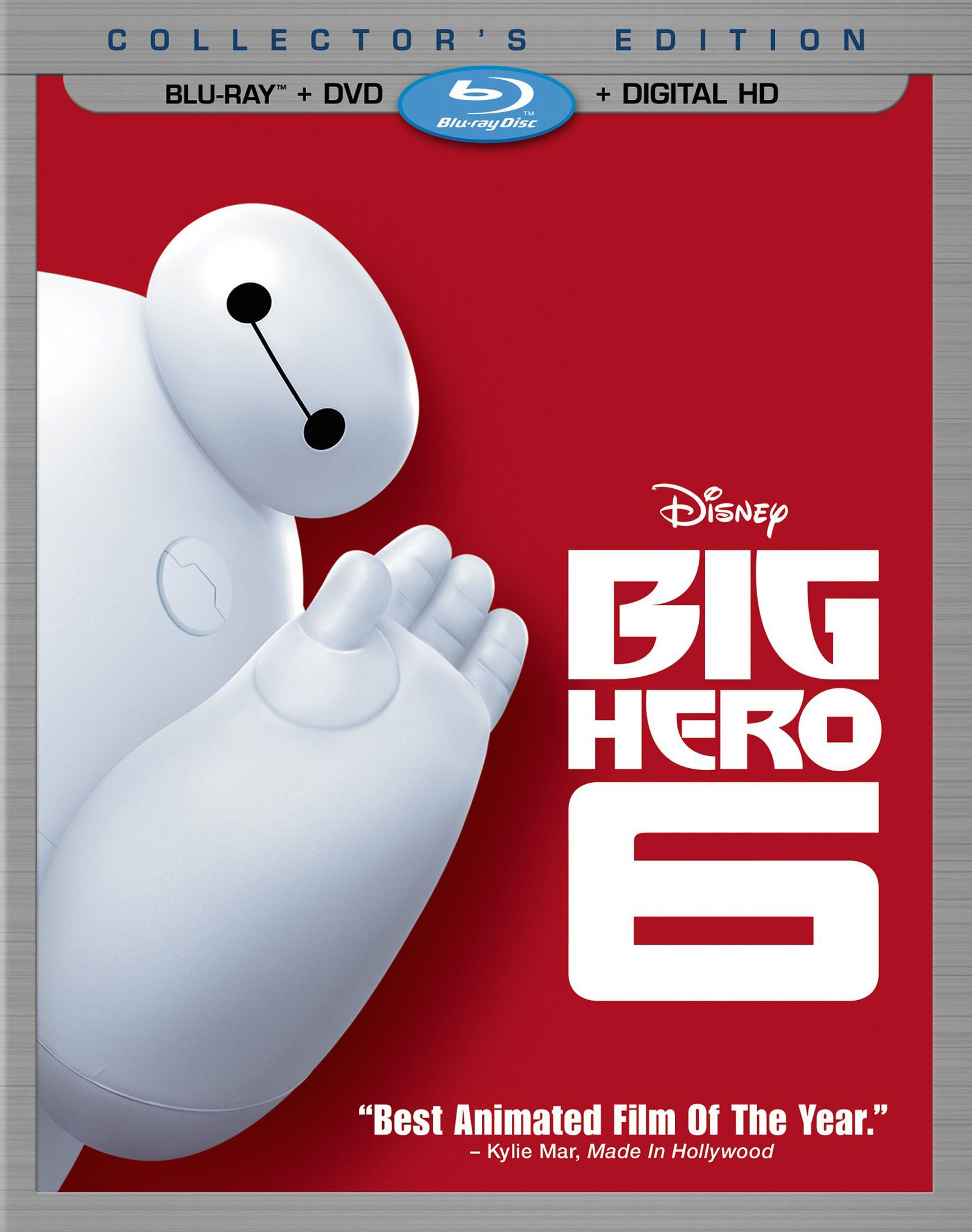 Release Date: February 24, 2015
Cast: Scott Adsit, Ryan Potter, Daniel Henney, T.J. Miller, Jamie Chung, Damon Wayans Jr., Genesis Rodrigues, James Cromwell, Alan Tudyk, Maya Rudolph
Director: Don Hall and Chris Williams
Studio: Walt Disney Pictures and Walt Disney Animation Studios
Distributor: Walt Disney Studios Motion Pictures
Genre(s): Family, Superheroes, Animated, Comedy
Extra Feature Rating:  ★★★★☆
Rating: ★★★★☆
Review Spoilers: Mild
Amazon | IMDB | Wikipedia
This is one of my absolute favorite movies of last year and it's no surprise to me that it took the Academy Award home on Sunday for Best Animated Feature Film. It's such a cute movie, but it's also a fantastic all-ages adaptation of a Marvel property that wasn't initially on anyone's radar. Big Hero 6 took it's source material and ran with it creating a film that if you haven't seen you absolutely need to see right now.
While it might seem like a kid's movie from the marketing it's the kind of movie that anyone can enjoy. Disney has always been good at that. Their movies bring us all together and make us feel like kids again without sacrificing story or quality. Big Hero 6 is both hilarious and moving; it tackles serious questions and isn't afraid to tackle the balance between it's darker moments and moments of levity. You'll find yourself laughing one moment, teary-eyed the next.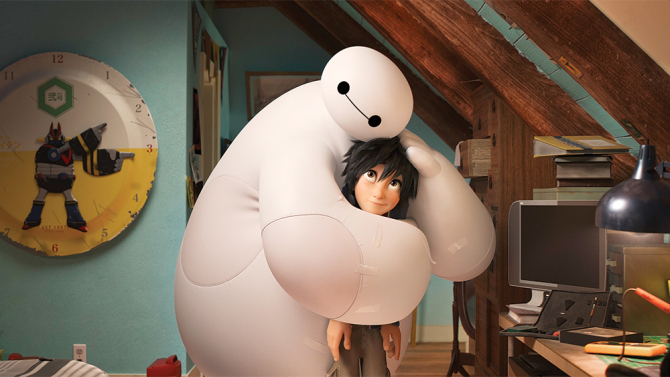 It really is a fantastic family film. It's also very much a Disney movie. Big Hero 6 managed to still feel familiar while taking the big step of being the first (though hopefully not the last) Marvel property to join their animated lineup.
I was really excited for this one to come out on blu-ray and it did not disappoint. Steve did a full review of the film back when it hit theaters so I'm going to focus on the blu-ray special features because they are basically awesome.
Feast
Is it any surprise to anyone that Feast won the Academy Award for best animated short? I absolutely love it. I teared when they first released the trailer online and you better believe I was just straight up crying when I saw it for the first time when I went to go see Big Hero 6 in theaters. It's such an adorable look at the relationship between a dog and his family throughout time told from Winston's perspective and focusing on the thing he loves most – food.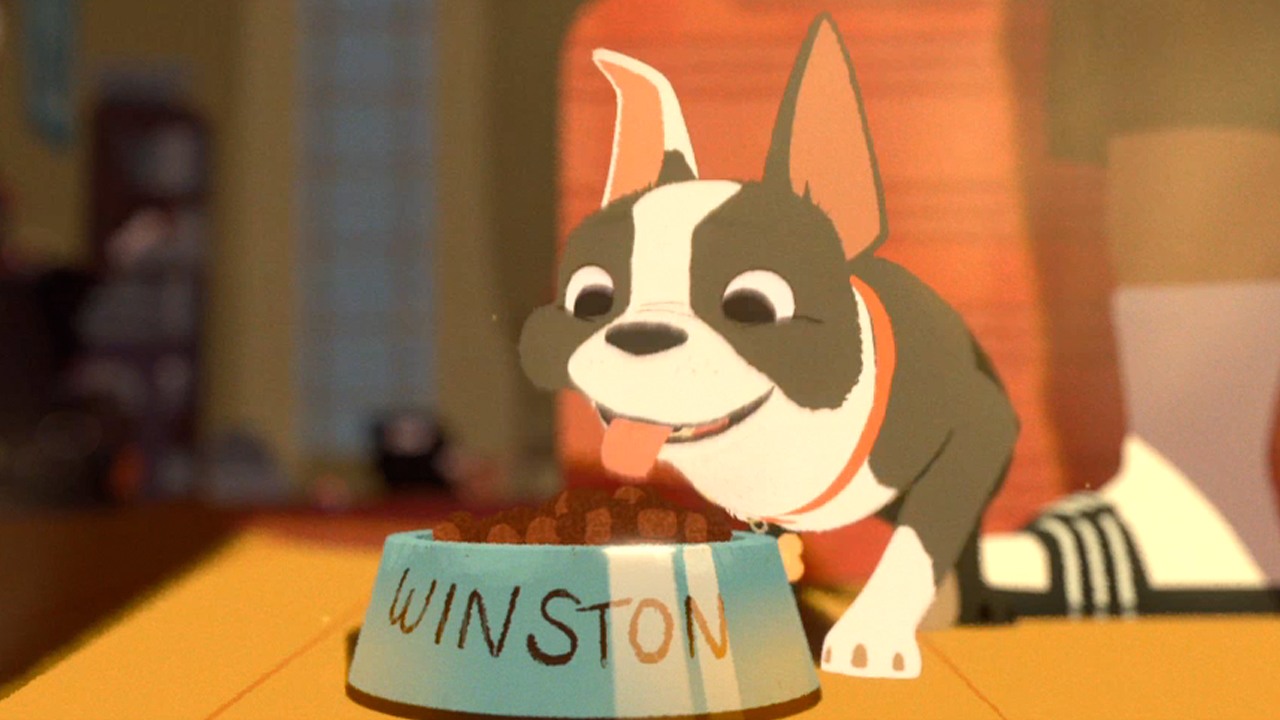 Honestly, if you just got Big Hero 6 for this short film it would be money well spent.
The Origin Story of Big Hero 6:
Hiro's Journey
A surprisingly touching featurette, the folks behind Big Hero 6 talk about how they adapted the original Big Hero 6 comic from the initial pitch through to the unique development of the film into a a Disney animated film. It's really cool to see the differences they made and to understand why they made them. It's also great to see how much fun everyone has talking about the film. From talking about their 'brother summit', where they all came together to talk about their own siblings in order to help establish the relationship between Tadashi and Hiro, to how they came up with the design for Baymax from such varied sources as their research in robotics or bells at a shrine in Tokyo.
This was actually a really great feature because I was never a fan of the comic and I really wanted to hear more about how they adapted the original source material for their own use. I just wish they would have talked more about the original comic instead of simply mentioning it as a Marvel property and moving on.
Big Animator 6:
The Characters Behind the Characters
This is such a cute short! I don't know why but I kind of wanted to tear up at times. They brought the lead animators together to have them talk about their jobs and how they went about designing the different characters. Their initial task was simple – have each character walk into a room and sit down in a chair in their own unique way. But it's really neat to have them explain how they discovered each character's individual, unique movements. I can't even imagine having the kind of fun they seem to have at work sometimes.
Deleted Scenes
As always, this is my favorite part of any home video release. Don Hall and Chris Williams walk us through four deleted scenes that were ultimately cut. My favorite of these is a cute Hiro narrated prologue that showed Hiro as a little kid and follows him through his early childhood. It features a lot of Tadashi and Hiro together growing up and inventing things together with both ultimately going to university together. But it was ultimately scraped in favor of an opening with a now brooding, bot fighting Hiro. Another cool scene involves a heist by a team of villains that ultimately were cut from the film entirely. The other two scenes include an alternate version of the portal test scene that we ultimately see through security footage in the finished film and a kind of adorable cut scene with Fred helping Hiro sneak out his window. You can watch that one below!
https://www.youtube.com/watch?v=0cd6ZJsGUbM
Big Hero Secrets (Easter Egg)
Okay, so, the Big Hero Secrets Easter egg feature is actually an Easter egg itself and I'm not going to lie to you guys… it took me a lot longer than I care to admit to find it. Once I did, though, it was really neat to watch! There are quite a few Frozen Easter eggs including a wanted poster of Hans and a stature of Olaf among others. Subtle tie-ins to Wreck-It Ralph, Bolt, and even Zootopia are also included and which I didn't even notice any of the times I've watched the movie. The animates even snuck themselves and some of the filmmakers into the technology exhibition scene which I'm not going to lie is incredibly cool and kind of makes me insanely jealous. I want to be in a Disney movie!
If you really want to know how to access Big Hero Secrets and you can't find it on your own, ask in the comments and I'll give the secret away.
Disney Movie Anywhere Exclusives
There are two special features that you can only access if you redeem your digital HD copy on Disney Movies Anywhere: the Big Hero 6 gag reel and 'Mixmaster Beatmax.' The gag real is a lot of fun and it's a short compilation of random computer glitches (like Wasabi's hair going crazy) and funny little edits the animators made as jokes (like animating Olaf's face on to Baymax). It's super cute and way too short if you ask me.
'Mixmaster Beatmax,' on the other hand, is a musical remix of the film feating scenes with Baymax. Here's a sneak peak from Disney Movies Anywhere.
https://www.youtube.com/watch?v=DttGs2xCu60
The special features also include a Big Hero 6 teaser trailer but sadly not the music video for Fall Out Boy's "Immortals." I know I usually say I don't think that having movie tie-in music videos on blu-ray releases is all that necessarily but that video would have been a nice addition if only because the song is incredibly cool.
Final Thoughts: 
I can hands down say without any reservations that this is a really great blu-ray release. Honestly, it's got everything I could have ever wanted. I have been waiting for this basically from the moment I walked out of the theatre after seeing it for the first time and I am not at all disappointed. If you haven't seen it you really should.
I also highly recommend getting the Collector's Edition for this one. Usually I'd say you can get the DVD or just the blu-ray or whatever you want but I think it's really worth it this time around to splurge for the combo pack. If nothing else, the Collector's Edition comes with that digital HD copy to amuse you (or your kids) should you get stuck on the train commuting to work or waiting around in a doctor's office or something. Big Hero 6 is the perfect pick me up for those kind of moments. I've become a huge fan of Disney Movies Anywhere over the past year and this is definitely one to have as part of your Disney Movies Anywhere library.
A REVIEW COPY OF BIG HERO 6 (COLLECTOR'S EDITION) ON BLU-RAY WAS PROVIDED FOR THE PURPOSE OF THIS REVIEW BY FINGERPAINT MARKETING AND DISNEY. NERDOPHILES WAS NOT COMPENSATED FOR THE REVIEW AND THE OPINIONS HERE ARE OURS AND OURS ALONE.