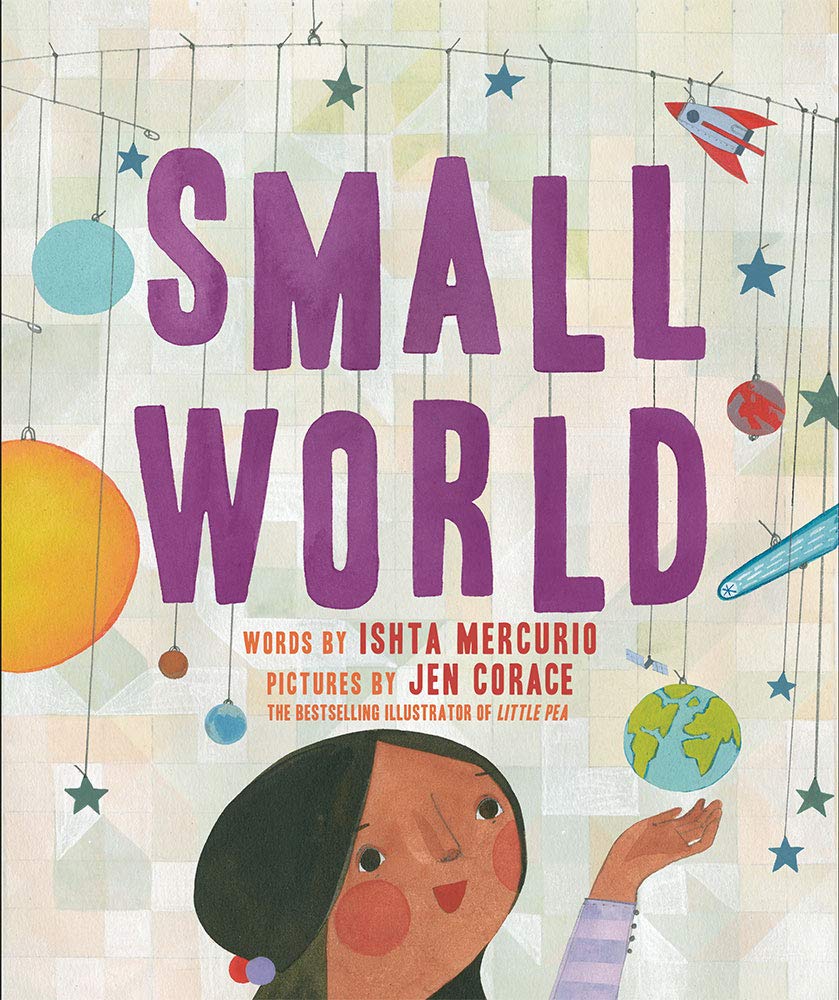 Title: Small World
Author: Ishta Mercurio
Illustrator: Jen Corace
Release Date: July 2, 2019
Publisher: Abrams Books for Young Readers
Review Spoilers: Low
GoodReads | Amazon
If you're looking for the perfect book to give as a gift at your next baby shower or to read with the precocious, science-loving little girls in your life then look no further: Small World is the perfect choice. Like many books, Small World tells the story of a young girl who grows up and follows her dreams. But this book's heroine sets her sights higher than most. Ultimately, Small World is just as much an emotional read for parents as it may be an inspirational story for the little ones.
Small World follows a girl named Nanda as she grows up and goes on to do big things. As she grows older her world gets bigger – going from her mother's arms, to the school yard, college, and beyond. We see her move through different stages of her life all the while focusing on her love for science and space exploration. The fact that Nanda is a young girl of color only makes this story feel even more meaningful as it reaches out to inspire girls of all backgrounds to follow their dreams and embrace STEM fields.
The writing is almost lyrical and the illustrations are gorgeous. The combination together leads to a stunning story that will especially touch parents who see their own little girls in Nanda. The pages are bright and colorful and the background details show a true love of Nanda's world. She lives in a dynamic world and her love of space follows her through the years, lovingly noted with each page.
My five year old and I absolutely loved Small World. This is one of those special books that has a message so clear that it speaks to both parents and children in a similar way. I watched Nanda grow up and pursue her dreams with my own little girl sitting in my lap as we read. With each turn of the page she could point out all the new experience Nanda was having until she ultimately took flight and found herself on a completely different planet. It ultimately led to a conversation about going to space someday, too.
I highly recommend Small World and I recommend it even more for parents than I might children. Because as much as my kiddo loved the pictures and lyrical storytelling I was the one who might have gotten close to tears by the end. It's a great story to share but one that parents will love as they imagine the way their own children growing alongside Nanda and following their dreams.
No matter what, though, definitely check it out. Small World is absolutely lovely.