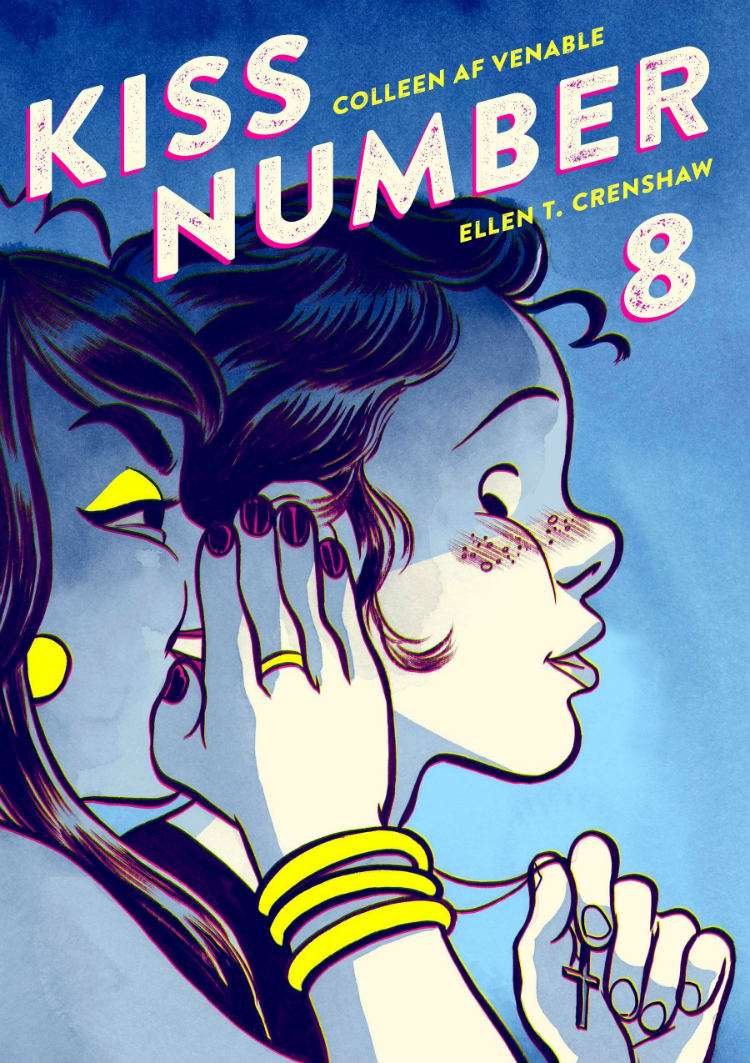 Title: Kiss Number 8
Author: Colleen A.F. Venable
Illustrator: Ellen T. Crenshaw
Release Date: March 12, 2019
Publisher: First Second
Review Spoilers: Mild
GoodReads | Amazon
There are few perfect stories out there but Kiss Number 8 comes pretty close. If you think you can pitch me a LGBT coming-of-age graphic novel about a nerdy, tomboyish high schooler growing up in the early 2000s without me absolutely loving it then you definitely don't know me. This book hit it out of the park and it's a top contender for my favorite graphic novel of 2019 – and it's only March!
The title of the book takes it's name from a personal reflection on all the people the main character, Mads, has kissed growing up. As you can imagine, that eighth kiss is the one that ends up changing everything. It's the first – but not the last – time she kisses a girl and as a small-town Catholic school girl you can imagine the conflicts that arises. Throughout the book Mads finds herself grappling not just with her own budding sexuality but also the shifting social dynamics of her friend group.
Mads is a character after my own heart. She loves some fake nerdy TV series and ultimately finds her true friends (and embraces her true self) while exploring the local music scene and joining her school's Gay Straight Alliance. She has a truly heart-breaking yet also heart-warming journey from the confused, closeted teenager we see through much of the book to the happier, freer Mads that we see by the end.
Of course, all of this coming-of-age, finding yourself drama is happening alongside an even greater story. Because as hard as all of that would be for anyone to deal with, Mads also finds herself at the center of a dark family secret that threatens to change the way she sees her family forever. She always knew that her father's mother had abandoned the family but when 'Sam' passes away she realizes that the story she's been told is very far from the truth.
I hate to spoil anything about this book but do want to say that I think that the story that's told is incredibly powerful and important. Mads finds that her own journey of self discovery in a lot of ways may mirror her long-lost grandmother — who happens to be a very different person that she ever would have expected. (If you want spoilers, the Kirkus review pretty much nails everything I'd want to say.)
With all of the revelations in this book and the difficult situations faced by many of the characters you would think you'd find yourself looking for the bad guy. But Kiss Number 8 is a very realistic story and it's the sort of everyday story where no one gets to say they're really the hero or the villain. The characters are often just people and they disappoint us at times – especially Mads's father who has a realistic albeit sad reaction to everything.
It's a little strange to see the early 2000s as a nostalgic setting for a coming-of-age tale when that's when I was growing up but it's also part of what made me love Kiss Number 8 from the very start. So much of this story almost feels like my story in a lot of ways. From learning who your real friends are to finding yourself at pop-up all-ages punk rock shows, Kiss Number 8 brings to life an era I don't think I figured I'd miss this much this early on. Early flip cellphones, AOL instant messaging, and more make an appearance and I can't even say how many times I smiled at those little throwbacks.
Kiss Number 8 is just a really fantastic book that I'll probably be recommending for a long time to come. It's a timeless story that while it has a lot of nostalgia for me it can also reach young readers now who will also find themselves relating to Mads. It's a great looking book, too, and I love Mads's look in particular. (I rocked those constant baseball tees, too, once upon a time!)
You'll see Kiss Number 8 on our end of the year list of top books of 2019, I can pretty much guarantee it. I'm excited to have this book around because despite all the tough moments that Mads may experience throughout she gets her happy ending. She adds some more kisses after kiss number eight and ultimately has the happy life everyone wants. It's such a great message especially for kids who may not know how to imagine that happy ending for themselves.
Read it. Just read it. You won't be disappointed.