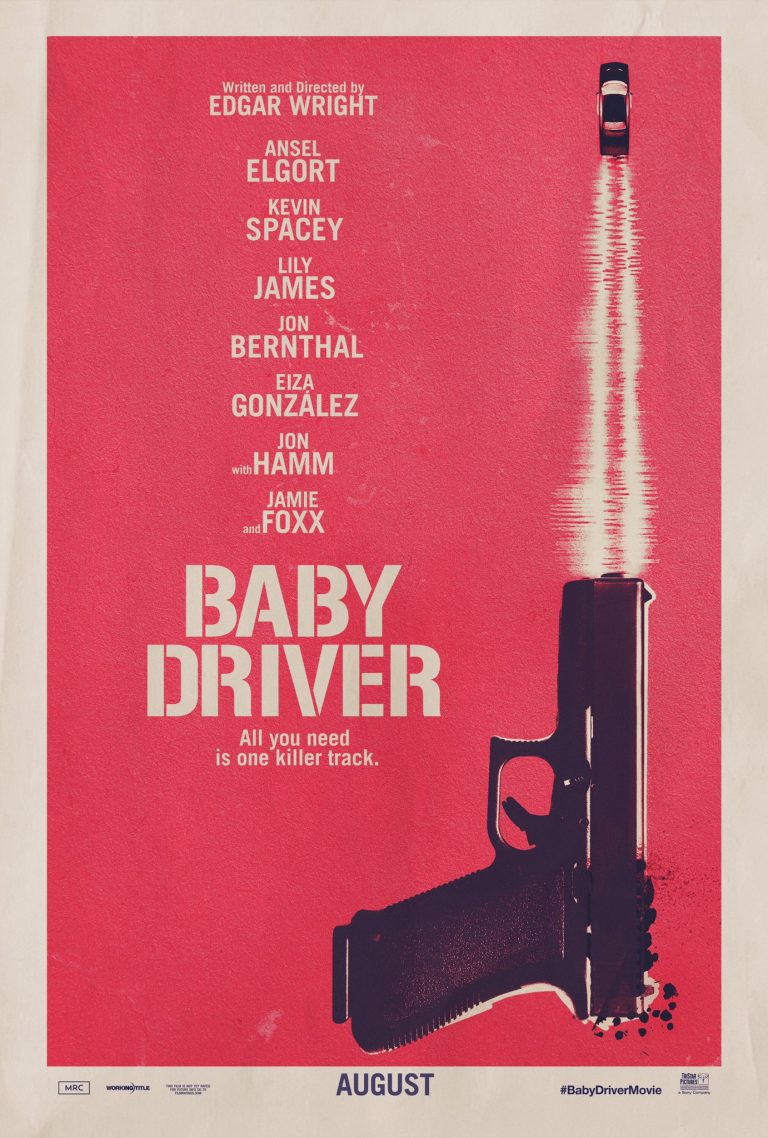 Release Date: June 28, 2017
Cast: Ansel Elgort, Kevin Spacey, Lily James, Jon Bernthal, Eiza Gonzalez, Jon Hamm, and Jamie Foxx
Director: Edgar Wright
Studio: Big Talk Productions, Working Title Films, Media Rights Capital
Distributor: Tristar Pictures

Review Spoilers:
Light
IMDB
|
Wikipedia
|
Rotten Tomatoes
Edgar Wright's newest flick is, like any Edgar Wright movie, slick, stylish, and cool. If you're a fan of his, you've got a lot to look forward to in this fast and furious (but not THAT Fast and Furious) crime-action ride.
Quickly, the set up: Baby (played by Ansel Elgort) is a young, talented getaway driver working to pay off a debt to a crime kingpin Doc who organizes heists. While Doc changes up his crews every job, he always keeps Baby in the driver seat. But Baby's about to be in the clear and out of the game, and he's just met a young waitress named Debora.
The first 10 minutes of this movie are essentially a killer music video. We're introduced to the heist and the band of crooks and the post job debriefing. Edgar Wright lets us know right from the get-go that the visuals/sound synergy is the thrust of this movie. That may seem like a silly thing to say about a movie, but Wright's talent is really fitting those two pieces together, intertwining them not just having them together in parallel.
And that is the majority of this movie: 'cool.' Cool tunes, set to cool visuals, making cool action. It oozes the stuff and there's nothing I can do with words to adequately describe the fun of the movie. Every member of the heist looks stylish, they have great nicknames, and the way every character speaks is the epitome cool. It's loaded with jokes that land incredibly well, though maybe a few of the best ones made it into the trailer.
The movie is not without flaws, however. The climax is a little underwhelming and the relationship depicted between Baby and Debora leaves a lot to be desired. You just don't buy that these two are ready to go full Bonnie and Clyde after one date, not because there is no chemistry but because their interactions are limited. It seems like an afterthought in a movie stuffed with ideas.
The movie is filled with cool ideas that don't really fulfill much, such as Baby mixing his own tunes, but the relationship that is (or should be) key to the movie doesn't get the same treatment. There is also a tiny addition to the backstory involving an abusive father that gets a lot of screen time but doesn't go anywhere. If those had been tinkered with I think we would have gotten a much more emotionally satisfying romance arc.
These flaws don't detract to the point of ruining the movie, it is a fun ride regardless. If you dug that trailer, you'll dig the movie.