As an avid middle grade readers named Samantha you had better believe that the Samantha Spinner series caught my attention. It's not every day someone with your name gets to go on fantastic adventures, after all. Especially not fantastic adventures involving an… umbrella?
That strange object is what ultimately marks the beginning of the Samantha Spinner series. One minute she's minding her own business and going about her life and then the next her uncle has gone missing, he's gifted her an umbrella, and suddenly there are foul-smelling ninjas chasing her everywhere. Literally everywhere. Sam Spinner finds herself crossing the globe in strange, unusual ways all the while trying to discover the mystery of her uncle's last words. The sequel sets her off on even more adventures with even more mysteries to solve. And there's a third book on the way, too!
The Samantha Spinner series is one of those book series that seems perfect for your reluctant readers but what I love is that it's a series that features not just an obnoxious, silly younger brother but a smart, daring girl as the main character. Girls want silly, sometimes borderline gross moments in their books, too, and Sam Spinner delivers. The series is full of puzzles, action, and zany scenarios. The books are fast paced and invite readers to globe trot and sleuth alongside Sam and her brother, Nipper.
It's definitely a kid's story, don't get me wrong. There are some books with crossover appeal for adults but this one is definitely a book largely geared towards younger readers. It is unabashedly focused on giving kids a rip-roaring tale of unbelievable situations expertly navigated by a pair of clever but ordinary kids from the Pacific Northwest. This is why it's a perfect recommendation for kids looking to move on from books like Diary of a Wimpy Kid and into more complex reads (without wanting to sacrifice the humor).
The books – while ultimatley hilariously outrageous most of the time – do a good job of sneaking in historical tidbits about the places and landmarks that Sam and her brother visit. They're also good at sneaking in some pretty clever puzzles that, honestly, are beyond me half the time. Luckily, there's a cheat-sheet with answers at the end of each book.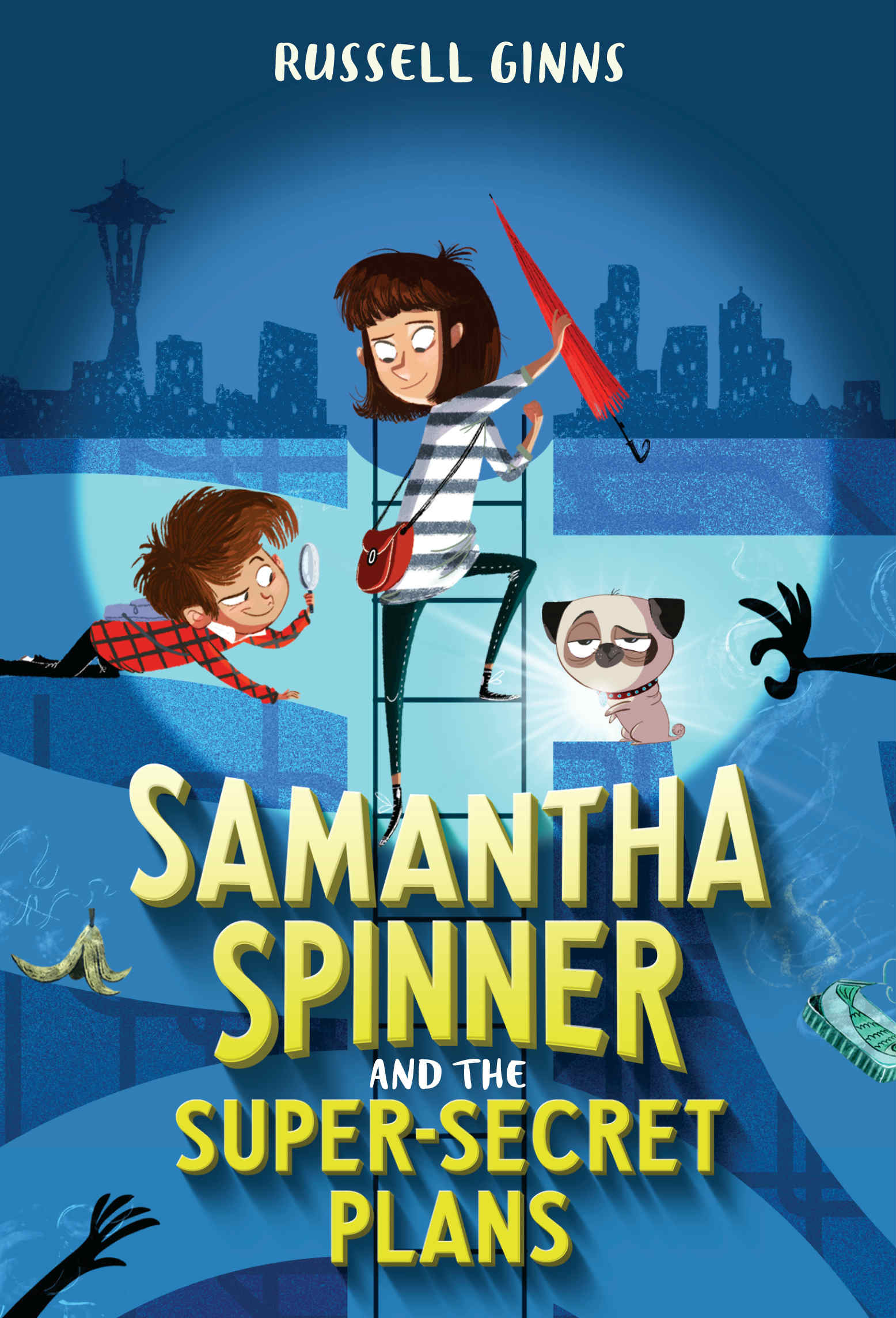 Title: SAMANTHA SPINNER AND THE SUPER SECRET PLANS
Author: Russell Ginns
Pub. Date: February 27, 2018
Publisher: Delacorte Books for Young Readers
Formats: Hardcover, Paperback, audiobook, eBook
Pages: 256
Find it: Goodreads, Amazon, Audible, B&N, iBooks, TBD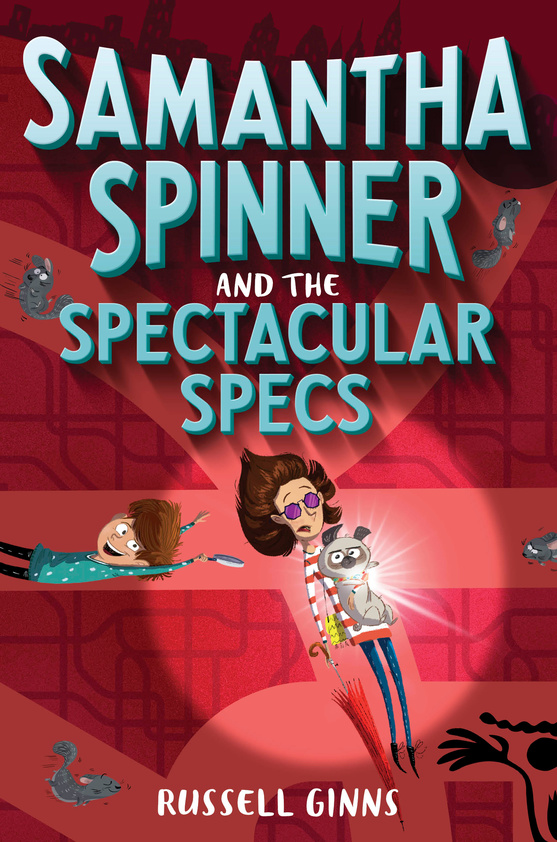 Title: SAMANTHA SPINNER AND THE SPECTACULAR SPECS
Author: Russell Ginns
Pub. Date: March 12, 2019
Publisher: Delacorte Books for Young Readers
Formats: Hardcover, audiobook, eBook
Pages: 416
Find it: Goodreads, Amazon, Audible, B&N, iBooks, TBD
Here's an official synopsis of the first book to give you an idea about what I'm talking about.
Synopsis
Get ready for round-the-world adventure with Sam Spinner and her brother Nipper in the first book in a new hilarious, puzzle-packed series filled with super-secret messages! Perfect for fans of Escape From Mr. Lemoncello's Library and classics like Holes.

Samantha Spinner's uncle Paul disappeared, and here's what he left:

* Samantha's sister got a check for $2,400,000,000.

* Samantha's brother got the New York Yankees.

* And Samantha got a rusty red umbrella with a tag hanging off its worn handle. The tag says "Watch out for the RAIN."

Thanks a lot, Uncle Paul.

After all the strawberry waffles, stories, and puzzles they've shared, how could he just leave without saying goodbye? And what is the meaning of that mysterious message?

The answer is simple. Sam knows in her heart that Uncle Paul is in danger. And if he taught her anything, it's that not everything is exactly what it seems. Which is why we should pay close attention to that rusty red umbrella, and never trust a monkey at a hula-hoop contest.

The RAIN is coming and Samantha Spinner is about to find herself mixed up in some super-important, super-dangerous, super-secret plans.
Giveaway
Think your young reader would like these books? You're in luck. Three lucky winners will win a finished copy of SAMANTHA SPINNER Series as part of this book tour. Sadly, the giveaway is open to US residents only.
Enter below!
a Rafflecopter giveaway
About the Author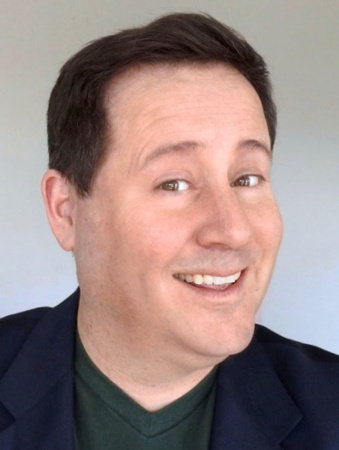 Russell Ginns is a writer and game designer who specializes in puzzles, songs, and smart fun. He has worked on projects for a wide variety of organizations, corporations, and publications, including Sesame Workshop, Girl Scouts of America, Nintendo, and Scientific American. Russell lives and writes in Washington, D.C. He is the author of Samantha Spinner and the Super-Secret Plans and Samantha Spinner and the Spectacular Specs. To learn more about him, visit samanthaspinner.com and follow @rginns on Twitter.
Website | Twitter | Facebook | Instagram | Goodreads
Tour Schedule
Week One:
3/25/2019- Lifestyle of Me– Review
3/25/2019- BookHounds YA– Excerpt
3/26/2019- Lone Tree Reviews– Review
3/26/2019- A Dream Within A Dream– Excerpt
3/27/2019- Nerdophiles– Review
3/27/2019- For the Love of KidLit– Spotlight
3/28/2019- Brooke's Library– Review
3/28/2019- Literary Gold– Spotlight
3/29/2019- Feed Your Fiction Addiction– Review
3/29/2019- Satisfaction for Insatiable Readers– Excerpt
Week Two:
4/1/2019- Rhythmicbooktrovert – Review
4/1/2019- Kelly P's Blog– Excerpt
4/2/2019- Christen Krumm, Writer– Review
4/2/2019- ❧Defining Ways❧– Excerpt
4/3/2019- Adventures Thru Wonderland– Review
4/3/2019- The Hermit Librarian– Excerpt
4/4/2019- Savings in Seconds– Review
4/4/2019- Twirling Book Princess– Excerpt
4/5/2019- Two Points of Interest– Review
4/5/2019- Dazzled by Books– Excerpt