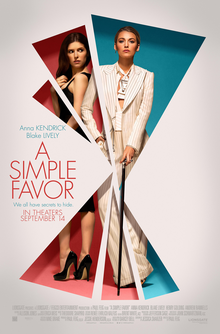 Release Date: September 14, 2018
Cast: Anna Kendrick, Blake Lively, Henry Golding
Director: Paul Feig
Studio: Lionsgate, Feigco Entertainment
Distributor: Lionsgate
IMDB | Rotten Tomatoes | Wikipedia

A Simple Favor was a big surprise!
From all the trailers, the movie looked like it was going to be a pulpy, housewife thriller. Instead, it's a brilliantly paced comedic mystery. Most of the theater audience took a while to adjust before they felt comfortable laughing at the screen.
Frankly, the film is all the better for the genre mash. It's the light-hearted, dark comedy thriller that we all wanted but never knew to ask for.
The film follows the friendship between Emily (Blake Lively), a glamorous PR professional, and Stephanie (Anna Kendrick), a super mommy blogger. After Emily disappears, Stephanie begins to realize that Emily isn't who she appears to be. As Stephanie starts to assume the role of surrogate mother and wife to Emily's family, she also starts to unravel Emily's elaborate mystery.
This movie is fantastic.
If you're a fan of pulpy mysteries with witty dialogue, this is exactly the movie for you.
It's like Gone Girl but hilarious.
The plot did use a few 'lazy' mystery tropes, but plot is secondary to the performances of the charming cast their delivery of brilliant dialogue. I loved every minute of this film. It never dragged, the mystery never felt too obvious, and the humor felt effortlessly fresh.
Aesthetically,
A Simple Favor
is pure wish-fulfillment. From Emily's open-concept, multi-million dollar home and sleek, gas range stove-top (the Millennial American dream) to her enviable, designer brand wardrobe and swoon-worthy husband (Henry Golding of
Crazy Rich Asians
fame), the entire film is a visual treat.
Anna Kendrick is adorkably funny as the single mommy blogger extraordinaire. She leans into her character's social awkwardness and lights up the screen with her comedic timing.
Blake Lively steals every scene she's in. My only complaint about the movie is that Blake's character is absent throughout a good chunk of the film once her character goes missing. The casting was perfect otherwise. Lively is the essence of 'cool' personified. She has her own gravitational field that pulls everything toward her while she stands unaffected and immaculate at its center.
Her confidence and 'cool girl' laissez-faire attitude reminded me a lot of Amy from Gone Girl. Lively as Emily is both completely unapproachable and entirely irresistible at the same time.
So I'm only asking for a simple favor – go see this movie. You'll really be doing yourself the favor.