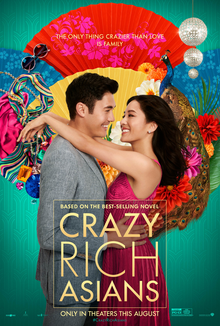 Release Date: August 15, 2018
Cast: Constance Wu, Henry Golding, Gemma Chan, Lisa Lu, Nico Santos, Ken Jeong, Michelle Yeoh
Director: Jon M. Chu
Studio: SK Global Entertainment; Starlight Culture Entertainment; Color Force; Ivanhoe Pictures; Electric Somewhere
Distributor: Warner Bros. Pictures
Based on: Crazy Rich Asians novel by Kevin Kwan
IMDB | Rotten Tomatoes | Wikipedia
Spoilers: Low
"Gorgeous. Fun. Perfect." – my quote to the film rep after watching Crazy Rich Asians.
GO SEE THIS MOVIE.
See it with your family, your friends, your partners, your coworkers. I don't care who you go with, but get those butts in some seats and generate some ticket sales for this gem of a production. Unless your heart is made of Astrid's stone-cold, sparkling, million-dollar diamonds, you won't be disappointed.
Let's talk about this trivia tidbit up front. This is the first time in 25 years that a film with an Asian-led cast has been featured on American movie screens (the last being "The Joy Luck Club" back in '93.)
Twenty-five YEARS!
Isn't that mind-boggling? I've only been alive for 26 of those years and during that time only ONE other film was led by an Asian or Asian-American cast? From my cursory googling, 60% of the world's population currently lives in Asia (thanks, Wikipedia), not accounting for those with Asian heritage. At the very least, there's clearly a disparity here, and Crazy Rich Asians is a great starting point to address it.
Based on the novel of the same name, Crazy Rich Asians tells the story of Rachel Chu (Constance Wu), an Asian-American economics professor who goes home to meet the family of her boyfriend, Nick Young (Henry Golding) in Singapore. What Rachel doesn't know is that Nick's family is extremely rich. They're one of the biggest real-estate developers in Singapore, and Nick is one of the most eligible bachelors on the continent.
Unfortunately for Rachel, Nick's family doesn't approve of her upbringing- and neither do a series of jealous, upper-crust single women who plot to take Rachel down.
The rest of the movie depicts Rachel's struggle to maintain her identity and fight for her relationship in a sea of glitteringly vicious, stunningly sinister family gatherings.
Crazy Rich Asians is gorgeous- see it on the big screen. It's dazzling. There's lush color, luxurious sparkle, and sweeping shots of prime real estate. It's Gossip Girl stylized, envy-inducing, wish fulfillment. Each scene is visually luscious – every item feels hand-picked and priceless: from the designer clothes to the fresh flowers and midnight sky-scraping terraces.
Beyond that, the movie itself is full of warmth and humor. Constance Wu plays her part as the smart, sympathetic, strong lead perfectly, and she's matched by hilarious Awkwafina and Jimmy O. Yang for comic relief.
Also, the soundtrack is perfect. Most of it is in Chinese and some are Chinese covers of American hits. All of it is spectacular in setting the mood for this opulent, brilliant rom-com.
Not to brag, but my press/critic theater audience for this screening was spectacular. During the scenes where Nick's family deliver masterfully poisonous put-downs to Rachel's face, they were aghast. During another surprising scene, they gasped. Audibly gasped! It's delightful to see a movie with such a good audience who's dialed in to the action, and that made my experience with a great movie that much better.
Go see Crazy Rich Asians. Go to support this wonderful cast and this beautiful project. But mostly go because it's a damn good rom-com that makes cynical movie critics gasp and aww at all the right moments. And make sure to bring tissue to drool over the lifestyle of the crazy rich.