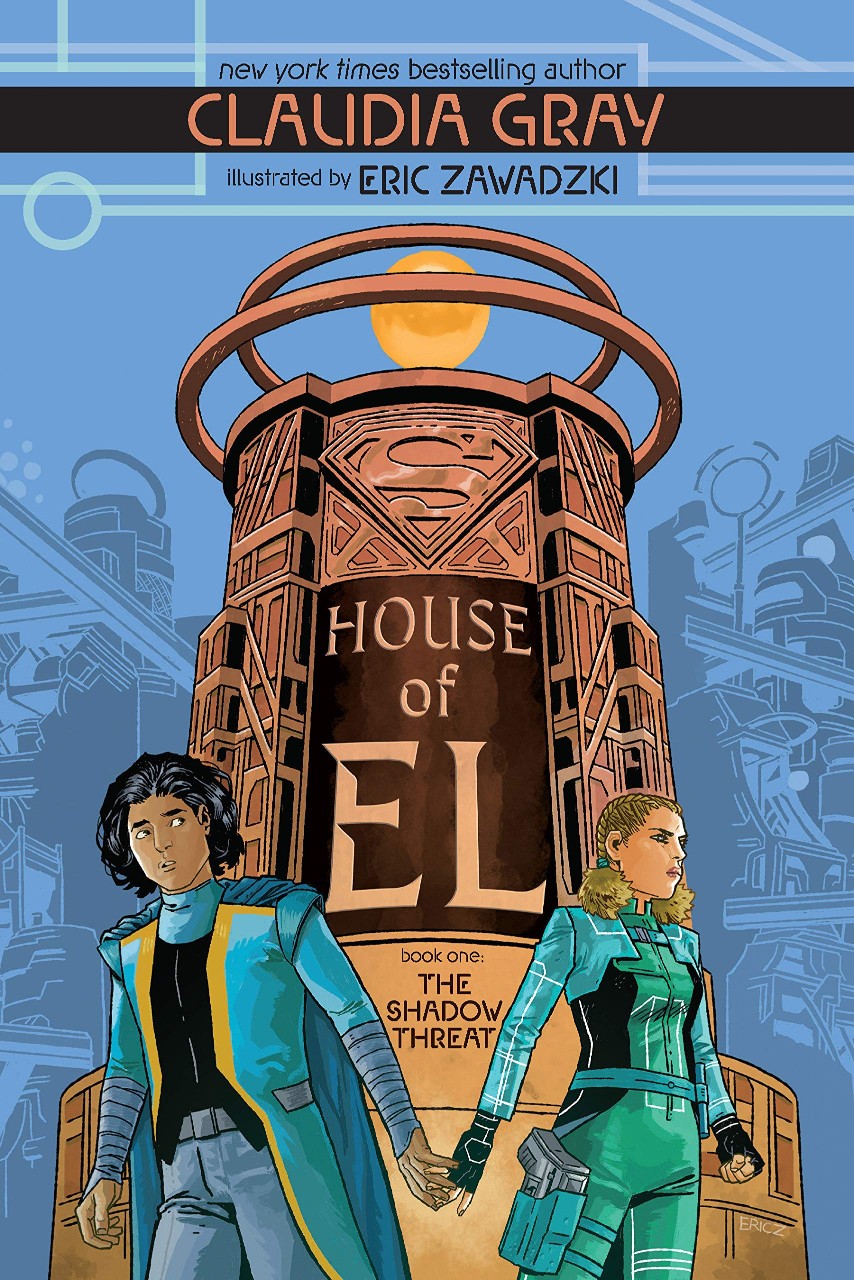 Title: The Shadow Threat
Series: House of El #1
Author: Claudia Gray 
Arist: Eric Zawadzki
Pub. Date: January 5, 2020
Publisher: DC Comics
GoodReads | Amazon | BN | DC
Everyone knows what happens to Krypton. Superman's entire origin story relies on the planet's destruction. But how did they get there? How did things go so wrong? That is the story Claudia Gray and Eric Zawadzki begin to tell in their new YA graphic novel trilogy, House of El.
The first entry, The Shadow Threat, introduce a us to a world on the eve of what (at least to readers) seems to be an inevitable demise. Massive geological disturbances plague the entirety of Krypton and attempts to synthesize a new home Those who are in charge remain either willfully ignorant to the reality of what's going on around them or they're stubbornly unable to face the truth. In any case, it's a timely reflection on certain aspects of our own current political climate.
House of El: The Shadow Threat follows two teenage Kryptonians, Sera and Zahn. The two come from very differing backgrounds and on Krypton your "background" determines your whole future. The caste structure and the generations of overly perfected genetic design should have assured that neither had much to do with the other at all. And yet Sera, a soldier under Zod's command, and Zahn, a future leader and relative of Superman himself, find themselves crossing paths.
Together Sera and Zahn begin to question the foundations of their society and discover some hard truths about their home – as well as themselves. By the end of this book they are in the middle of some very serious trouble. Much of the first book is spent introducing us to our main characters as well as Kryptonian society (and the issues tearing it apart). It's an in credibly promising start to what has so far proven to be a captivating read.
Claudia Gray has been one of my favorite authors for the last few years. She's done a fantastic job of reimagining Krypton and I appreciate the unique point of view provided by Sera and Zahn. Their struggle to reconcile the truth of what is happening to their world with the actions of their leaders is something many young readers will find relatable especially in these recent, polarizing times.
Zawadzki's contributions cannot go without praise as well. We've seen Krypton before here and there in movies, comics, etc. and he's done a fantastic job bringing the planet to life once more. Considering the target audience and that these YA graphic novels are uniquely designed to stand alone and be approachable to new readers, it may be the first introduction many have to Krypton. I love his style and feel it's perfectly suited to the story he and Claudia Gray are telling.
House of El: The Shadow Threat is a great read that will appeal to readers of all ages. But it has a timely message for teens who are just getting into comics and exploring everything DC Comics has to offer. I only wish the other books in the trilogy would come out sooner!