Warner Bros. Home Entertainment provided Nerdophiles with a free copy of Arrow: The Complete Fourth Season on blu-ray which is being reviewed in this blog post. The opinions we share are our own.


Arrow: Season 4 [Blu-Ray]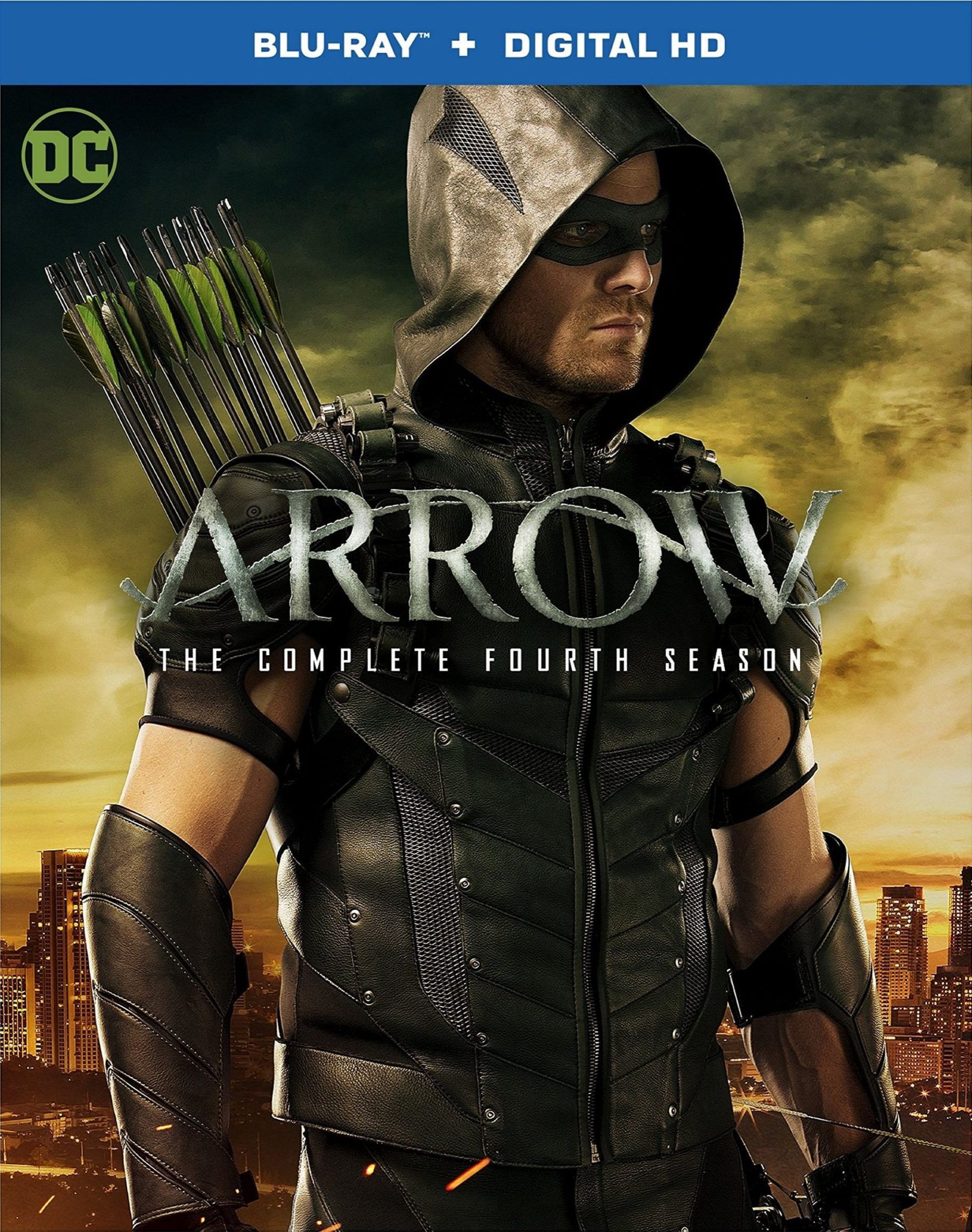 Release Date: August 30, 2016
Cast: Stephen Amell, Willa Holland, David Ramsey, Emily Bett Rickards, Katie Cassidy, Paul Blackthorne
Network: The CW
Genre(s): Sci-Fi, Comic Book, Superheroes
Extra Feature Rating:  ★★★★☆
Rating: ★★★½☆
Review Spoilers: Moderate
Amazon | IMDB | Wikipedia | RT
All right, so, fans of Arrow can rejoice because the fourth season is finally available on DVD and blu-ray. Admittedly, I'm a little torn as to how I feel about this season myself.
The fourth season of Arrow is a multifaceted beast. Largely focusing on the Arrow team's battle against new bad guy Damien Darhk, the plot admittedly wanders off point here and there. We get a number of different character introductions here and there that ultimately serve as more of an introduction to the Legends of Tomorrow than anything else. And while the story ultimately manages to find it's way back on point each and every time some of the random subplots can get a little convoluted.
The best thing about the whole season, though?
John Constantine.
As a huge fan of the series Constantine which was struck down by the merciless cancellation gods far too soon, seeing Matt Ryan back on my television rubbing shoulders with his longtime buddy Oliver Queen was the greatest thing ever. And every reference to him afterward made me incredibly giddy. (Seriously, The CW, please bring him back. I need him in every one of your DCTV shows.)
Anyway.
Season Review
Arrow is effectively the father of all the DCTV shows out today and even after four seasons it still manages to stay interesting. The fourth season manages to raise the stakes by introducing an incredibly charismatic – and dangerous – new villain named Damien Darhk. The bulk of the series revolves around the team trying to figure out Darhk's endgame, battling his secretive organization HIVE, and stopping him from basically destroying the world.
Even Oliver's flashbacks from the island ultimately tie-in with Damien Darhk's own backstory.
This is good because Damien Darhk is a great villain. He's fun. He's quirky. He's also kind of crazy. This a man who goes from witty humor to murder in just a split second. We've had some pretty dangerous bad guys on this show before but he's something else entirely. Malcolm Merlyn – who also has his humorous moments – can't hold a candle to Damien Darhk's ruthlessness. (He's also too busy flip-flopping sides as many times as the Evil Queen in Once Upon A Time.)
Plus he has the supernatural magic thing going for him which is cool. It's a new dynamic for this series and this whole season tends to focus a lot more on magic and the supernatural than any season has previously.
That said, while the season tends to come together well enough as it unravels the Damien Darhk storyline it does meander a bit. Oliver and Felicity's relationship is incredibly frustrating this season and it goes from like zero to sixty in half a second and then back again. We also say goodbye to some series favorites and those characters who do remain find themselves challenged. People die and while some come back others do not – and if they do they aren't always the same as before.
There's also this weird on-going cross-series backdoor pilot feel in the early half of the series. Like The Flash this past season, there are episodes in this series that focus a lot more on resurrecting certain characters and introducing others so that ultimately they can go on to be in Legends of Tomorrow. They aren't necessarily bad episodes and the writers do a good job of tying them into the series as a whole. But it does distract a bit from the season as a whole.
Of course, I say that, but in reality I am absolutely in love with John Constantine and his appearance in this season was basically the highlight of this entire series. We didn't get nearly enough of him and I'm dying to see Matt Ryan put on the trenchcoat once again.
All in all, it's a pretty decent season. But things definitely start to fall apart for Oliver and the team as things go along. It seems like everybody starts to part ways at the end of the season – which begs the question: what comes next? (Luckily we don't have to wait long to find out.)
Want to know more specifics? Check out our individual episode recaps!
Special Features
So what about the special features?
The Damien Darhk feature – Smooth Criminal: The Damien Darhk Story – is pretty great. The showrunners do a really good job of explaining how they fleshed out the character and how they developed his backstory. It turns out that Neal McDonough had a fair amount of influence on the character which is really cool to see.
Now, the character is basically nothing like his comic book counterpart (after all he's got these weird magical powers in Arrow that he doesn't have in the books.) But they do go into a little bit into the background. They also use the special feature to go into his characterization. They discuss what makes him so dangerous, his family, and his relationships with the other characters on the show.
There are also two different Hawkman/Hawkgirl special features included on the blu-ray release. Entitled Star-Crossed Hawks and Star-Crossed Hawks: The Hunt for Vandal Savage, they are both fairly detailed special features that go into the specifics of the characters. The former focuses on Carter and Kendra while the latter focuses on villain Vandal Savage.
They are both pretty decent featurettes, though the second one seems almost better suited for the Legends of Tomorrow blu-ray release. (That said, it's a really cool look at the character, his motivations, and potential.)
Rounding out the special features are a gag reel and deleted scenes – as well as the Arrow: 2015 Comic-Con Panel. The Comic-Con panels are becoming standard fair for the DCTV home releases which is awesome. If you've been paying attention to our other DVD and blu-ray reviews lately you'll note that the recent Lucifer, Legends of Tomorrow, and iZombie releases all included their 2015 Comic-Con panels, too.
Really, the only thing that was disappointing about these special features was the lack of any sort of feature based on the John Constantine episode. Hawkgirl and Hawkman got two but John Constantine can't even get one! I mean, yeah, other things happen in that episode besides Constantine appearing but that's all I really cared about.
I love Matt Ryan and Constantine is the most criminally underrated DCTV series out there. Adding in a short making-of featurette on bringing Constantine into the Arrowverse would have been awesome – and it would have also been an excellent opportunity to drum up some interest in the series on CW Seed. Opportunity squandered!
Final Thoughts
The fourth season is a pretty entertaining watch if nothing else. Neal McDonough is an absolute gift and his portrayal of Damien Darhk is not to be missed. Just know that you're going to almost have to watch Legends of Tomorrow after this season if only to understand why so much attention was focused on Hawkman, Hawkgirl, and resurrecting Sara Lance and Ray Palmer. Which, you know, is fine because as completely random and crazy as that season is it's certainly entertaining.
Arrow fans should definitely check out this season and now is the perfect time to catch up on the series! The fifth season premieres on The CW on October 5th at 8 PM.