https://www.youtube.com/watch?v=nemZKpLlKxo
101 Dalmatians:
Diamond Edition [Blu-Ray]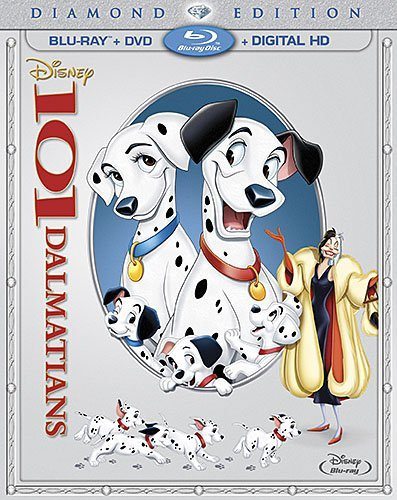 Release Date: February 10, 2015
Original Release Date: January 25, 1961
Cast: Rod Taylor, Cate Bauer, Betty Lou Gerson, Ben Wright, Lisa Davis, Martha Wentworth
Director: Clyde Geronimi, Hamilton Luske, Wolfgang Rietherman
Studio: Walt Disney Productions
Distributor: Buena Vista Home Entertainment
Genre(s): Animated, Family
Extra Feature Rating:  ★★★☆☆
Rating: ★★★★☆
Review Spoilers: Low
Amazon | IMDB | Wikipedia | Rotten Tomatoes
101 Dalmatians is such an amazing movie and it had such a large impact on my childhood that this Disney Diamond Edition release is probably my first must-buy blu-ray release of the year. This is actually the first time you've been able to buy 101 Dalmatians on blu-ray or on digital HD, which is really all the more reason to get it now while you can. Disney can throw things back into the vault on a whim so you definitely don't want to miss out.
I've been waiting so impatiently for them to re-release this film and as a life long 101 Dalmatians fan I have to say that this is pretty much the perfect release.
First off, the Diamond Edition cover design looks incredible. I know it looks a little plain – like it's just got a dull, grey background – in the image above but in person the cover is shiny with a mirror-like quality. That was the first thing I noticed when I got it and I'll admit that I'm a sucker for shiny things so I thought it was pretty awesome. It's going to look great on any collector's shelf.
Another big plus is that if you get the blu-ray combo pack you'll get a digital HD code for the film. I don't know about you guys but I'm beyond excited at the prospect of being able to relive my nostalgia any time I want via Disney Movies Anywhere.
And the special features that come with this release are a lot of fun. I would honestly have been happy with just the movie itself but for fans who can recite the movie verbatim they offer something new and exciting to explore. Admittedly, the extras aren't really anything absolutely groundbreaking but they're a great addition to what would already be a must-buy release all on it's own.
https://www.youtube.com/watch?v=xikpVinxtBU
The Further Adventures of Thunderbolt
This was such a cute little animated short! I loved it so much. One of the more iconic scenes in 101 Dalmatians involves Pongo, Perdita, and the puppies watching Thunderbolt on television. Lucky keeps getting in the way, Patch gets super into it, and the puppies jump and bark at all the right moments. It's adorable. But the episode ends on a cliffhanger. The Further Adventures of Thunderbolt finishes episode and shows what happens to Thunderbolt, his human partner, and that no good dirty horse thief!
Dalmatians 101
Cameron Boyce, a Disney Channel actor who will be playing Cruella de Vil's son in the upcoming TV movie Descendants, walks viewers through some really cool tidbits about the making of 101 Dalmatians. He gives you five reasons that 101 Dalmatians is the best movie ever. Boyce tells you some really incredible facts about the film from the various processes used to create the film to cameos from Lady and the Tramp! (He also gives some well earned props to Cruella de Vil as one of Disney's absolute best villains of all time.)
Lucky Dogs
I kind of have to think that working for Disney would be one of the absolute best jobs of all time. Featurettes like this one just seem to prove that. The 'Lucky Dogs' mentioned in the title aren't the canine characters but the people working for Disney! In 'Lucky Dogs' we learn a bit about the traditional animation process back in the 1960s and the challenges that came with their technological limitations. The featurette focuses a bit more specifically on the issues that faced 101 Dalmatians at a time when animation and film were hurting as an industry and the magic was almost lost entirely. It talks about how they changed with the times, made the most of what little they had, and proved the worth of animated featured films. It's a great watch – especially to see how Xerox basically saved the day!
Walt Disney Presents "The Best Doggoned Dog in the World"
A classic feature from 1961, 'The Best Doggoned Dog in the World' is an hour long black-and-white feature hosted by Walt Disney himself. It shows dogs all around the world working and serving their families. Seeing-eye dogs are spotlighted, as are sled dogs in the arctic. They go into the specific uses of various breeds to the joys of mutts and mongrels. It's cute – if clearly dated at times. Many of the facts will remain true today so it's definitely going to be a lot of fun to watch – especially with little kids who are at that age or in that phase where they are just absolutely obsessed with dogs.
Classic Bonus Features
Also included on the blu-ray are all the classic bonus features included on previous versions of the film. The sequence of short features on the making of the film are some of the best features on the film, really. I enjoyed watching them and especially being pushed to think about things I never would have otherwise – such as how modern the film was for it's time. There's also an incredible making of feature centered around Cruella de Vil who is my absolute, all-time favorite Disney villain. She's so perfect.
https://www.youtube.com/watch?v=-KCXP-kiUwQ
The classic features also archive some original television spots for the film's various theatrical releases and even some radio spots that were used to promote it back when it was first released. It's so cool. I'm a big history buff so I loved these (even if kids might not as much).
One of the coolest things, though, is the 'Sincerely Walt Disney' feature, which is a dramatic reading of letters between Walt Disney and Dodie Smith interspersed with history and various tidbits about the film's production. It's fascinating to see how Smith felt about certain changes and how the two worked together over the years.
These classic features paired with the new Diamond Edition features are really one of the reasons this is one of Disney's best Diamond releases yet. This blu-ray release isn't just a movie thrown together with some relevant special features. It's a historical treasure trove for 101 Dalmatians fans who want to know everything and anything they can about the movie.
Final Thoughts: 
I am in love with this release. I know, I know. Love is a strong word. But I have to say I really do love this release. I love 101 Dalmatians in it's own right but watching through every single special feature I couldn't help but smile pretty much the whole time. This is a gem among Diamond Edition releases and a must-buy for Disney fans everywhere!
A REVIEW COPY OF THE 101 DALMATIANS: DIAMOND EDITION ON BLU-RAY WAS PROVIDED FOR THE PURPOSE OF THIS REVIEW. NERDOPHILES WAS NOT COMPENSATED FOR THE REVIEW AND THE OPINIONS HERE ARE OURS AND OURS ALONE.