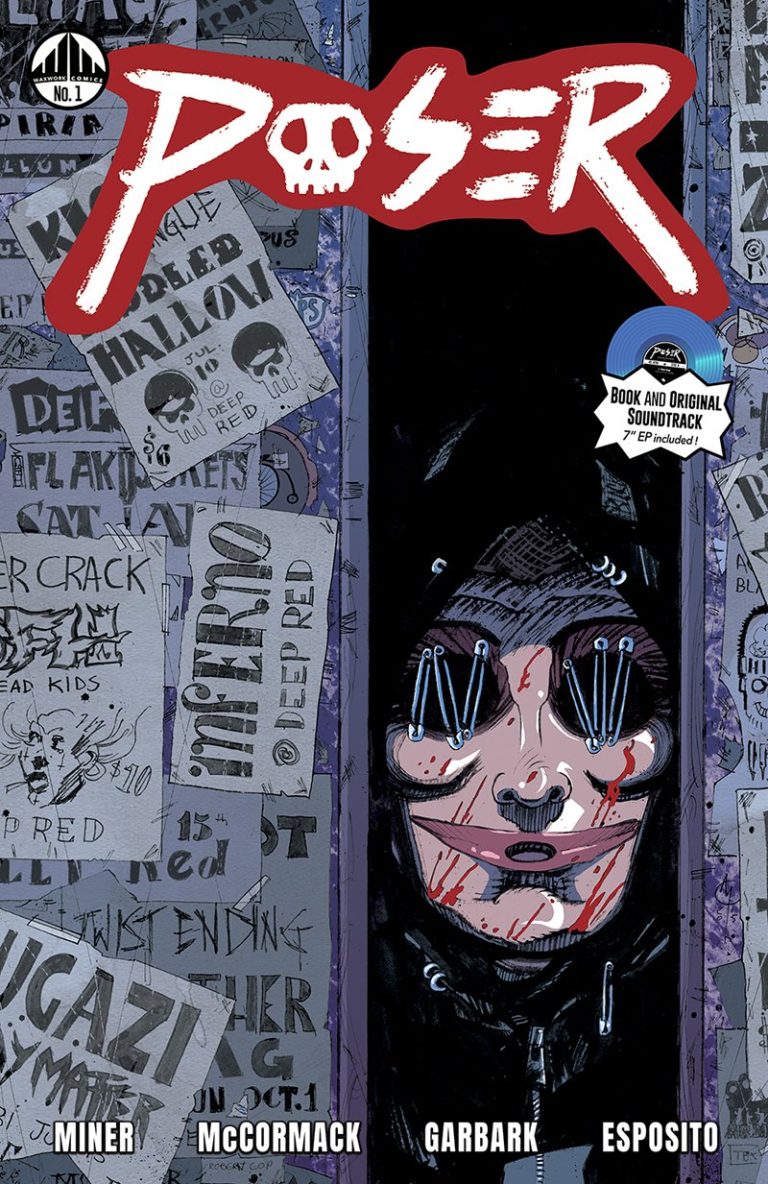 Author: Matt Miner
Artist: Clay McCormack
Colorist: Doug Garbark
Letterer: Taylor Esposito
Release Date: March 2018
Publisher: Waxwork Comics
Genre(s): Horror
Review Spoilers: Mild
Everyone loves a good urban legend, especially when they remain just that:
legends
. In his latest work, Miner creates his very own urban legend that tormented one generation of punk rockers and returns to torment the next over three decades later. The titular character, "Poser", is introduced in the first few flashback pages that take readers to Redondo Beach, California in 1982.
Out being punks, a group of young adults runs across a strange character who just wants to hang out. He's got the look of someone trying to fit in but instead of accepting him, the punk rockers on the beach decide to taunt him instead. After they make fun of him and put him through the ringer they convince him to get them free food from the burger place where he supposedly works. The young man begrudgingly agrees but the crew never end up getting burgers.
Flash forward to present day and the story is centered on a young woman named Ash and her group of friends who are all heavily involved in the Los Angeles punk rock scene. By this point, the Poser is just an urban legend, used jokingly by Ash's father to compel her to get out of bed in the morning. What comes next is a series of pages where kids are going to be kids, ditching out on work to attend a concert, do drugs, and eventually end up at a club where all hell breaks loose.
It turns out the Poser is back and out for revenge.
Poser is an engaging, fast paced story and offers readers a peek into the underground punk rock world of Los Angeles. "Sex, drugs, and rock'n'roll" holds true in this comic as Ash and her friends navigate their identities and are forced to cope with a wild murderer on the loose who has them in their crosshairs.
What I appreciate most about Issue #1 is the story set-up: what's the connection between the characters in 1982 and the ones in 2018? Why has the Poser chosen these particular youths to lay his knife on?
The art and colors support the overall tone of the issue: gritty, with edges. If you like horror, you'll love this issue, particularly if you enjoy the sort of horror that plays in the gray and makes you wonder who the bad guys really are.
Ready to check it out? Waxworks Records has you covered. You can pick up issue #1 of Poser along with an accompanying original vinyl soundtrack to listen to as you read. Also be sure to follow writer Matt Miner on Twitter for all the latest updates about what is next for the world of Poser.