Peter Pan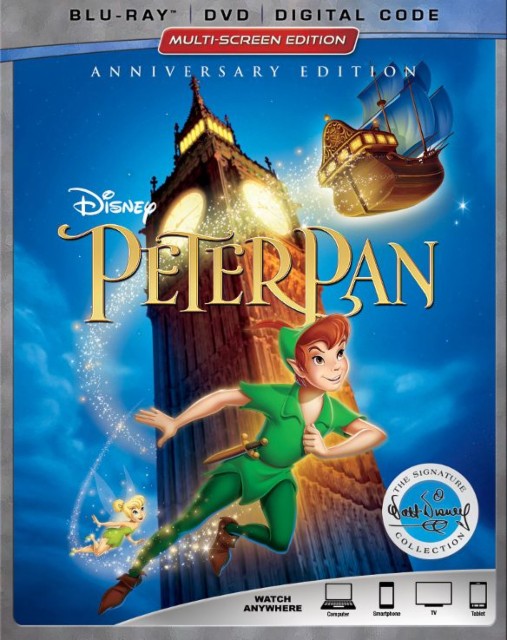 Release Date: June 5, 2018
Cast: Bobby Driscoll, Hans Conried, Kathryn Beaumont, Paul Collins, Tommy Luske
Studio: Walt Disney Studios Motion Pictures
Extra Feature Rating: ★★★★☆
Rating: ★★★★☆
Review Spoilers: Moderate
Amazon | IMDB | Wikipedia | RT
Originally released in theatres for the first time sixty-five years ago, Peter Pan has once again escaped the Disney Vault as part of the on-going Walt Disney Signature Collection series of releases. It has been nearly five years since Peter Pan was available on blu-ray and it has been at least a couple since it was last placed in the vault. Now is the perfect time to pick it up if you missed the Diamond Edition!
I don't really need to do a full movie review of Peter Pan since I'm sure at this point pretty much everyone has already seen it.
The great thing about the Signature Collection, though, is that it's coming out as so many people in my generation are looking to pick up these classic titles for their own children. This is a great opportunity to introduce your kids to Peter Pan and show them the true origins of Tinker Bell since so many will know her primarily from her own series of direct-to-DVD films. (Not to knock them: we loved The Pirate Fairy and the Neverbeast!)
At a time when there are so many lackluster children's films and television series out there, sometimes it's good to be able to return to the classics!
Special Features
There are tons of special features on this most recent release of Peter Pan. One of the cool things that Disney has been doing is including a lot of the old special features on the newer releases. That way if you missed the Diamond Edition, for example, you still get to see some of the stuff that was included on that one.
There are, however, a few special features created specially for this version of Peter Pan.
Among the original special features for the Signature Collection release is A Darling Conversation – Wendy and John: Kathryn Beaumont and Paul Collins. The voice actors behind Wendy and John Darling come together to review images and reflect on their experience working on the film — and with Walt Disney. It's really cool to see these folks reflecting on their experience as young actors on the lot working with Disney, the animators, and more to create Peter Pan.
The other substantive, original feautrette is Stories From Walt's Office: Walt & Flight. It discusses about Walt's love of flying – something he gained as a young man. They talk about the planes he owned as well as his experiences including flying in a fighter jet. It's a very neat little luck at what is probably a lesser known aspect of Walt's personality. And they discuss how it influenced his films with the number of movies involving some aspect of flight.
Other than that, there are two karaoke featurettes included in this release.
The real substance, though, comes from the classic features. There are hours of extras — just understand that some of them are in VHS and DVD quality due to their age. Some are making-of features while others are deleted songs and deleted scenes. You may have seen them before but it'll be great to have them in a more accessible, modern format!
Final Thoughts
Now is the time to add Peter Pan to your home movie collection — especially if you haven't had the opportunity before. I love the Signature Collection and they do a pretty fantastic job of presenting classic films with a well curated collection of both new and classic bonus features. I have yet to be disappointed by a Signature Collection release (though admittedly this is one of the sparses in original special features, I think).
Peter Pan's Signature Collection release hits shelves today!