While we eagerly await Avengers: Age of Ultron, Marvel has released another trailer for its next film, Ant-Man.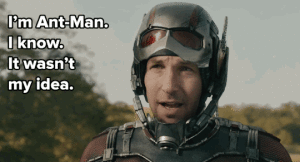 Unlike the underwhelming first trailer, this highlights more of the film's comedic tone and small-scale yet high-impact action. Following Edgar Wright's highly publicized departure from the film, Marvel hired Adam McKay (Anchorman, Step Brothers) in collaboration with star Paul Rudd to further develop the script. This new footage shows a bit more of that comedic sensibility Marvel hired them for.
Ant-Man, like Guardians of the Galaxy before it, is one of Marvel's toughest sells. Taking it too seriously would undermine the fact that yes, he is named Ant-Man and his superpower doesn't seem exactly super, but handling it too jokily would be a disservice to the character and cohesive world Marvel has built. Yes, the stakes may seem small in Ant-Man but it's all a matter of perspective.
One of the most interesting observations from watching Marvel's Daredevil on Netflix was that this dark and serious (and excellent) story of a street-level hero without any superpowers takes place within the same universe that is home to a trash-talking raccoon and a sentient tree creature that likes to groove. All Matt Murdock wants to do is take down a crime kingpin and protect his city. This is not an Avengers-level conflict, but the story is compelling and incredibly effective in its execution. However, even in the grim Hell's Kitchen, Daredevil manages to maintain some levity through humor. Ant-Man seems to be taking the reverse approach, lacing its comedy with dramatic tension and some pretty cool looking action. Again, like Guardians, it could all work very well.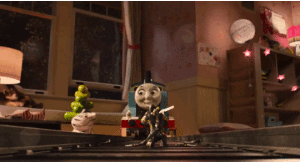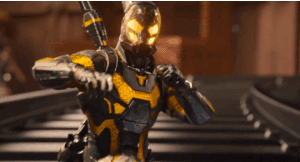 The film stars Paul Rudd as Scott Lang/Ant-Man, Michael Douglas as Hank Pym, Evangeline Lilly as Hope Van Dyne, and Corey Stoll as Darren Cross/Yellowjacket, with a special appearance from Thomas the Tank Engine. From director Peyton Reed, Marvel's Ant-Man hits theaters like a bullet on July 17, 2015.