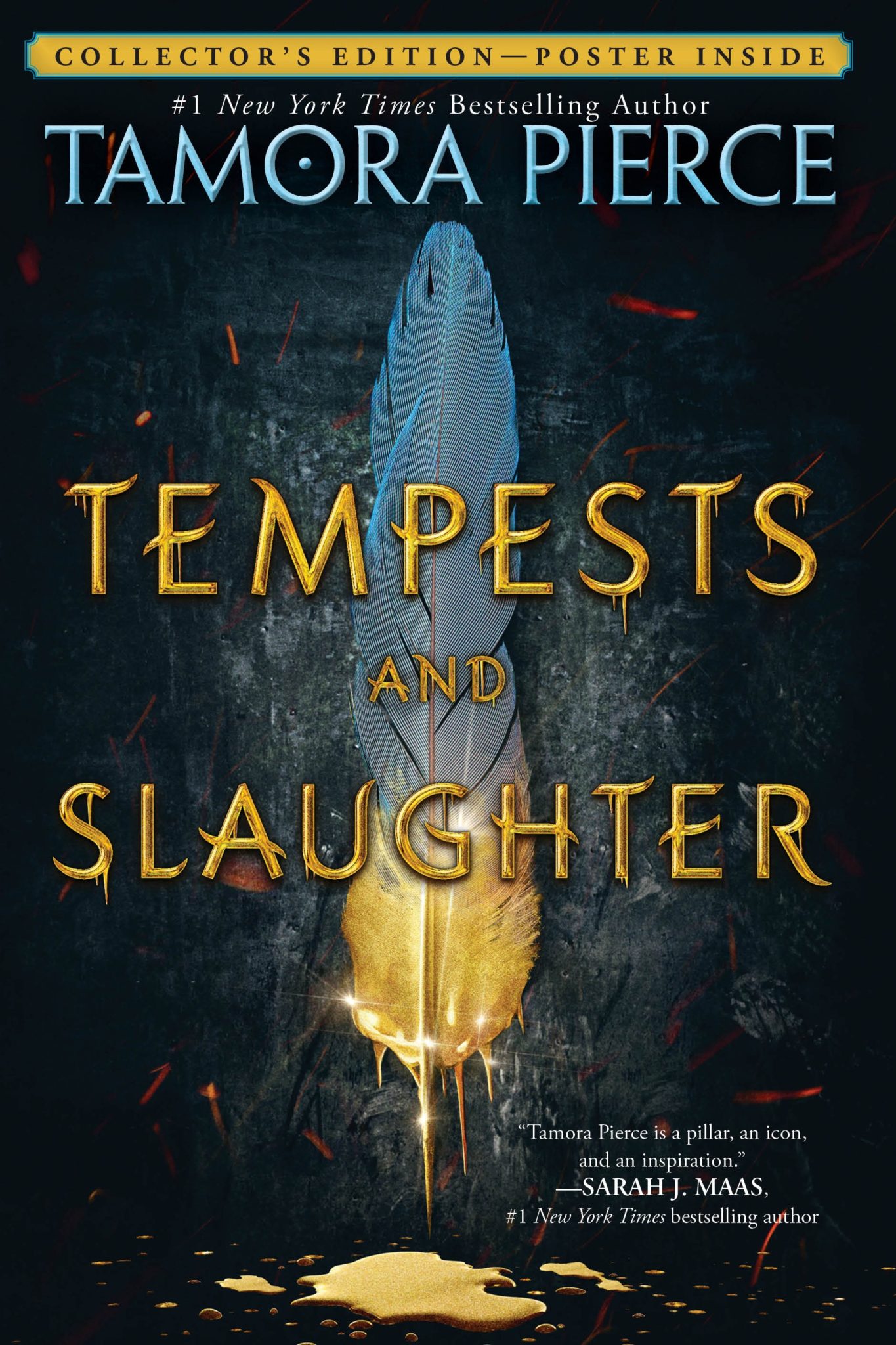 Title: Tempests and Slaughter
Author: Tamora Pierce
Release Date: February 6, 2018
Publisher: Random House Books for Young Readers
Pages: 480
Formats: Hardcover, eBook, audiobook
Goodreads | Amazon | Audible | B&N | iBooks | TBD
Rating:

Rating:
Synopsis
Arram. Varice. Ozorne. In the first book in the Numair Chronicles, three student mages are bound by fate . . . fated for trouble.

Arram Draper is a boy on the path to becoming one of the realm's most powerful mages. The youngest student in his class at the Imperial University of Carthak, he has a Gift with unlimited potential for greatness–and for attracting danger. At his side are his two best friends: Varice, a clever girl with an often-overlooked talent, and Ozorne, the "leftover prince" with secret ambitions. Together, these three friends forge a bond that will one day shape kingdoms. And as Ozorne gets closer to the throne and Varice gets closer to Arram's heart, Arram begins to realize that one day soon he will have to decide where his loyalties truly lie.

In the Numair Chronicles, readers will be rewarded with the never-before-told story of how Numair Salmalín came to Tortall. Newcomers will discover an unforgettable fantasy adventure where a kingdom's future rests on the shoulders of a talented young man with a knack for making vicious enemies.

Act fast! The first printing of the hardcover includes a collector's edition poster!
Our Review
It must be so frustrating to write a book about magical schools.
J.K. Rowling has had a monopoly on the genre for a full 20 years now, and you'll never avoid the inevitable comparison to one Harry Potter. So let's get the comparison out of the way – this book is like the first four Potter books meshed into one. It's a magical coming-of-age from late childhood to early adulthood at a boarding school with a talented trio of friends. That's where the comparisons end.
And where it differs from Harry Potter is where Tempests and Slaughter shines. Tempests and Slaughter highlights the academic pursuits of magical school storylines in a coming-of-age story without an overarching enemy or quest.
The book follows Arram Draper, a magical protege, through his education. Over the years, he makes friends, grows up, and confronts the injustices in his society. It's a leisurely stroll through a magical education, focusing on the fundamentals of magic and the mysteries of spiritualism.
Arram lives in a fictional world that has elements that reminded me of 1000 Arabian Nights meshed with Gladiator-style Greek and Roman slavery and polytheism. Pierce slow walks the reader through her world so that the world-building doesn't feel rushed or over-explanative. It's fed to the reader as needed without an abundance of world-specific jargon or emphasis on foreign lands and locations. The world feels natural, with new things to learn and surprises to uncover with every chapter. It's truly magical, entwined with mythology and religion.
What's particularly well done in this book is that the magical elements are equally as important as Arram's coming of age. In other magical boarding school books, the balance between character development and magical lore is weighted too far one direction or the other: either they read like a how-to manual or an adventure where magic is a secondary plot tool. Here, readers get equal doses of Arram's perspective on everything from bullies to plagues to slavery while learning about new forms and uses of magic. Both are intertwined, and each cannot exist without the other.
In particular, I love experiencing Arram's personal growth: Pierce takes the reader through Arram's experiences with schoolyard bullies to the awkward phases of puberty (erections and all), to his teenage questionings of his society's status quo. Where other books may suffer from taking this approach without a likeable character (look at the fifth installment of Harry Potter), what works here is that Arram is largely hapless. He's a blank slate with a kind and empathetic core, and he approaches all challenges with this goodwill toward others. Arram is willing to be taught and knows the difference between morally right and wrong. The character is never irritating or entitled, and there's just enough of his personality for the reader to root for him while we're whisked away on a series of entrancing lessons.
My one criticism is that Arram's ease with learning magic makes him unrealistic- his lack of struggles with his academics slightly cheapens his journey. The reader always knows that everything will turn out all right, and Arram's knowledge and skill will let him slide past any obstacle. I just wish that there was a little friction along the way.
Other than that, each chapter is a new mini-adventure with a constant cast of characters we grow to know and love. From working as a medic during the plague to deep-diving along the riverbed with a crocodile god, every installment feels new and exciting.
Meanwhile, as Arram's friendships change over the years, we witness the small steps toward one of his friends becoming a villain, tragedies occurring on the political stage, all of which queue up Arram very well for the following books in the series.
I'm absolutely enamored with this world and its characters. I highly recommend Tempests and Slaughter for anyone who's a fan of magical schools and young adult literature – including Harry Potter fans.
Giveaway
As part of the book tour, Rockstar Book Tours has three finished copies of Tempest and Slaughter to giveaway! Make sure to enter now. The giveaway ends on March 2nd at Midnight EST! (US addresses only.)
About the Author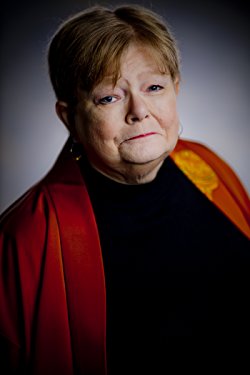 Tamora Pierce is a bestselling author of young adult fantasy books that break past the traditions of the fantasy genre to feature teenage girls as knights, wizards, and above all: heroes. A #1 New York Times bestseller and the recipient of the 2013 Margaret A. Edwards award, Tamora has written over 30 books, including the upcoming TORTALL: A SPY'S GUIDE (Oct. 31, 2017) and TEMPESTS AND SLAUGHTER (Feb. 6, 2018).
Tamora was drawn to books from a young age. Raised in rural Pennsylvania, the child of a "long, proud line of hillbillies," her family never had much. "We were poor, but I didn't know it then. We had a garden where my folks grew fruit and vegetables and our water came from a well," she explains. But one thing they did have was plenty of books. So Tamora read.
A self-proclaimed "geek," she devoured fantasy and science fiction novels, and by the age of 12 was mimicking her literary idols and writing her own action-packed stories. It was thanks to her father that Tamora began writing. "He heard me telling myself stories as I did dishes, and he suggested that I try to write some of them down," Pierce says.
But Tamora's novels had one major difference: unlike the books she was reading, her stories featured teenaged girl warriors. "I couldn't understand this lapse of attention on the part of the writers I loved, so until I could talk them into correcting this small problem, I wrote about those girls, the fearless, bold, athletic creatures that I was not, but wanted so badly to be."
Seventeen years later, after graduating from the University of Pennsylvania, a brief career in teen social work and some time spent writing for radio, Tamora Pierce held true to her childhood crusade, and published ALANNA: THE FIST ADVENTURE, the first in a quartet about a valiant, young, female warrior. Pierce's heroine struck a chord with readers across the country and quickly earned her a loyal following.
Now, with over 30 critically-acclaimed books to her name, Pierce lives in upstate New York with her husband Tim and their menagerie of nine cats, two birds, a flock of pigeons, various raccoons and squirrels, and one opossum. "It's a pretty good life, if I do say so myself. Struggling along as a kid and even through my twenties, it's the kind of life I dreamed of but never believed I would get. Yet here I am, after a lot of work, a lot of worry, a lot of care for details, and a massive chunk of luck, the kind that brought me such strong friends and readers. Pretty good for a hillbilly, yes? And I never take it for granted."
Website | Twitter | Facebook | Goodreads