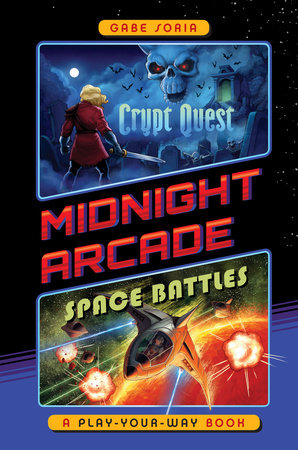 Title: Midnight Arcade: Crypt Quest/Space Battles
Series: Midnight Arcade #1
Author: Gabe Soria
Illustrator: Kendall Hale
Release Date: February 13, 2018
Publisher: Penguin Workshop
Review Spoilers: Low
GoodReads | Amazon


Rating:
If you've ever thought that traditional books were a little too linear then you're in luck! Gabe Soria's Midnight Arcade series is here to give readers a choice in how they experience their stories. The first book in the series offers readers two video game-inspired adventures to explore their own way.
Older readers who grew up in the 80s and 90s will undoubtedly remember another ubiquitous series that offered a similar reading style. But Soria is reinventing the genre for kids today. The series uses the titular 'Midnight Arcade' as a venue through which the main character of the books (who also happens to be the readers themselves) get sucked into this fast-paced, high-stakes stories.
In the first book, readers can choose between two 'video games' to 'play.' One is Crypt Quest and the other is Space Battles. Regardless of which game is chosen first you can always go back and play the other one as well. As you read through the stories you're prompted every few paragraphs (and in some places p ages) you're given various prompts. Some simply tell you to go to another page to continue your journey. But others give you a choice as what to do next.
The choices are presented in the shape of an arcade video game controller. You can move in various directions or take certain actions. Each choice will make the player (who has taken the place of the video game character) do something. Sometimes it's the right choice. Sometimes it results in the loss of a game life. Don't worry, though. The book is very forgiving and like an arcade game where you pop in a quarter to continue there are plenty of second chances. If you make a wrong move, most of the time the book will redirect you back to the last choice you made.
One of thing that bothered me was that towards the end of either of the stories the book becomes less forgiving. If you make a wrong a choice it starts to move you forward regardless. Coming close to winning a game essentially becomes the same as winning. And the ending is the same regardless of your choices. It's a decent ending! But it is repetitive – especially if you keep going back to play through all of your choices. By the way, if you feel like you're getting close to the end of one of the stories pay attention to your page numbers. You may not be able to find your way back to your last decision otherwise!
I love the video game-theme of this book. I think the Midnight Arcade is a very clever way to present these stories. Characters come across this mysterious, ghostly arcade only to be swept into the arcade games and forced to survive long enough to beat them. Both Crypt Quest and Space Battles adapt their classic inspirations into fun, fleshed-out adventures that will keep young readers hooked. They'll want to know what comes next and to try out all their possible choices. Personally, I liked Crypt Quest best but you can always read both!
Midnight Arcade: Crypt Quest/Space Battles is a fun book that places young readers right in the middle of the adventure. It'll be great for reluctant readers in particular as it gives them a sense of responsibility for the story and its direction. Admittedly, the Play-Your-Way nature of the book won't appeal to everyone. But even though I'm not a huge fan of the format I still had fun with Midnight Arcade. If you enjoy it, there's already a second book planed, too. Midnight Arcade: Excellent Ernesto Cousins/Wrestlevania comes out this fall!