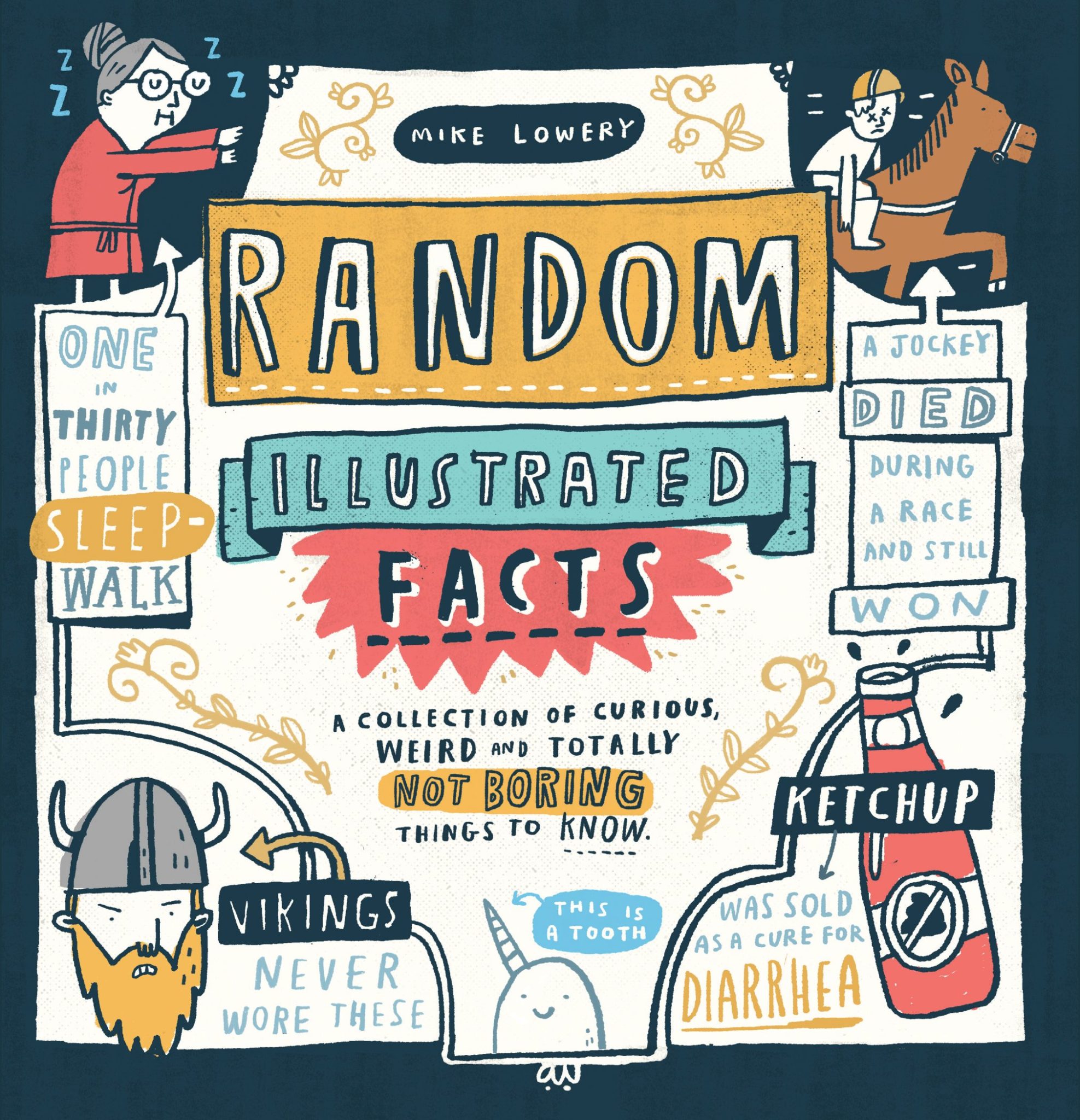 Title: Random Illustrated Facts
Author: Mike Lowery
Release Date: October 31, 2017
Publisher: Workman Publishing Company
Review Spoilers: N/A
GoodReads | Amazon

Mike Lowery is one of my favorite artists on
Instagram
and a great illustrator who has worked on some really awesome kids' books. When I heard he was coming out with a new book I was super stoked. After reading it, I can honestly say that
Random Illustrated Facts
is one of the funnest art books we've come across all year. It perfectly highlights Lowery's unique brand of humor blended with outrageous facts and incredible doodles.
Random Illustrated Facts is such a fun book that it's perfect for pretty much every reader. It covers such a wide variety of topics that anyone is sure to find at least one page of randomness that intrigues them. Once you get started with these short little whacky tidbits it's hard to stop. Lowery offers up facts on any number of people, animals, history, and more.
Don't care about Napoleon? Flip a few pages ahead and read some random facts about frogs! Or coffee! Or mushrooms! There's even a page about a town in Honduras where it rains fish. You can discover any number of things from this book. Even if you were already aware of a particular outlandish fact you'll enjoy seeing it supplemented with one of Lowery's adorable little doodles.
Facts are presented on their own and together, sometimes with a single drawing and sometimes with numerous drawings. But in every case they stick to their own, single page. Lowery explains his methodology in a short but fun introduction that not only introduces readers to the book but to where he got the idea from in the first place. Having enjoyed his artwork for a while now without knowing much about it, it's a cool little start to a book that's really just about having fun.
If you're looking for a Christmas gift for someone this holiday season, this is a really great choice. Random Illustrated Facts is the sort of 'coffee table book' you want to leave out for everyone to discover. Whether or not all the facts are actually true is something I cannot confirm. But I can confirm that they're all fun to read through and anyone who picks up Mike Lowery's Random Illustrated Facts is bound to have some fun with it!
You can check out more of Lowery's work on Instagram. If you want a better idea of what the book is like, the image below comes straight from the book. Of course, you can just check out Random Illustrated Facts for yourself, too!