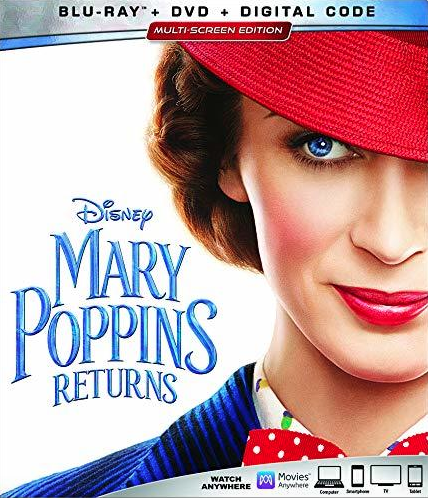 Release Date: March 19, 2019
Cast: Emily Blunt, Lin-Manuel Miranda, Pixie Davies, Nathanael Saleh, Joel Dawson, Ben Whishaw, Emily Mortimer
Studio: Walt Disney Pictures
Extra Feature Rating:  ★★★★☆
Rating: ★★★☆☆
Review Spoilers: Low
Amazon | IMDB | Wikipedia | RT
Mary Poppins returns in, well, Mary Poppins Returns! The iconic character comes to life once again in this direct sequel to the Julie Andrews and Dick Van Dyke led Disney classic. Filled with all the fun, semi-animated whimsy you may remember from the first film, Mary Poppins Returns seeks to take children and their families on a fantastic adventure both through imagination and Depression-era London.
It's a fun film to watch with the kids and it does a good job of emulating what made the original great. There are some truly amazing moments when 2D animation and live-action meet once again and some really wonderful musical numbers. (And some weird ones – I'm looking at you oddly raunchy "A Cover is Not the Book".) I enjoyed following up with the Banks family once more and though their story tread some pretty familiar ground for a Disney movie. I'd argue that the villains where too cartoonish but that's kind of the point at times!
It's hardly groundbreaking but it has a lot of entertaining moments.
Mary Poppins Returns is a fun little film bolstered by some really amazing talent. Emily Blunt does her best to fill some pretty big shoes and Lin-Manuel Miranda is just a joy to watch. The whole cast – from the children to Dick Van Dyke himself – do a wonderful job throughout.
For more thoughts on the film, check out Elise Kulik's initial review!
While I personally felt it was an unnecessary sequel, Mary Poppins Returns has it's moments and it's merits. My kiddos loved the musical numbers and even my preteen couldn't help but want to dance a long at times which is saying something! If nothing else it's a fun movie for everyone and a true musical with Broadway flair which we don't get enough of these days. It's perfect for a kids who just want to sing and dance a long and a great movie night pick though you may not get much replay out of the film. (The sound track on Spotify may be a different matter, though!)
Special Features
I really enjoyed the special features though I think a lot more could have been done to throwback to the original film. Still, the folks at Disney really offered up some really great making-of bonus features and I'm sure anyone who enjoyed the film will enjoy them. They aren't too long and in fact the are some of the consistently best paced, best length bonus features I've seen on a home release in a while.
Props to the folks who curated things!
The Practically Perfect Making of 'Mary Poppins Returns' is a four-part making-of documentary that does a really wonderful job of walking viewers through the film's origins. From creating the magical, iconic moments to breathing life into the new series, it covers a lot of ground and offers a lot of insight from the various filmmakers and cast members. I was, to pull from the title, a practically perfect making-of featurette with just enough information to keep you interested but not too much as to become too technical. Much like the film, kids could enjoy it just as well as adults.
The same can be said of Seeing Things From A Different Point of View: The Musical Numbers of 'Mary Poppins Returns' which specifically breaks down the making-of several of the musical scenes throughout the film. It's very cool to see the choreography come together in some numbers and the reactions of the actors while filming others. There's some admittedly cool musical numbers in this film and so I'm glad they decided to give many of them their own dedicated (albeit short) featurettes.
But what kids will probably enjoy more are the other offerings including a blooper reel and some deleted scenes including a deleted song that was not nearly as good as the The Royal Doulton Music Hall number that ended up replacing it. (But it's still cool to watch in it's rough storyboard form!)
There are other featurettes including an audio commentary, sing-along mode, and more.
But perhaps the most moving of all the bonus features is Back to Cherry Tree Lane, a reflection of Dick Van Dyke's return to the series. Even if you're not a fan of the original Mary Poppins (or this one) you can't help but feel the emotion that comes with it all – especially seeing him walk through a recreation of the original Cherry Tree Lane. It's a very cool five-and-a-half minutes and if you watch anything it's the featurette to watch!
Final Thoughts
At a time when Disney is revisiting the vast majority of it's classic properties, Mary Poppins seemed to be one of the least necessarily revivals. As entertaining as the film may be at times I can't say that I've completely shaken that belief. That said, Mary Poppins Returns has some good moments and it's got plenty of catchy tunes that will keep kids entertained throughout. Our whole household was able to enjoy it all the way through and the familiar story and format along with some familiar faces and names made it a great movie night pick for a lazy weekend at home.
Mary Poppins Returns is available today on blu-ray combo pack. Our review was based primarily on the redeemed digital HD copy which we highly encourage you check out!