Pirates of the Caribbean:
Dead Men Tell No Tales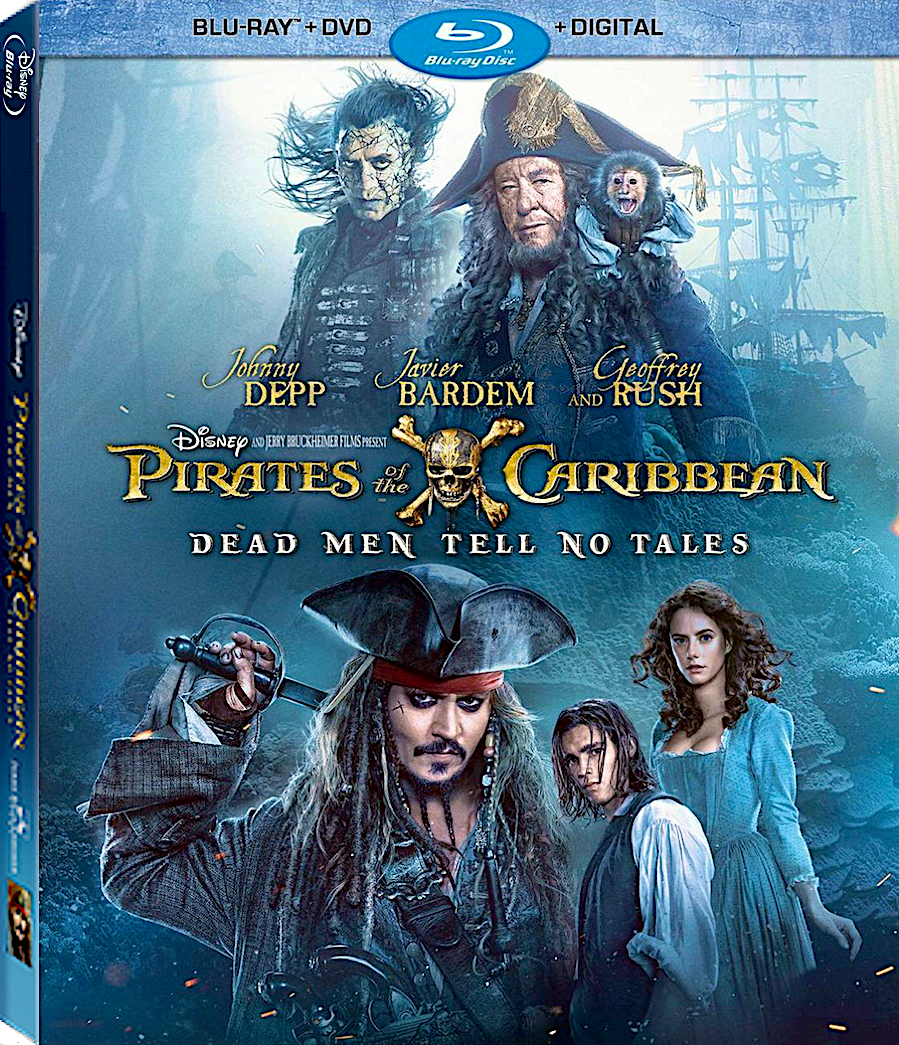 Release Date: October 3, 2017
Cast: Johnny Depp, Orlando Bloom, Kiera Knightley, Javier Bardem, Geoffrey Rush, Kaya Scodelario, Brenton Thwaites
Director: Joachim Rønning and Espen Sandberg
Studio: Walt Disney Pictures/Jerry Bruckheimer Films
Distributor: Walt Disney Studios Motion Pictures
Extra Feature Rating: ★★★☆☆
Rating: ★★★☆☆
Review Spoilers: N/A
Amazon | IMDB | Wikipedia | RT
When the first Pirates of the Caribbean movie came out people were absolutely taken by the fun, swashbuckling adventure. The Curse of the Black Pearl made it's mark as one of the best films of the early 2000s' best films. It was the kind of movie anyone could sit down and watch. And it's hard to imagine that anyone really expected that much from the plucky blockbuster that owed it's origins to an ride of full of animatronics.
Unfortunately, as the series progressed the films started to lose their luster. By the end of the main trilogy I know I was ready to say goodbye to Captain Jack Sparrow and the rest. But then they made a fourth film. And now a fifth. If we're lucky, there won't be a sixth.
Pirates of the Caribbean: Dead Men Tell No Tales offers a fine bookend to the series by bringing the story full circle. After going in a completely different direction in On Stranger Tides, the franchise went back to it's roots to a degree with this film. Jack isn't the only character who has come back. We see Orlando Bloom back briefly as Will Turner and (even more briefly) Keira Knightly return as Elizabeth Swann. And the Turner family saga continues with Brenton Thwaites taking on the role of Henry Turner – Will and Elizabeth's son who has now grown into a young man obsessed with bringing his father home and breaking his curse.
It's a very promising storyline that unfortunately fails to really deliver. As our blogger Elise Kulik wrote in her original film review: "The original Pirates of the Caribbean movie was a brilliantly fun, exciting high-seas adventure. By comparison, Dead Men Tell no Talesfeels like a perpetual wait in line for a lame water park ride."
You can read her whole review below.
Pirates of the Caribbean: Dead Men Tell No Tales Belly Flops into Theaters
I'm unfortunately on board with Elise on most the points she makes. Dead Men Tell No Tales drags on unnecessarily and loses sight of what could have been a pretty decent story.
That's not to say the film doesn't have it's merits.
Kaya Scodelario is a great, strong character who doesn't get enough opportunity to shine. It's a little disappointing that her backstory is revealed to be wrapped up in some pre-existing character's history. She's a great character on her own and I thought she had good on-screen chemistry with Brenton Thwaites who was also a welcome addition to the cast. Plus there were some entertaining – if some what silly – additions to the story like zombie/ghost sharks. And I'll admit that the film has a pretty compelling baddie in Javier Bardem's Salazar.
Unfortunately, it's not enough to save the film as a whole. It's long, often uneventful, and tells a story that initially seems fun but eventually just becomes lackluster. The best parts of the film are the moments when Kaya Scodelario and Brenton Thwaites get to do their own thing and when the story circles back to it's original characters.
While there still may be another, sixth film in the future if there's not this would be a good place to end the story. And while neither Elise or I enjoyed that doesn't mean you won't. It's a good film for fans of the franchise who didn't mind the fourth film and wanted a little closure on the characters and franchise. Plus, c'mon. It has zombie/ghost sharks!
Special Features
Let's look past our film review, though, and look at the blu-ray release as a whole. Fans of the film won't be disappointed by the special features that have been included. There's a hilarious blooper reel (made even funnier by a great, comedic cast) and three minutes of deleted and alternative scenes. Plus there's a photo diary including a short selection of pictures Jerry Bruckheimer took while on set during filming.
The real bulk of the special features, though, come in a series of seven featurettes that can be watched individually or as a group. Unlike a lot of recent Disney blu-ray releases there's no real preferred way to watch them. They standalone and so if you do watch them all together the sometimes drastically different format of the featurettes might clash.
But over all they're worth watching!
The cast and crew rather insightful and it's clear that they love working on these movies. It's great to see Scodelario and Thwaites get the opportunity to reflect on growing up with the franchise only to get to join it later on. And I thought it really interesting to see how the whole zombie/ghost shark scene came together. Plus you learn a lot of other things like how technology such as drones helped change the way the films were made.
That said, the best special feature of all of them was "First Mate Confidential" which follows Kevin McNally around set. He's been a cornerstone of the franchise and it's nice to see that he still loves it.
Final Thoughts
Pirates of the Caribbean: Dead Men Tell No Tales doesn't quite stack up to the original trilogy but I thought it was at least better than the fourth film that felt oddly out of place. If nothing else, Dead Men Tell No Tales tries to take the series back to it's roots by continuing the Turner family story (albeit with a brand new Turner). We got to see all of our old favorites and not just Captain Jack and the other main pirate characters and got a sense of resolution when it came to poor Will Turner's undesirable fate.
The movie is worth watching for fans of the franchise regardless of whether or not you've seen the fourth movie. It feels almost like it picks up right where the fourth movie ends which I really liked. Plus, the bonus features are great for fans of the series. It's not our favorite movie personally but if you're already a Pirates of the Caribbean fan you should give it a chance!
Pirates of the Caribbean: Dead Men Tell No Tales is available on blu-ray combo pack, DVD, and digital HD today – October 3rd!