Release Date: November 23, 2016
Cast: Auli'i Cravalho, Dwayne Johnson, Rachel House, Temuera Morrison, Jermaine Clement, Nicole Scherzinger, Alan Tudyk
Director: John Musker, Ron Clements
Studio: Walt Disney Studios

Review Spoilers:
Mild
IMDB | Wikipedia | RT
For their past few films, Disney has been giving the princess genre an update. Largely known for their early princess films, the company has worked to rewrite their arguably (culturally) outdated princess model to tell modern fairytales with strong, independent leads. From Tangled to The Princess and the Frog to Frozen, Disney has delivered, and Moana is no different.
Moana tells the story of a young woman who is chosen by the sea to save the world. The trickster demi-god, Maui (voiced by Dwayne Johnson), stole the heart of the sea from the creator goddess. Without the heart, the world is slowly dying, and everything from coconuts to fish are turning into black ash. The movie follows Moana on her quest to retrieve Maui and put the heart of the sea back where it belongs, restoring life to the planet.
This movie was visually stunning. Everything from the lush vegetation to the choppy waters to the impressive thunderstorms felt realistic and looked gorgeous. Disney and Pixar learned a helluva lot from Nemo, and all of that water animation knowledge was put to good use in this film.
Complementing the scenery, Maui was fantastic as a comically-arrogant relief to Moana's stoic resilience in saving her people. Moana as a character is a fantastic role model for young girls – from her sense of duty to her bravery, tenacity, and heart, she's a more than welcome addition to the Disney princess lineup.
Though the plot was very mythic-lore heavy, I still enjoyed the narrative – even if it did run a little long and some of the obstacles seemed a little repetitive (e.g. battling the pirates and then battling the crab-monster).
The only downside to this movie was the music. Moana only had one, maybe two, catchy songs. The first is Moana's recurring theme, "How Far I'll Go," and the second is Maui's answer to Hercules' "One Last Hope" entitled, "You're Welcome." "How Far I'll Go" is an epic, soaring tribute to Moana's restlessness and sense of adventure, a la Frozen's "Let It Go," while "You're Welcome" is a hilarious vocal jaunt through Maui's many accomplishments.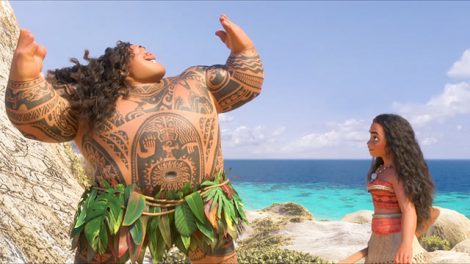 Unfortunately, the rest of the movie's soundtrack fell flat. Lin-Manuel Miranda composed the film's music, so I'm disappointed that his Hamilton success didn't transfer very well to this movie. After a while, I started to dread when the characters started singing – it was so difficult to listen to that it took me out of the magic of the world and the story.
Final Thoughts: Overall, Moana is a roaring success, even though its soundtrack is wishy-washing and I'm lukewarm about the run-time. It's also a little more scary than Disney's recent films, with lots of storms and a volcanic villain, so be cautious with taking younger children. I highly recommend bringing the family to see this movie in theaters, and I'm looking forward to Moana dolls on the shelves this holiday season!