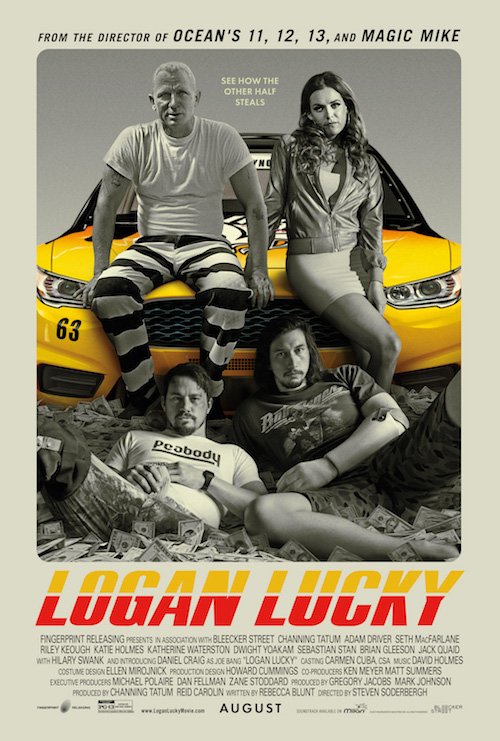 Release Date: August 18th, 2017
Cast: Channing Tatum, Adam Driver, Riley Keough, Daniel Craig, Seth MacFarlane, Katie Holmes, Hilary Swank, Katherine Waterston, Sebastian Stan
Director: Steven Soderbergh
Studio: Bleecker Street
Distributor: Fingerprint Releasing

Review Spoilers:
Medium

IMDB
|
Wikipedia
|
Rotten Tomatoes
Steven Soderbergh is back from retirement(?) to bring us a story of brothers, of family, of heists… of NASCAR. That's right Logan Lucky is here to regale you with a tale of good ol' boys and their can-do attitude while committing a heist and overcoming the very few hurdles in their way.
Siblings Jimmy, Clyde, and Millie Logan (played by Channing Tatum, Adam Driver, and Riley Keough respectively) are going to get back into their previously brief lives of crime and rob the Coca-Cola 60000 or something. Jimmy needs the money to pay for a lawyer to prevent his ex-wife and baby mama, played by Katie Holmes, from moving across state lines with his daughter. His siblings are on board because – well heck, family shoot ya know? They recruit some more solidly criminal folks and get the job done.
Logan Lucky is a hysterical flick. I mean it is just filled with chuckles ranging from small, simple goofs to larger comedic spats between an expansive extended cast including the likes of Sebastian Stan, Katherine Waterston, and Dwight Yoakam. The world of West Virigina spirals wider and wider as we meet these strange, silly secondary characters and watch them act like fools. And that's great, it really works as a comedy.
Buuuuut it does have some problems. For instance, there isn't really a villain per se? And with no real villain or threat to the brothers' success, it is oddly tensionless for a heist movie. Ya know, you would think the director of the Ocean's movies would know better but hey.
Instead, the brothers' only possible enemy seems to be their own ineptitude, which turns out isn't even a worry. It's odd. But it is what it is. By the time a possible antagonist does show up, Swank as an FBI agent, it's a bit too little too late and you don't experience any sort of fear that it might slip away from the Logan boys.
Aside from that though the movie is quite enjoyable! Tatum and Driver are so damn charming it is hard to be too upset with the movie for its lack of villain or enemy. Don't expect a premier tier crime thriller and you won't be disappointed by those problems. This movie is a comedy first and foremost and in that arena it succeeds.