A REVIEW COPY OF DOCTOR STRANGE ON BLU-RAY COMBO PACK WAS PROVIDED BY DISNEY AND FINGERPAINT MARKETING IN EXCHANGE FOR A FAIR AND HONEST REVIEW. NERDOPHILES WAS NOT COMPENSATED FOR THIS REVIEW. OUR OPINIONS ARE OURS AND OURS ALONE.


Doctor Strange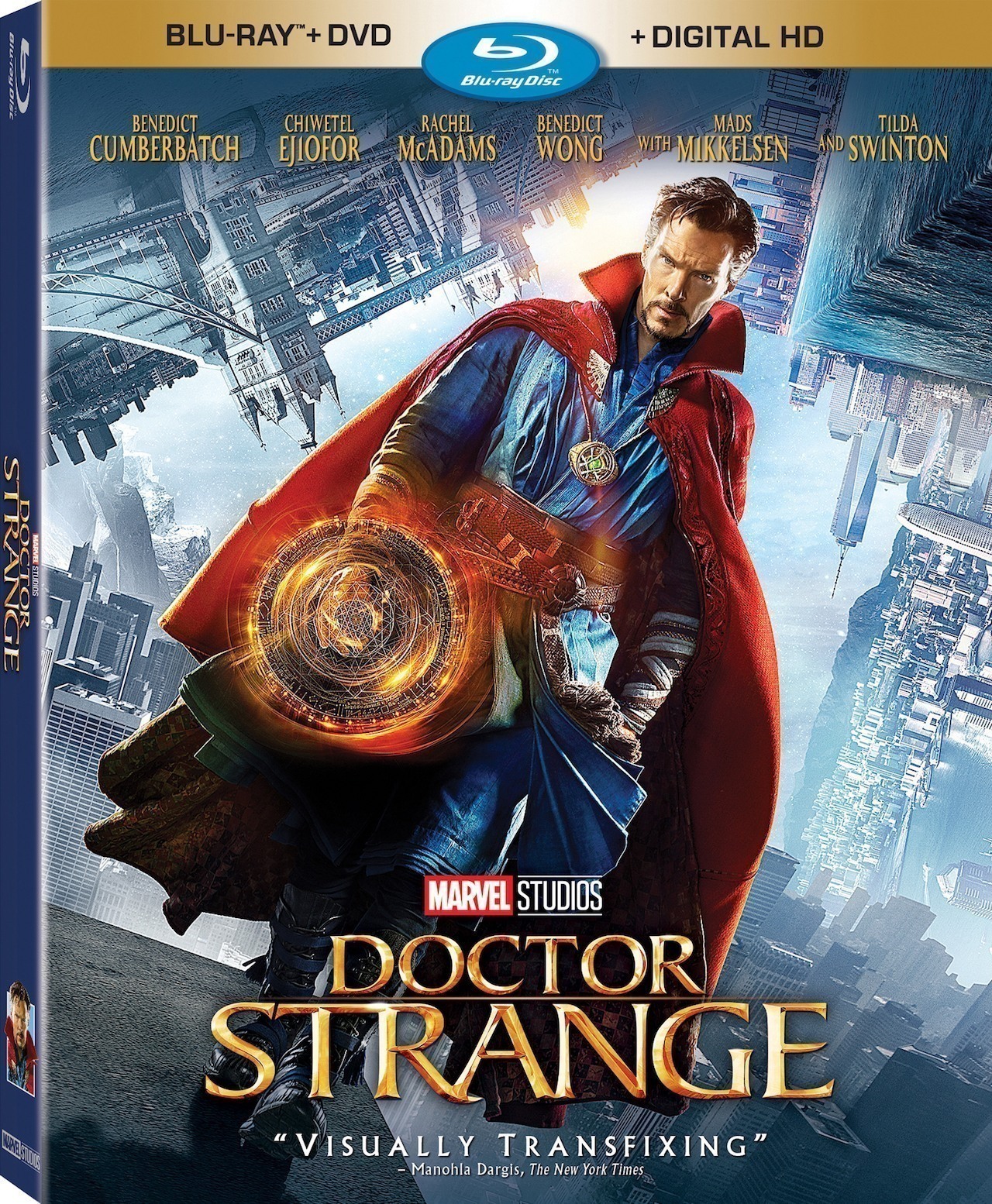 Release Date: February 28, 2017
Cast: Benedict Cumberbatch, Chiwetel Ejiofor, Rachel McAdams, Benedict Wong, Mads Mikkelsen, Tilda Swinton
Director: Scott Derrickson
Studio: Marvel Studio
Distributor: Walt Disney Studios
Extra Feature Rating: ★★★★☆
Rating: ★★★★☆
Review Spoilers: Mild
Amazon | IMDB | Wikipedia | Rotten Tomatoes
The Marvel Cinematic Universe is a truly amazing feat. It's an unprecedented, coordinated storytelling effort spanning nearly a decade now that has tied together fourteen movies and several television series – with more still to come. The first two phases focused heavily on the usual superhero stories you might expect (with the welcome exception of Guardians of the Galaxy in Phase 2) and while the movies remain fun and entertaining they've started to feel like a whole lot of the same.
That's to be expected, of course. When you're hashing out the origin stories of countless Marvel superheroes things are going to start feeling a bit repetitive. And while Marvel has done a really great job of making the plot and feel of each subsequent film feel at least somewhat new and original, it's still a lot of the same characters dealing with the same issues time and time again.
So how do you keep things feeling fresh? You try something new.
Despite the fact that Marvel keeps saying they are going to move away from doing any more origin story films that's exactly what Doctor Strange was. But it didn't feel tired like so many of the other, traditional superhero narratives. This is largely due to the fact that this wasn't just an origin story for Doctor Strange but it was also an introduction to the mystical side of Marvel that comic book fans has enjoyed for decades. It's just one more piece of the puzzle being put in place as part of the great cinematic universe – and the possibilities are endless.
Doctor Strange does a fantastic job of establishing some of the rules and mythology behind the mystical world. The introduction is framed through Stephen Strange's evolution from a pompous, ambitious surgeon with a borderline Tony Stark complex to a sorcerer in his own right who chooses the wellbeing of Earth over his own selfish desires. It's an incredible journey that crosses both continents and planes of existence with some pretty trippy moments that start to challenge everything you thought you knew about this world.
While magic has been a part of the Marvel Cinematic Universe since the release of Thor, that magic has always been confined to some sort of Asgardian involvement. Doctor Strange expanded the realm of magic and brought into the 'real world' so to speak, making an every day thing that the Avengers may just have to deal with now. It's an admittedly outlandish concept when the last eight years of films have gone without touching on it but it works perfectly – and an after credits scene ties it neatly into the upcoming Thor: Ragnarok which comes out in theatres in November.
This film's best addition to the Marvel Cinematic Universe, though, is probably Stephen Strange himself.
When it was first announced that Benedict Cumberbatch was going to play Stephen Strange in the upcoming Doctor Strange film I was a little skeptical. Up until this film I had trusted Marvel's casting decisions without any hesitation. I was totally on board with Paul Rudd as Ant-Man even. But Benedict Cumberbatch was where I drew my line. Yet once again Marvel has proven that they know exactly what they're doing. He was an absolutely perfect Stephen Strange in every sense. The whole cast was great.
Really, Doctor Strange was just a really great movie in general. You can read our full film review by Cody Eastlick's full film review here if you need any more convincing!
Special Features
Of course, adapting Doctor Strange and bringing him into the Marvel Cinematic Universe wasn't necessarily an easy feat. The whole process is broken down for interested viewers in a series of special features included on the blu-ray disc.
There are five featurettes with each one focused on a different aspect of creating the film.
A Strange Transformation focuses primarily on both adapting the story from the original comics as well as deciding the kind of story that Marvel wanted to tell in the way they wanted to tell it. The actors and filmmakers discuss the character and his journey – with a few segues into the actual filming, too. For example, they briefly go over how the crash scene early in the film was done. (Did you know they basically destroyed EIGHT Lamborghinis? Yikes.)
Strange Company focuses a lot more on the actual casting and the way the characters are portrayed. There was a fair amount of controversy after Tilda Swinton was cast as "The Ancient One" instead of an older, Asian actor more representative of the character's original depiction. They try to address that briefly without necessarily acknowledging the controversy. There is also some great discussion on how other characters – such as Christine, Wong, and Mordo – were developed and their place in the Doctor Strange world.
One of the coolest of the five featurettes is The Fabric of Reality which focuses a lot more on the look and feel of the film. The actors and filmmakers talk about the the filming locations and sets with such awe. There's also a very respectful love of Nepal that's clear in the way everyone talks about the city and their determination to return even despite the devastating earthquakes they had suffer prior to the film's return. It's pretty funny at times, too, when they talk about all the kids in Nepal who recognized Benedict Cumberbatch on the street or Benedict visiting a comic shop in New York. There's also a brief focus on the design of the costumes – especially Strange's costumes and cloak.
Across Time and Space is really neat to watch, too, because it talks about the actual physical aspects of the film. They talk about things I never would have thought about. Did you know that there were two different people coming up with the finger spell motions and the actual choreography. The guy doing the fight scenes had to not just choreograph them but come up with ways to fit those finger motions into the scenes. How cool is that? This featurette also focused a lot on the challenges of filming and creating certain scenes. They also talk about how the astral projection look was developed among other more mystical aspects of the film.
Lastly, The Score-cerer Supreme focuses on the development of the film's score. If you didn't know, Michael Giacchino developed the score and he's always a joy to watch on these special features. He gets so into the films and he always seems super excited about his work. He was so stoked about this project that he apparently had the theme figured out before he even met with the filmmakers – that's how into Doctor Strange he was from the very start!
A cool new option that I haven't seen included on any previous Marvel Cinematic Universe blu-ray releases allows you to play all five of the featurettes together in one, hour-long sequence. While they start and end the same as they would have if you watched them individually, watching all five of them together makes it feel like you're watching a mini making-of documentary about the film rather than a series of featurettes. There's even a stinger featurette about the development of the stinger featured at the end of the Doctor Strange credits!
There's also another bonus feature entitled Marvel Studios Phase 3 Exclusive Look. Don't get too excited, though. While it's an interesting featurette to watch it doesn't provide too much information that you couldn't get anywhere else. The various filmmakers and Marvel executives discuss their plans for what's coming next in Guardians of the Galaxy 2, Thor: Ragnarok, Black Panther, and Avengers:Infinity War accompanied with some very cool commentary, storyboards, concept art and more. (Spider-Man: Homecoming is noticeably absent.) It definitely helps you get hyped if nothing else!
Other special features include an audio commentary, deleted scenes, and a hilarious gag reel. There's also a continuation of the 'Team Thor' joke short that was originally included on the Captain America: Civil War blu-ray release. You can see a bit of the fun in the short clip above. But suffice it to say, Thor and Darryl have some issues to work out. #TeamDarryl
Final Thoughts
If you read our full review, you'll know that Cody wasn't sure that Doctor Strange was going to be a success. I, too, was originally convinced that Doctor Strange would be the film that went too far for the casual Marvel viewer. I had previously thought it would be Guardians of the Galaxy and then I was sure it would be Ant-Man. Even though those films are now among my favorite Marvel Cinematic Universe films, I was certain Doctor Strange would be the one that finally proved there were still some areas of the comics Marvel couldn't translate to the big screen.
I'm happy to say that I was wrong.
Doctor Strange is an incredibly fun adventure with a great story to tell and an amazing cast of characters and actors. It's one of those films you really just need to have laying around to watch with friends on a whim because it's perfect for that. Anyone can enjoy it – even someone who has never seen another Marvel Cinematic Universe film. Plus the blu-ray combo pack slip cover is awesome. It's super shiny and the holographic effects look really cool.
Doctor Strange is available now on blu-ray combo pack, DVD, and digital HD.