McDonalds has recovered some of that limited-edition Mulan-inspired Szechuan dipping sauce from a previously unvisited parallel universe. At least, that's what the custom label on the half gallon that was sent to Justin Roiland and the accompanying letter said. To quote Roiland, "Holy shit!" And if none of this makes sense to you, go watch Rick and Morty. Seriously. Do it. We'll wait.
Actually, we probably can't wait.
Because something big is happening tonight and it undoubtedly involves the sauce.
What was likely just meant to be a silly bit at the end of the Rick and Morty Season 3 premiere exploded into a massive online meme. After the third season unexpectedly premiered on April Fools Day and everyone learned about Rick Sanchez's odd obsession with this unobtainable McNugget sauce, there was a huge outcry from the fandom. Just like Rick, they wanted that Mulan sauce.
We first learned during our roundtable interview with Justin Roiland at SDCC that McDonalds really had promised to send him some Szechuan sauce. But if you believe Chef Mike from McDonalds, it wasn't an easy thing to do.
Holy shit. pic.twitter.com/vNEIfHTmNU

— Justin Roiland (@JustinRoiland) July 30, 2017
Can we take a moment to appreciate the effort McDonalds went through here? They went above and beyond by buying into the whole Rick and Morty mythos. No one would have blinked an eye if they had just sent a plain old jug of sauce because, hell, Roiland would have still gotten it. Ricks' cravings would be satiated! But they actually went through the whole effort of dressing it all up. Way to go, McDonalds. Hail Corporate!
And did you catch that last line in Chef Mike's letter?
"A few lucky fans will also get to experience the glory"
That's right! Not only will Roiland get to experience the sweet taste of that Szechuan sauce but you might get to as well. And if you've been following the tweets and signs then I have a feeling your chance is coming a lot sooner than you might think.
Based on tweets from Adult Swim, Justin Roiland, and McDonalds over the last few days, it's pretty clear they are going to be giving that sauce away tonight. The second episode of the third season premiers tonight at 11:30 PM EST.
Exhibit 1: a cryptic tweet from the Adult Swim account.
Don't pic.twitter.com/KDazs9nJgS

— [adult swim] (@adultswim) July 28, 2017
Exhibit 2: Justin Roiland's tweet that he got the goods.
And also Chef Mike's comment about some lucky fans getting their hands on the sauce, too.
Exhibit 3: a loosely coded tweet from McDonalds.
SOS 073017 2130EST TWTR 3x.5GAL pic.twitter.com/pHvDzKVYMv

— McDonald's (@McDonalds) July 30, 2017
I mean, I'm an idiot when it comes to puzzles and even I can figure out what this is saying.
Basically it breaks down to:
SOS
7/30/17
9:30 PM EST
Twitter
Three half gallon jugs of that delicious McNugget sauce
So, could the Adult Swim tweet be unrelated?
Sure.
There could be something else entirely different going on as far as the website is concerned. Plus it's a different time. The Adult Swim post coincides with the actual premiere while McDonalds's is a couple hours earlier.
Besides this is, after all, Rick and Morty. They completely changed their line up and revealed the season premiere as an April Fools Joke with absolutely no warning. And they've been streaming the first two seasons online leading up to the new episode's release. They do crazy shit! They could be doing two crazy things in one night.
Between Chef Mike's letter and the McDonalds' tweet, though, there's no doubt in my mind that something is going down tonight. And that something involves the McNugget sauce. The photo McDonalds posted said it was 75% of all the Szechuan sauce left in this universe. Maybe we'll just get a little more information about how and when we can get the sauce. Maybe it won't be that big of an announcement tonight. Who knows.
But if you've got a Rick Sanchez-esque hankering for that limited edition, promotional sauce can you really afford to ignore the signs?
Keep an eye on Twitter (and the Adult Swim website) at 11:30 PM EST tonight – and don't miss the new episode of Rick and Morty because it's pretty bad ass. And if you still don't get the McNugget sauce joke, don't worry. They're airing the Season 3 premiere 'The Rickshank Redemption' before the new episode!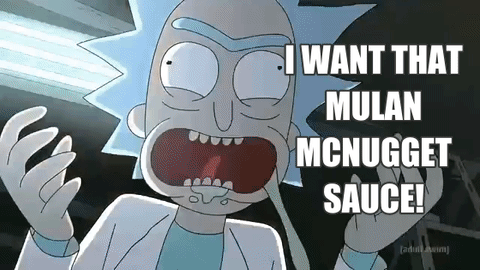 UPDATE #1 (9:36 PM EST)
Something is going on over on the McDonalds Twitter account. Just like they said, the shenanigans kicked off at 9:30 PM EST. No answers yet on how to get your hands on that Mulan McNugget sauce yet, though. They seem to be slowly counting down from 1998 to the present – which means that their actual announcement may actually coincide with the Rick and Morty premiere at 11:30 PM EST.
Check the livestream below to see what's all going on.
SOS0730172130ESTTWTR3x.5GAL https://t.co/SlvDzGs3SH

— McDonald's (@McDonalds) July 31, 2017


UPDATE #2 (11:26 PM EST)
If you commented, retweeted, or liked McDonalds' previous posts…. check your DMS!