I love books. If I could spend all day of every day reading I'd probably be a pretty happy camper. Sadly, that's not really an option. But at least I get to spend a little of my time helping you find the perfect gift for the reader on your holiday gift list. Readers can be hard to buy for because you never know what they have or haven't read already.
Last year we put together a list with some really great ideas and most of them are still good this year, too. You can never go wrong with a Kindle Paperwhite and an Amazon gift card or Barnes and Noble leather bound classics. These are the sort of things that will be around for years and will always impress.
Still we wanted to do a follow up with some additional ideas. After all, it's been a whole year since we did our last list!
So here are some more recommendations for great gifts for the book loves in your lives.
Book-Related Gifts
Nerdy Bookends
It's time for the nerds in your life to start sprucing up their shelves don't you think? Help them go from a semi-organized messed to super trendy with geeky bookends. Think Geek has this alien invasion one up on their website and Amazon has tons of other cool ones – like this bookend of a man about to be smooshed by falling books. Or these zombies helping keep books in order!
Last year we recommended the Book Book leather cases. They're still cool and they'll still be a great gift. But they are kind of expensive. So, this year, we have an alternative! Mosiso vintage cases make your Apple products and Kindles look like leather bound books. You get the illusion of reading a real book even when you're reading on your tablet! And at $20 they are a lot cheaper – and cover a few more devices – than their competitor.
Literary Funko Pop! Figures
Are you surprised that I'm recommending Funko Pop! figures on another list? You shouldn't be. I love these things. And there are some pretty great book related ones out there now. You can find characters from Harry Potter and Where the Wild Things Are as well as Cthulhu in stores now! (Though Max from Where the Wild Things Are may be harder to find.) They'll look awesome on your giftee's bookshelves keeping their favorite books company.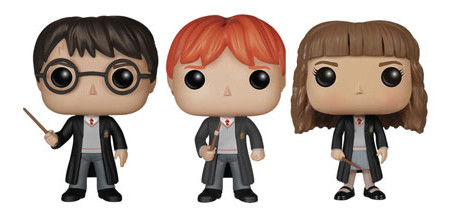 Who doesn't love candles? If you've got a candle lover on your list who also happens to love books then I would recommend the Paddywax Library Collection. They've blended unique scents inspired by the works of Edgar Allen Poe, Jane Austin, Charles Dickens and more. What could be better than lighting a candle and settling in for a night reading the classics with these?
Book Totes
Have a frequent library patron on your holiday gift list? Look no further for what will probably be one of the most helpful and beloved gift you could get them – a book tote! Out of Print Clothing and Gibbs Smith have some excellent book-themed tote backs that your library goer will get great use out of on the regular. They'll be the envy of all the other patrons and they'll be able to pick up the books on their hold list a whole lot easier than they would otherwise!
Magnetic Bookmarks on Etsy
I love cute, pop culture themed bookmarks and so this year I scoured Etsy for the cutest ones I could find. TheStickerAlley has some adorable Disney and Marvel-themed book marks including the ones above. I'm absolutely in love with Magic Bookmarks' adorable book-themed sets featuring characters from Game of Thrones, The Hunger Games, and more. (They also have an adorable Groot set that I absolutely have to have.) Booked You Up and Hello Papers, too, have some of the cutest book marks you've ever seen. All of the shops have very affordable sets so these would make great little gifts for friends or stocking stuffers. Or pop these into a book you're already gifting!
Books for Nerds and Geeks Alike
Box Sets of Popular Contemporary Series
A great option for people who want to get their book lover something new to read but know they'll read a single book way too fast, box sets let you gift whole series. There are tons of sets out there for popular series like Harry Potter, Divergent, and The Hunger Games. You can find them at basically any book store. But if you're looking for some newly released box sets we've got a few recommendations. Cassandra Clare's Infernal Devices and Mortal Instruments series have both been released in box sets in the past couple of months that look excellent. Similarly, Ransom Riggs' Miss Peregrine's Peculiar Children series came out in a complete hardcover box set after the release of the final book, Library of Souls. Another great option: a three-pack of Neil Gaiman classics!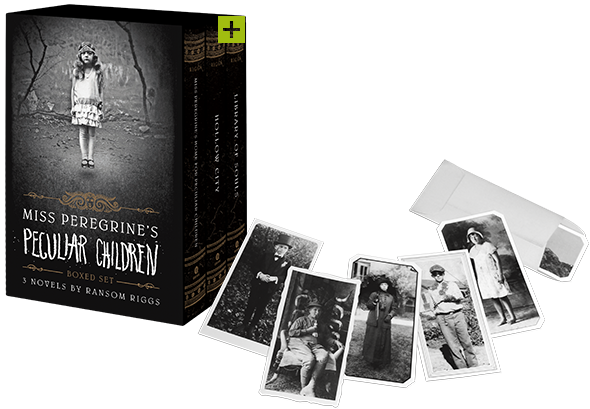 Hardcover Comic Book Volumes
This is probably my favorite recommendation because I love comics and the only thing I probably love more about comics than collecting them for myself is gifting them. Hardcover first volumes are excellent gift choices because they look nice, they're studier than paperback volumes, and they usually include at least two volumes worth of issues as well as some fun extras. Need some recommendations? No worries. Here are some awesome series to get you started: Ms. Marvel, Saga, Fables, Y: The Last Man, DMZ, Chew, East of West, Black Science, and Rat Queens.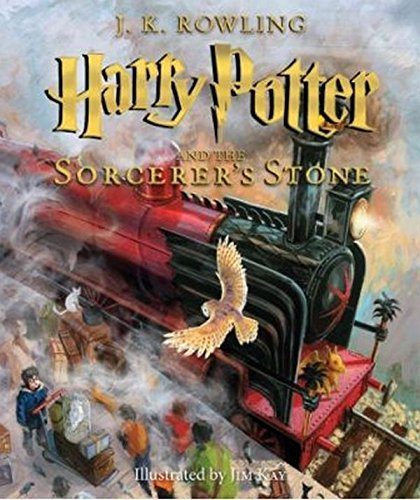 The perfect gift for just about any twenty-something year old who grew up on Harry Potter, the illustrated edition of the Sorcerer's Stone is a magical new version of the book we all know and love. Filled with amazing illustrations, it's like rediscovering the series all over again. If you start giving this book to someone as a gift this year you'll have their gifts lined up for the next six years as well since the plan is for a book to be released each year.
A Whole New Timeline of Star Wars Books and Comics
Have any Star Wars fans on your list? When Disney took over the franchise they basically erased all of the books that have been released over the past few decades from the timeline. Over the past year they've slowly been adding new stories to the current canon timeline and some of them are amazing. Claudia Gray's Lost Stars is a must-read for every Star Wars fan. It is, perhaps, one of the best Star Wars books ever written. It's one of two books I'm personally gifting this year.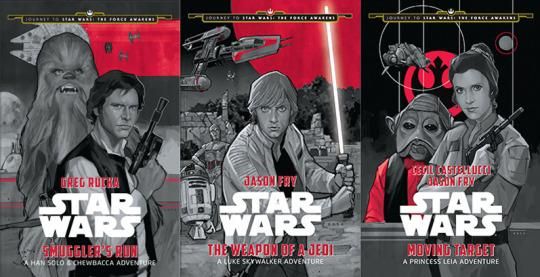 For fans gearing up for The Force Awakens, you'll want to pick up Chuck Wendig's Aftermath; the middle grade trilogy – Weapon of a Jedi, Smuggler's Run, and Moving Target; the Shattered Empire trade paperback comic book; and Star Wars: Before the Awakening. Each of these books ties-in to The Force Awakens and will add even more to the story. Don't discount the middle grade books just because they are marketed as kids books, either. They tell some pretty intense stories. That said, some other new Star Wars books worth gifting this year include the updated reference book Ultimate Star Wars and the recently released Battlefront: Twilight Company.
Last year Randall Munroe's What If?: Serious Scientific Answers to Absurd Hypothetical Questions made three of our holiday gift guides. So it should come as no surprise that his latest release Thing Explainer is making our book list this holiday. It's a much shorter book at just 64 pages but I don' think you'll be disappointed. Munroe is creating large, poster-sized blueprints of various modern technological wonders and explaining them in simple words for everyone to understand. Basically, it'll be a full book of this. I can't wait. It'll be a great gift for xkcd fans.
Genre Specific Recommendations
Looking for more specific recommendations? No worries. We've got you covered on that end, too. If you're looking for some good books to gift (or maybe even to just buy yourself) take a look at our lists below. Have any suggestions that we left off and should have included? Chime in down in the comments. I'm sure there are other gift givers who would appreciate any recommendations you may have!
Science Fiction & Fantasy
Non-Fiction
Comics & Graphic Novels
Young Adult
Middle Grade
Children's Books