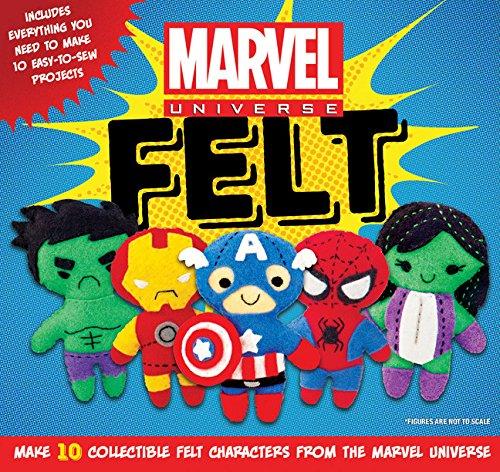 Release Date: March 14, 2017
Publisher: Thunder Bay Press
Genre(s): Crafts & Hobbies
Review Spoilers: N/A
Amazon | Barnes & Noble

What better way to spend the weekend than with Iron Man and Spidey? Thunder Bay Press released the
Marvel Universe Felt Kit
in March of this year, complete with all the materials to make ten of your favorite Marvel characters!
The Marvel Universe Felt Kit included instructions for amazing, incredible, and invincible levels for your favorite Marvel characters. There were detailed step by step instructions that included picture illustrations for various knots and sewing stitches. The kit included felt, a sewing needle, embroidery floss, and cardboard cutouts for each character.
The booklet itself, written by Aimee Ray, is 48 pages and defines terminology, stitches, and tools. There were pictures to accompany the instructions, to give you a better idea as to how the felt figures are supposed to look. With these instructions, I was able to make both an Iron Man and Spider-Man, although some of my embroidery skills left something to be desired.
However, it's hard to keep the booklet open to the page I was working out of and would often close while I was in the middle of stitching. I wound up using two glasses to keep the booklet open while I worked.
All in all, even though felt and hand embroidery are not my medium, I enjoyed this kit and aspire to make it to "Invincible" status when my stitching skills become better. However, these little-felt characters are a hit amongst Marvel fans everywhere and will make you very popular amongst crafting circles.