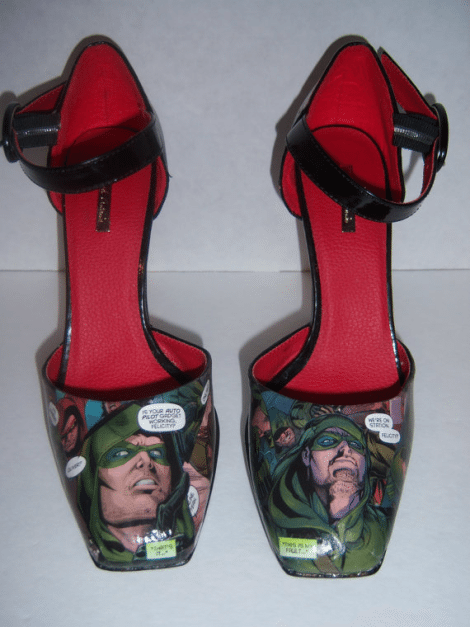 These shoes are essentially one of a kind! They are custom made based off of the Green Arrow comic that inspired the Green Arrow television shoe that can be seen on The CW channel. This particular pair of shoes are a size 8, and the style is by Michael Antonio. It seems like the shop does do custom orders, though they do not guarantee the same style of shoe. I love the red lining in these!
This pair of shoes is currently on sale for about $99 and they only ship within the United States, excluding Alaska and Hawaii. If you happen to be within the United States and want these heels, you're looking at an additional $13 for shipping. The store seems reputable enough and despite having only a few reviews, they are all 5 stars! Why not pick up a pair of Green Arrow heels today, or take a look at the shop's wide selection of styles?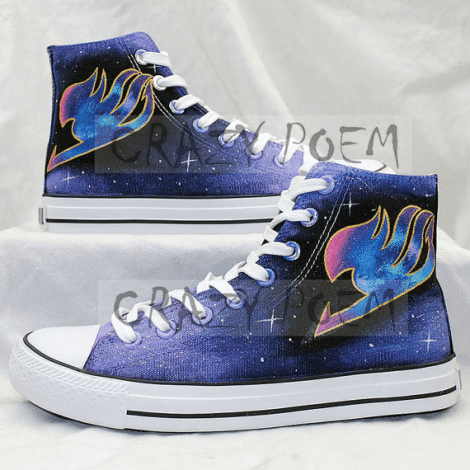 I think these sneakers look pretty awesome despite my not liking Fairy Tail all that much. The design is hand painted with acrylic, waterproof paints. There seem to be two types of shoes the store can paint on, either the Studio shoe as seen above, or on regular Converse sneakers. If you stick with the Studio type shoe you are looking at around $60, if you decide on the Converse brand the price jumps up to 90-120 dollars.
CrazyPoem seems to do quite a few anime centered sneakers, with many different types to choose from including Dragon Ball Z, Inuyasha, Black Butler, and Tokyo Ghoul. They also offer custom shoes if they don't happen to have what you would like readily available! This company appears to ship just about anywhere with free shipping to the United States and $28 shipping anywhere else. As with all handmade things, expect it to take a bit longer to ship, about a week in this case. These are especially great for teens that have a popular anime that they enjoy.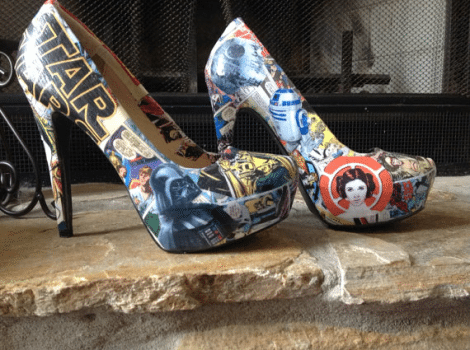 Ever wanted to wear a piece of Star Wars gear for a night out, but didn't want to rock the same old t-shirt? If so, these shoes will definitely do it. Perfect for a night out, ShoebeedooBoutique offers almost full customization over these bad boys. If you don't want to wear the five or six inch heel as seen above, then you can go down to three or four inch heels. The style of the shoe is also customizable, though you will need to get in touch with the store.
These will cost you $70 for the heels, and another $15 for shipping if you're in the United States. Outside of the U.S., you're looking at $30 for shipping. There are no refunds on custom orders, so make sure you read over all of the information for this item carefully. The store suggests ordering a size larger than usual since the process of putting the artwork on the shoe tends to make it tighter.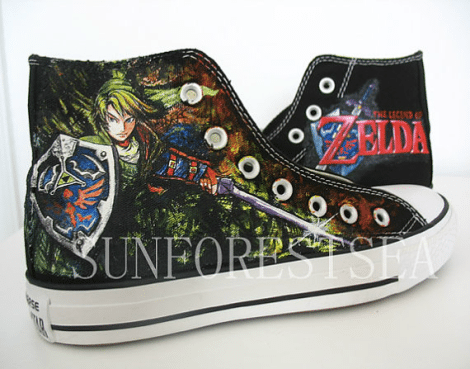 Zelda inspired shoes! These Zelda inspired sneakers are completely hand painted onto Converse All Star Brand shoes and look pretty nice. These seem pretty similar to the Fairy Tail inspired shoes, though it does seem as though you can e-mail SUNFORESTSEA about a different style of shoe since they state they offer boots and high or low cut sneakers. The option isn't readily available upon check out so if you want a different style, I highly recommend messaging them.
This store seems to be a bit more popular than a few of the others on this list, though the price is definitely a bit higher here as well. This particular pair of sneakers cost $135, not including a flat shipping cost of $25 to anywhere in the world. On top of these Zelda inspired shoes they also offer other Zelda styles, Doctor Who, Rayman, Call of Duty, and even grumpy cat inspired shoes. Of course, there are more style then those, so check them out!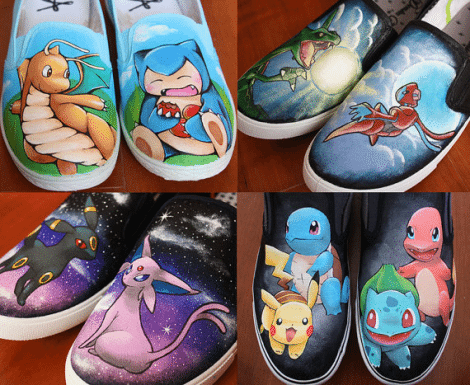 I'll be honest, these are super cute! The Pokémon fanatic in me wants a pair, and wants them now. Like the other shoes featured here, these are completely hand painted. Each style you see is a style previously made and already bought. The shop states that they can either replicate a design for you, or create something completely unique based off of what you want. If you want something like this, but maybe Pokémon isn't quite your thing, they also do Zelda, League of Legends, or any show/characters you might want.
This store does not seem to be well known, but the reviews are very good and they offer the most competitive prices out of the other four stores I have listed here. At around $46 dollars these custom shoes can be all yours. Tack on an extra $7 – $23 for shipping ad boom! Custom shoes!
Would you buy any of these shoes? Tell us in the comments!