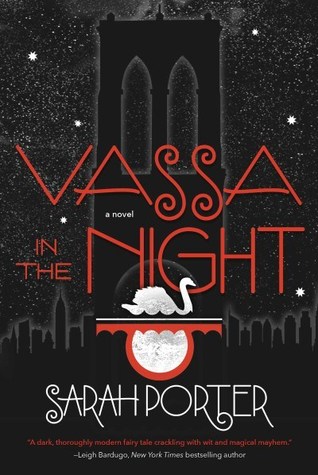 Author: Sarah Porter
Release Date: September 20, 2016
Publisher: Tor Teen
Review Spoilers: Low
GoodReads | Amazon

Okay, this book is weird. Really weird. It's also really good. It's set in modern day Brooklyn, with a twist of magic naturally.
Vassa lives with her stepmother and stepsisters in this magical land. The real trip though is the convenience store run by Babs Yagg. She has the best customers ever – because she beheads the shoplifters and occasionally a few innocent people as well. It's a one stop shop if you're okay with a chop, but hey! It has a super catchy jingle!
Vassa has a little secret, a wooden doll left to her by her dead mother. Erg isn't just any ordinary doll though. She's alive and ready to help Vassa in any way she can, even if that mostly just leads to mischief. With Erg's help, Vassa will fight to free her neighborhood from Babs' curse, and save her own head. However, Babs has a few tricks up her sleeves, along with a couple extra hands. And she doesn't play fair.
This book is based off of a Russian fairytale, and though some may say you need to read that first, I won't. I didn't and the story was still really good. Now, to reiterate. This is a weird book. There are lots of parts that are completely ordinary, normal, super-relatable. And then out of nowhere you are slapped in the face with a severed, autonomous, sentient hand.
There are times when things happen quickly that might require a re-read, but it really just adds to it. This is one of those great stories that keep you guessing and wanting to read more. Also, it's a standalone so you won't have to go out and buy the next two, or ten, books to get to know the end.
The style is easy. It's a good book to get lost in quickly. There is no romance! No insta-love, no hot and heavy crushes, no lusting after the guy the girl can't have. It's so refreshing to have a main character that is self-reliant and able to save herself instead of waiting on a white knight to do it (or at least help). This is also a really dark, creepy book. But it's also weirdly funny, so it's dark but not so dark you have to set it down, watch a Disney movie, and then get back to it dark.
Issues with the book? Minimal. It can be hard to follow, especially when things start happening. Things happen fast, and it can feel a bit like Alice in Wonderland, falling down the rabbit hole mixed with that scene from Dumbo with the crazy dancing elephants. But it's wonderful, and true magical realism at it's finest.
For the rest of it, most of the book also takes place in the convenience store, which can be a bit boring. But that's a really minor complaint. The story does start off a little slow, but if you can make it through the first chapter, you're golden.
All in all, this is a great book. It's wild, fresh, magical, and new. I know it's a retelling which makes it an old story made new, but this book is new. If you're into trying new things, love unique reads, and fantasy, read this. I couldn't pick up another book after this one for a couple days because my brain was still working over the bizarre world this book was in. Unique, mysterious, and wonderful.