A REVIEW COPY OF GENA/FINN WAS PROVIDED BY THE PUBLISHER VIA NETGALLEY IN EXCHANGE FOR A FAIR AND HONEST REVIEW. NERDOPHILES WAS NOT COMPENSATED FOR THIS REVIEW. OUR OPINIONS ARE OURS AND OURS ALONE.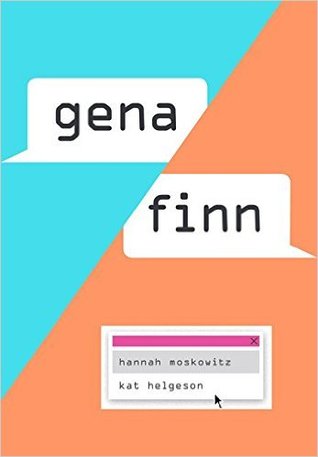 Authors: Kat Helgeson and Hannah Moskowitz
Release Date: May 17, 2016
Publisher: Chronicle Books
Review Spoilers: Mild
GoodReads | Amazon

When I was growing up in the late 1990s and early 2000s, Internet fandom was really just starting to find it's footing. Friendship began to transcend the usual boundaries and people started reaching out to one another through message boards and chatrooms. As the Internet became more prevalent those communities grew exponentially. Today, I'd wager that everyone has at least one fairly close friend that they met – or at least communicated with primarily – via the Internet.
And yet contemporary fiction hasn't really done much to acknowledge those relationships. Gena/Finn promised to fill that void and from the moment I read the synopsis I was hooked. When I finally got the chance to read it, the first half of the book was everything I had wanted and more.
Gena/Finn tells the story of two young women brought together through the love of a fictional police procedural called Up Below. By all accounts the show and it's fandom seems a lot like the Supernatural fandom, just with cops instead of demons. Gena and Finn are two young women from very different backgrounds in very different places in their lives. Both of them are active in the fandom and go by their eponymous online monikers. ('Gena' is what Genevieve goes by online while 'Finn' is Stephanie.)
And over the course of the book the two become closer.
Despite an age difference and one's secret past as a child actress, they come to rely on one another. They become confidants and their relationship develops quickly but organically. Together they help each other through relationship deals, self doubt, grief, and more. At times it seems like they could even become something more than just friends and seeing them tackle that part of their relationship adds a really raw, emotional angle to it all.
The best part of this book is that it's told through text messages, instant messages, email, journal posts, and fanfiction. Gena and Finn's friendship feels so real because it emulates so many of the online friendships that readers like me have had. Even their interactions with other characters and members of the fandom feel real – online and in-person. Having met online friends for the first time at SDCC, there were some really relatable moments at a certain point in this book.
I can't speak highly enough about how this book tells it's story because it does so perfectly.
For that reason alone Gena/Finn probably deserves to be a four star – maybe even a five star – book. The first half of the book was everything I had ever hoped for and it does such a great job of capturing the intricacies of a online friendships in today's world.
But the story shifts drastically in the second half of the book and that just threw me off a bit. I don't want to spoil anything but it gets a bit depressing and a lot of what what I loved about the earlier parts of the book falls apart. I wasn't disappointed by the ending – but the journey there certainly changes a lot before we get there.
Still, despite its faults towards the end, Gena/Finn is probably one of the most realistic fangirl-centric books out on the market today.
I really recommend this book if for no other reason than to validate the kind of relationships it portrays. I can't imagine a book better explaining what it's like to know and love someone you may never have met before in person. If you've ever been a member of any fandom or if you've ever had a best friend over the Internet, you're going to seriously relate to the characters in this book — and that's reason enough for you to check it out.