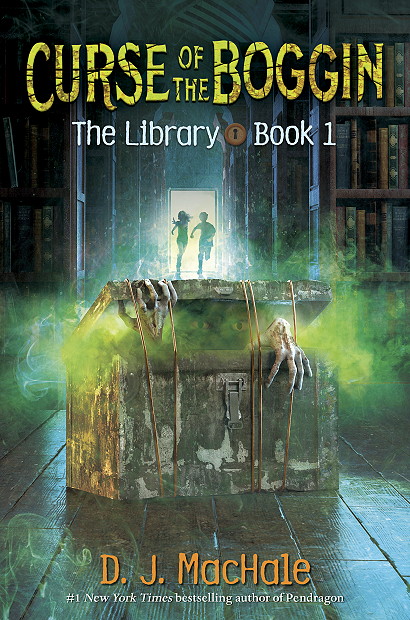 Growing up, DJ MacHale's Pendragon series was one of my absolute favorite book series around. I was crazy for those books. The characters, world-building, and story were all phenomenal — and those books had a huge impact on my childhood love of reading. DJ MacHale had a huge impact on my childhood in general and as the co-creator of Are You Afraid of the Dark? he's one of the people directly responsible for my total love of horror.
When I heard that he was putting together a brand new middle grade supernatural mystery series I was definitely intrigued. After all, it's a genre he already excels in. Curse of the Boggin is the first book in The Library series and it as basically everything I could have wanted out of this series. It sets a creepy tone not just for this book but the series as a whole and I'm really looking forward to what comes next.
I've got a full review available for you guys a little further down in this post.
You'll also find a synopsis of the book, a short biography of DJ MacHale and all the cool stuff he's done, and full book tour schedule so you can find out more about Curse of the Boggin and The Library series. Most importantly, though, you'll also find a giveaway so you can get the chance to win your very own signed copy of the book – or even a Skype interview with DJ MacHale himself!
Synopsis
Enter the Library, where no one knows how the stories end . . . and finding out will be terrifying.

There's a place beyond this world, beyond the land of the living, where ghosts go to write their unfinished stories—stories that ended too soon. It's a place for unexplained phenomena: mysteries that have never been solved, spirits that have never been laid to rest. And there's only one way in or out.

It's called the Library, and you can get there with a special key. But beware! Don't start a story you can't finish. Because in this library, the stories you can't finish just might finish you.

Marcus O'Mara is a 13 year old guy at a crossroads. He constantly finds himself in trouble at school, with his friends, and with his adoptive parents. Marcus doesn't believe things can get any worse for him…until they get worse.

Much worse.

He begins seeing strange and impossible visions; gets thrown into paranormal danger and is haunted by a mysterious ghost with a singular goal: to give him a key.

It's a key that opens the door to a mysterious library. When that door opens, the incredible adventure for Marcus and his friends begins as they learn the truth about Marcus' past and uncover the strange world of unfinished stories that are found on the shelves of the Library.
Giveaway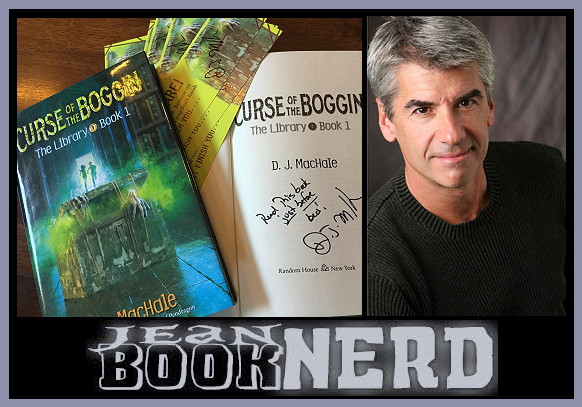 Want a copy of the book of your very own?
You're in luck! Enter below to win one of two a signed copies of Curse of the Boggin. They even come with bonus bookmarks (which are also signed).
One winner will receive a 10-15 minute Skype conversation with DJ MacHale himself. If you're a teacher, he'll even do a session with your whole class!
Review
As I said earlier, I've been a fan of DJ MacHale's work since I was a kid. I was really excited to read this book and I'm very glad I can say I enjoyed Curse of the Boggin. It has everything a good a good supernatural mystery should have and it's perfectly tailored for the middle grade crowd.
Now, it's important to point out that The Library series is going to be a bit different from some of DJ MacHale's older books. I'm pointing this out now because MacHale himself felt it was an important point to make. In the introduction to Curse of the Boggin, he tells us that while this is going to be a series there's not going to be an obvious linear progression to things. Like so many great middle grade mystery series, The Library is meant to be a fun series full of complete, satisfying stories that are easy to just pick up and enjoy… and also hopefully a little bit terrifying.
While you need to start with Curse of the Boggin to understand the characters and the supernatural world that these stories are dealing with, from there on things are more fluid. Cures of the Boggin serves as a fantastic introduction to The Library series and it really hightlights the potential for all the really great, creepy stories yet to come.
From the very beginning, MacHale sets a rather creepy and perilous tone for our story. From the very first page of the story you get sucked into this supernatural mystery that our main character, Marcus has to unravel. He's just your normal, everyday student and then suddenly he finds himself forced to deal with creepy premonitions, ghosts, and otherworldly messages. Discovering that he has a key to open up a mysterious sort of library/alternate dimension soon gives him the tools he needs to – and maybe to figure out a bit about his own past, too.
I don't want to give away too much about what happens in Curse of the Boggin because you really need to read it for yourself. I wouldn't want to give anything too important away. But I do want to talk about some of the things I really liked about the book.
First off, I really like the premise.
I'm a sucker for supernatural or mystical libraries in general. But I really do like how this book sets up Marcus and his friends for a myriad of adventures in conjunction with this mysterious Library. There's a lot of potential there and there is so much we don't know about the Library, it's history, and it's operations. There's a lot for us to discover and there's a lot for Marcus to learn – especially about his biological parents and their connection to The Library.
I also really liked the characters. There's a great cast of quirky characters in this book from our main character Marcus to his friends Lu and Theo. Together, they make clever team that you can't help but root for and Curse of the Boggin really sees them start to come into their own. Despite all this crazy, unknown stuff that's going on they are able to work together to overcome things. (Especially Theo's Scully-like skepticism in the face of the unknown.)
In particular, I thought that Marcus was a really cool main character.
His problems at school and at home are going to be relatable to young readers and while they may not be having supernatural adventures and seeing ghosts, they may see a bit of themselves in him. Granted, he comes off as your usual middle school protagonist at first but there is some real, added depth to his character. And I love how MacHale handles his relationship with his adoptive parents. I have a feeling we're going to see this kid go through a lot of personal growth in the next few books.
MacHale has a really great grasp on the world he's creating in these books and his narrative voice for the series (which is actually Marcus's if we're getting technical) is very inviting. He also doesn't coddle young readers. There is some pretty heavy stuff going on in this book and I think middle grade readers are going to appreciate that. The book is creepy – and potentially scary – for all the right reasons. The characters really are in danger. The stakes really are life and death. And the story is all the better for it.
I'm looking forward to seeing how the rest of the series comes together!
About the Author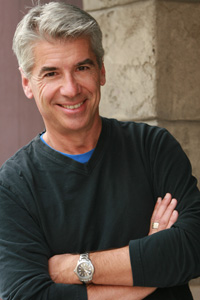 D.J. MacHale is a writer, director, executive producer and creator of several popular television series and movies. As an author, his ten-volume book series: Pendragon: Journal of an Adventure Through Time and Space became a New York Times #1 bestseller.
He was raised in Greenwich, CT where he had several jobs including collecting eggs at a poultry farm; engraving trophies and washing dishes in a steakhouse…in between playing football and running track. D.J. graduated from New York University where he received a BFA in film production.
His film-making career began in New York where he worked as a freelance writer/director making corporate videos and television commercials.
D.J. broke into the entertainment business by writing several ABC Afterschool Specials. As co-creator of the popular Nickelodeon series: Are You Afraid of the Dark?, he produced all 91 episodes. D.J. also wrote and directed the movie Tower of Terror for ABC's Wonderful World of Disney. The Showtime series Chris Cross was co-created, written and produced by D.J. It received the CableAce award for Best Youth Series.
D.J. created and produced the Discovery Kids/NBC television series Flight 29 Down. He wrote every episode and directed several. His work on Flight 29 Down earned him the Writers Guild of America award for Outstanding Children's Script and a Directors Guild of America award nomination.
Other notable television writing credits include the ABC Afterschool Special titled Seasonal Differences; the pilot for the long-running PBS/CBS series Ghostwriter; and the HBO series Encyclopedia Brown, Boy Detective for which he received a CableAce nomination for writing.
In print, D.J. also authored the supernatural Morpheus Road trilogy; a whimsical picture book The Monster Princess; and The SYLO Chronicles, a thrilling sci-fi trilogy. He also wrote Voyagers: Project Alpha, the first of a six book science fiction adventure.
D.J.'s newest book series is The Library, a spooky middle-grade anthology about a mysterious library filled with unfinished supernatural tales, and the daring young people who must complete them.
D.J. lives in Southern California with his wife Evangeline and daughter Keaton. They are avid backpackers, scuba divers and skiers. Rounding out the household is a spoiled golden retriever named Casey and an equally spoiled tuxedo cat named Jinx.
WEBSITE: http://djmachalebooks.com/
TWITTER: @DJMacHale
GOODREADS: https://www.goodreads.com/author/show/74046.D_J_MacHale
FACEBOOK: https://www.facebook.com/AuthorD.J.MacHale/
AMAZON | BARNES & NOBLE | BOOK DEPOSITORY
Tour Schedule
Want to learn more about Curse of the Boggin and The Library series? You're in luck. We're just one stop on a two-week long book tour that ends on Halloween! Check out these other blogs, reviews, and more and then check out Curse of the Boggin. Make sure you enter the giveaway!

A REVIEW COPY OF CURSE OF THE BOGGIN BY DJ MACHALE WAS PROVIDED BY THE PUBLISHER AS PART OF THIS BOOK TOUR IN EXCHANGE FOR A FAIR AND HONEST REVIEW. NERDOPHILES WAS IN NO WAY COMPENSATED FOR THIS REVIEW OUR OUR PARTCIPATION. OUR OPINIONS ARE OURS AND OURS ALONE.