The Little Mermaid Signature Collection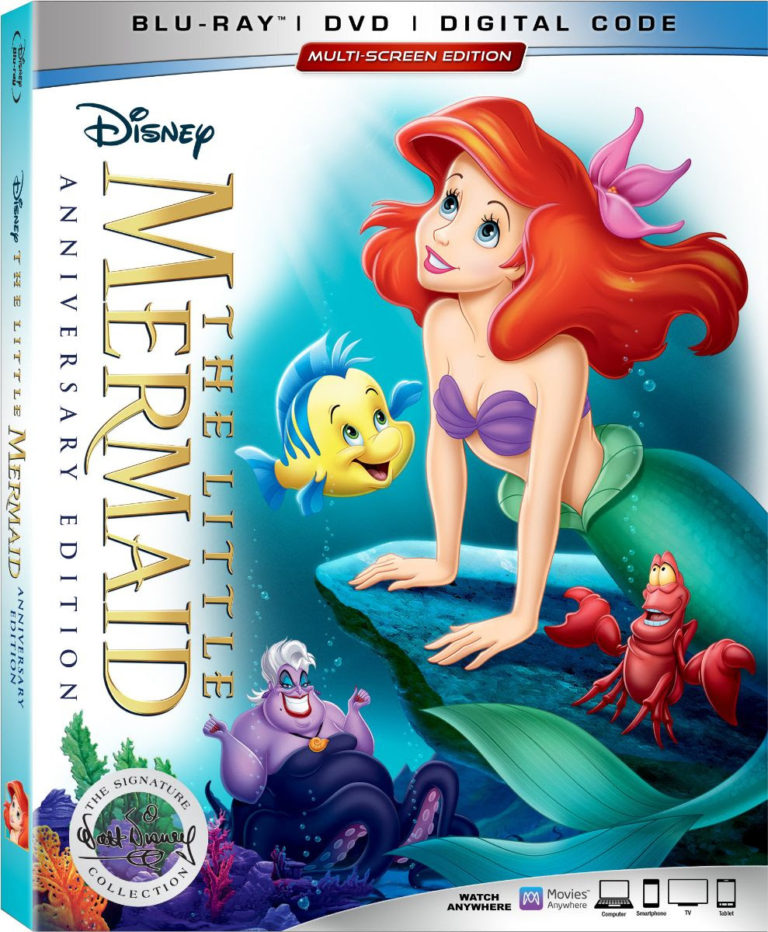 Release Date: February 26, 2019
Cast: Jodi Benson, Christopher Daniel Barnes, Samuel E. Wright, Jason Marin, Pat Carroll
Studio: Walt Disney Pictures
Extra Feature Rating:  ★★★☆☆
Rating: ★★★★☆
Review Spoilers: Low
Amazon | IMDB | Wikipedia | RT
If you had been left wondering which Disney classic would reemerge from the Disney Vault as the next installment in the Walt Disney Signature Collection then the wait is over. Ariel is returning to homes everywhere with this latest release of The Little Mermaid. If you hadn't had a chance to grab this one yet now is the perfect time. And the 'first time' schitck for this release is that you can pick it up in 4K for the first time.
We didn't get a chance to review it in 4K but we did get to take a look at the new blu-ray combo pack. Far be it for me to try and review The Little Mermaid now almost thirty years after it's initial release. It's a classic that needs no introduction. But I will say it's as fun to watch now as it ever was and it's yet another Disney princess movie that I've had the opportunity to introduce the kiddos in my life to recently.
Like many of the Signature Collection releases, if you haven't already got a copy of The Little Mermaid then this is a must-buy. If you're updating everything to 4K, then you should get it. But if you already have a blu-ray and/or digital copy then there isn't much for you to get out of this release.
That said, there are some new special features. And like all the Signature Collection releases so far you can find the vast majority of 'classic special features' from previous releases included as well. That leads to literally hours of special features. (Seriously, there's everything from deleted scenes to sing-along videos to documentaries about a long lost, never-made Little Mermaid park ride.)
The potential downside is that only four of the classic special features are included on the disc. The rest are available only online at Movies Anywhere. Since I tend to watch all my special features on my downtime online anyway I don't mind at all. But for folks who haven't gotten into the digital library scene (do it!) that's a potential let down.
There is a pretty awesome digital
As for the new special features, one of the coolest on-disc featurettes is Alan Menken & The Leading Ladies. It's a pretty awesome fifteen minute sort of roundtable where Alan Menken and various 'leading ladies' from various Disney films (from The Little Mermaid to Pocahontas and more) as they discuss their characters. They talk aout the actual music as well as the process that goes into bringing those characters to life. And, of course, some of them sing! It's so much fun and it's easily the most unexpected featurette. But I can't recommend it enough.
In a similar vein, "What I want From You is… YOUR VOICE" is another really cool one. It's a lot shorter but it shows the original voice actors in the recording studio which super cool. It pairs up well with the digital exclusive, "Part of Your World:" A Look Back, which reflects on the thirtieth anniversary of the film. (It's largely a continuation of the Alan Menken roundtable but it's very much Little Mermaid focused and features footage from the making-of the film.)
For the younger audience, there's #TreasuresUntold which features a couple Disney Channel stars from the Coop & Cami series giving kids some fun facts about the movie.
There's also an a capella version of 'Part of Your World' recorded in an acquarium as well as a sing-along editon of the full film.
You can't ever go wrong with another version of a Disney Classic but this 'Anniversary Edition' Signature Collection release doesn't necessarily add much if you've already added it to your home movie collection. If you haven't, though, now is your chance. It's been a few years since The Little Mermaid was last made available and if you miss it this time around it'll undoubtedly be a while before you can grab it again.
So if you're looking for a wave of nostalgia or have some little ones you want to introduce to Ariel's adventures, pick up The Littler Mermaid – out today on blu-ray combo pack and also in 4K.