Sam said goodbye to The Backstagers from BOOM! Studios this week, while Kylee read through another issue of Hook Jaw from Titan Comics. Renee enjoyed both Jessica Jones #7 and Spider-Man #15 from Marvel comics!
Want to hear more about what we thought about these issues? Read on – and let us know what you thought in the comments below.


Sam's Reads
The Backstagers #8 (of 8)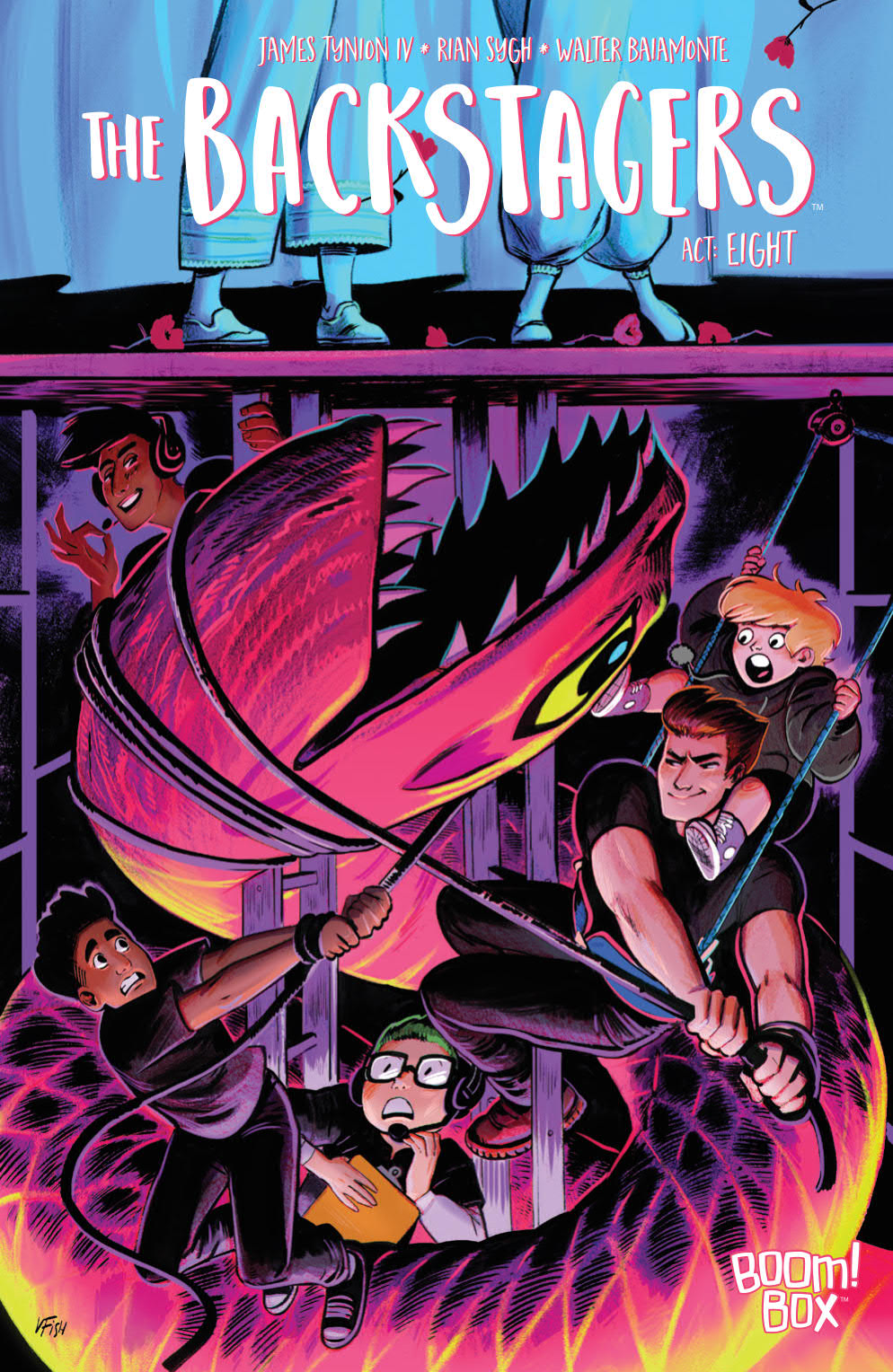 Author: James Tynion IV
Artist: Rian Sygh
Publisher: BOOM! Box
Source: BOOM! Studios DRC
★★★★☆
All good things must come to an end and comic book series are no different. This week we say goodbye to The Backstagers which is finishing up its eight issue run. And, thankfully, the final issue doesn't disappoint. Everything has been leading us up to this moment and the secrets of the backstage finally come to light.
With Kevin missing, the boys and their faculty advisor see their chance to fight back against Polaroid and the darkness threatening to pervert the magic of theatre and escape into the world. Utilizing their skills, the boys manage to help hold things at bay – at least for a little while. Sasha manages to organize the tool mice into a protest against Polaroid thanks to Friendo (who finally makes another adorable appearance). And Jamie and Tim come to the rescue by pulling stage crews from across the state into the boys' backstage. Which you have to admit is pretty cool.
But none of this really seems to do much to end the situation they've all found themselves in. The story turns out to be a lot more personal. Elliot, the faculty advisor once known as Monkey when he was younger, reveals the real fate of the 1980s crew that disappears.
They all were found – all except one. Tommy, the boy Elliot loved, died backstage and Polariod isn't really Tommy but a perverted version of a memory Elliot kept alive through magic. Once Elliot let's go… things to back to their usual, manageable weirdness. The Backstagers are back to work with the blessing of Kevin and Blake – and the magic of theatre has been preserved.
As far as series endings go, this one did not disappoint. I'll miss revisiting the magic of the theatre each month but the story wrapped itself up really well. It's been a great story about friendship, magic, and courage – and one that embraced a diverse cast of characters. As far as I'm concerned Backstagers has been one of BOOM! Studios' best written and best looking books throughout it's publication. (Seriously, that color palette is phenomenal.) It's a book I'll be revisiting and re-reading for a long time to come!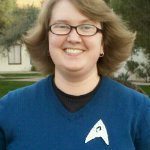 Sam Wildman is a co-founder and co-editor at Nerdophiles.


Kylee's Reads
Hook Jaw #4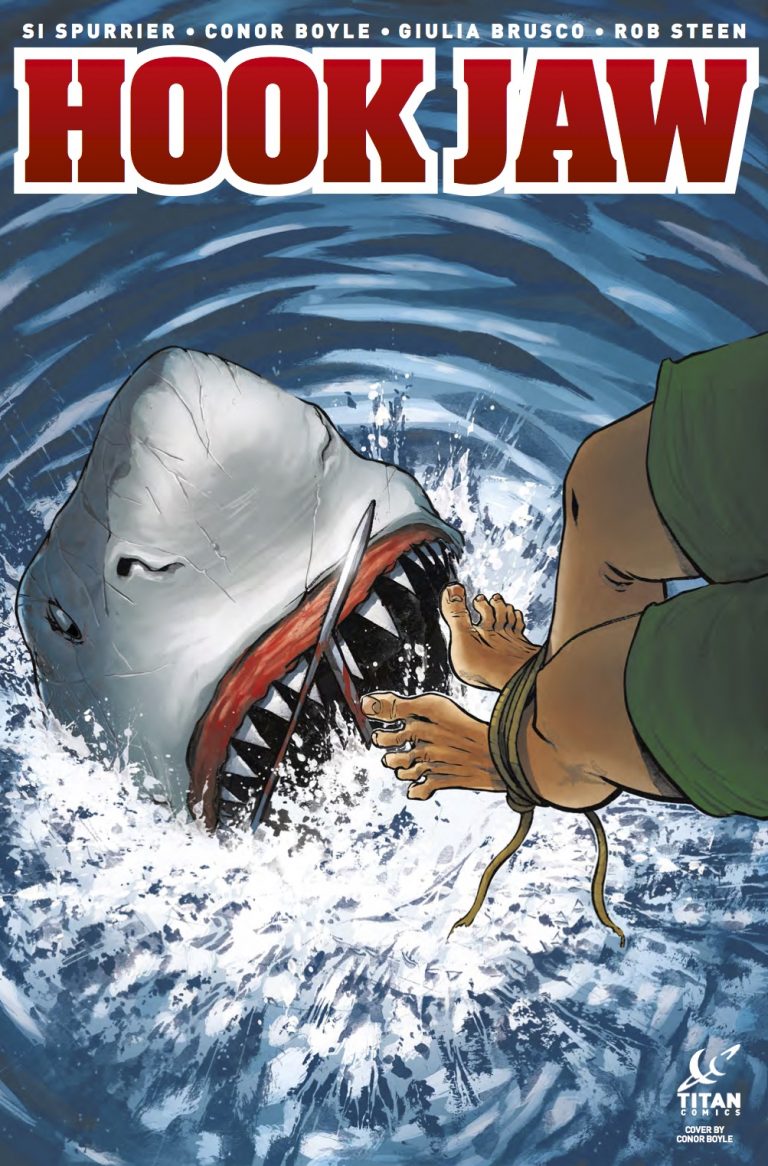 Author: Si Spurrier
Artist: Conor Boyle
Publisher: Titan Comics
Source: Titan Comics DRC
★★★☆☆
We're nearing the end of this tale and Hook Jaw #4 set about shrinking its cast of characters with aplomb. With not one, but two surprising deaths at the hands of Hookjaw and a betrayal that was telescoped from the start, readers are given an even larger overall picture of what would entangle Somali pirates, environmentalist groups, scientists, the military, and the CIA – and the answer has nothing to do with sharks at all.
Conor Boyle saves the issue with some horrifically interesting shark attack scenes. The first of which incorporates panels within panels and utilizes bright colors to contrast the dark ocean and give some truly stunning perspectives to the scenes. The second is a full page spread that also utilizes perspective to give a truly massive feeling and power to Hookjaw. Unfortunately, scenes like this take a backseat to the squabbling of characters whose names I haven't bothered to learn because who cares, there's a massive shark out there!
I want to like Hook Jaw, I really do, but at every turn I'm stopped by an increasingly ridiculous story that plays off of stereotypes in a not-so-great way and seems to focus on how much more talking can be done about the sharks, with everyone chiming in (including the titular shark itself, which… might be the only one I want to stop talking if I'm honest). I've invested this much time in the book, so I'll finish out the story with the next issue, but if you're picking up this book for any other reason than nostalgia, you may find yourself disappointed. And even then…


Kylee Sills is an associate editor at Nerdophiles. Follow her on Twitter @kyleewho.


Renee's Reads
Jessica Jones #7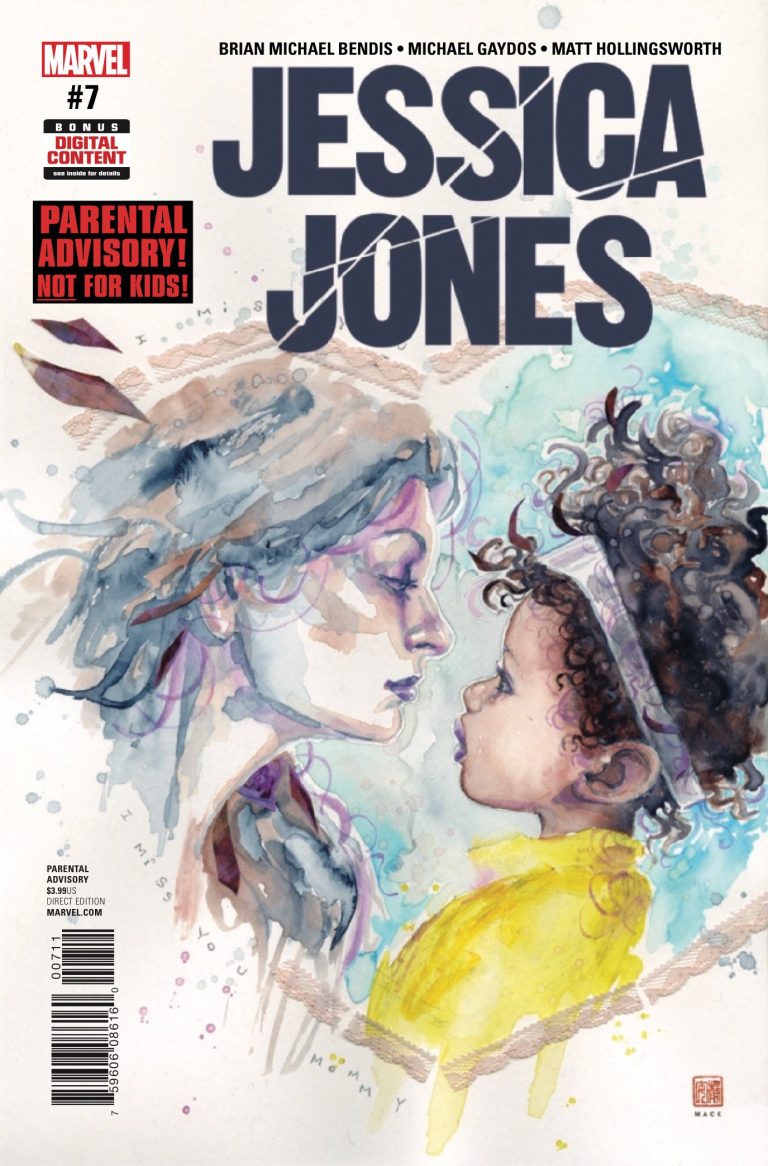 Author: Brian Michael Bendis
Artist: Michael Gaydos
Publisher: Marvel Comics
★★★★☆
This issue opens with Jessica going to the liquor store to drown her sorrows with a bottle. She eventually finds Danny who tells her the location of Luke and their baby. While Jessica is searching for Luke, Maria Hill is fighting an unknown bad guy and is shot and nearly killed. Jessica finds Luke and their baby, and instead of there being another super-tantrum, Luke is happy Jessica is there to help, as he is at a loss and has no idea how to take care of their daughter.
Jessica explains to Luke why she did what she did and explains that she hopes that she didn't mess their relationship up too bad. She explains she couldn't be responsible for a group of kids dying if she can stop it. Jessica goes back home, aand like in life there is no immediate resolution to her relationship. She finds Maria Hill patching herself up in her bathroom. Maria asks her to find out who murdered her and the issue ends.
Jessica Jones never fails to disappoint, and issue #7 delivered. I've always had a soft spot for Jessica and admired her attempts to help the people around her, and her desire to do the right thing, despite the personal demons she constantly seemed to be battling. The fact that the writers of Jessica Jones don't shy away from confronting the readers with Jessica's bad life choices.
Spider-Man #15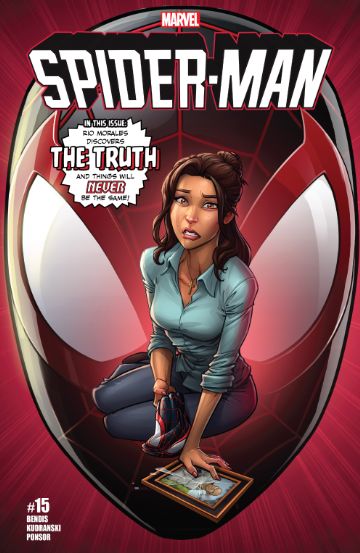 Author: Brian Michael Bendis
Artist: Szymon Kudranski
Publisher: Marvel Comics
★★★★☆
This issue has a touching moment between Miles and Jefferson as they debrief about Earth-65 and the reasons why Jefferson went back to work for S.H.I.E.L.D. Jefferson explains knowing when a person is in love and attempts to get a hold of Rio. Their talk is interrupted by crime and Miles swings into action.
They both arrive at home, and Rio confronts Jefferson and Miles about their disappearance. She's hurt by their lies and secrets and leaves, telling Jefferson that she will just tell everyone that he cheated on her because that is what it amounted to. Miles goes back to school, and Ganke's pseudo-girlfriend continues to defend Spider-Man and his vigilante justice. Miles begins his story about his adventure in Earth-65 and Jefferson receives a phone call from S.H.I.E.L.D terminating his employment and agreement.
Though the Spider-Man and Spider-Gwen arc had concluded, the aftermath has not yet settled for Miles or Jefferson. This adventure managed to bring father and son closer, but also succeeded in alienating Rio from both her husband and her son.
The tricky part of this story for me was knowing that Miles kept this secret from Rio because in a different timeline he watched his mother die, which strained his and his father's relationship. Overall, watching Rio's reaction to discovering Miles and Jefferson's secret was devastating because they kept it from her to save her.


Renee Marriott is a staff writer at Nerdophiles.