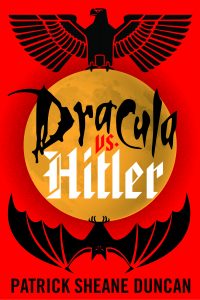 Author: Patrick Sheane Duncan
Release Date: October 25, 2016
Publisher: Inkshares
Genre(s): Horror, War Drama
Review Spoilers: Minor
Inkshares | Goodreads | Amazon

This book caught me off-guard. I was expecting something more akin to
Pride and Prejudice and Zombies
rather than a legitimate war story that just happens to include Dracula.
It is written in a similar format to Dracula with journal entries, military communiques, and chapters from other books included. It even opens with an author's note, asserting that the contents were found in the national archive. Far more complex than the name might imply.
The premise is simple: the spread of Naziism is affecting Eastern Europe, as small bands of resistance spring up. In one area in particular, Romania, formerly known as Transylvania, a certain Professor Van Helsing works closely with the locals to resist the spread of the Nazis. He eventually realizes that far more drastic measures are required if Hitler is to be stopped and so decides to do the unthinkable: resurrect Dracula, who was not destroyed as suggested in the original novel.
With the aid of Jonathan Harker's great grandson and Van Helsing's own daughter Lucy, Dracula is enlisted by the Romanian resistance to fight off the oncoming armies. However, be warned, it takes nearly one-hundred pages before the vampire is even awakened, but it is well-worth the wait.
The best part of this novel is perhaps the characterization of Dracula. He is not written as a one dimensional beast, but nor is he completely absolved of his crimes in "the Book." He is a character conflicted by his own tendencies, and all the more so as his affection for Lucy and his other companions grows. He is deeply considerate when in control of his darker desires, but is also the monster that we know from the original, nearly killing some of his compatriots.
As the story caries along, Hitler, himself, becomes aware of the rumors of a "vampire" in the region and thus seeks him out. Knowing Hitler's obsession with the occult and strange sciences, this seems like an obvious plot point. From here, the book races towards a conclusion, one that leaves the world's fate still in balance (although anyone who knows history will know how long the war carried on).
We see the true nature of these characters and are left with a satisfying conclusion that fits the World War that it is set in. No one walks away from war unscarred, but neither are they left without a glimmer of hope.
For anyone who enjoys a war novel mixed with a little Victorian horror, this book will be deeply satisfying. The battles are explained in the most vivid of details (not surprising given the author's screenwriting credits) and the characters, especially those we know so well from "the Book," are beautifully and brokenly created. Don't let the title dissuade you. There is far more subtly in this story than that.

A REVIEW COPY OF DRACULA VS. HITLER WAS PROVIDED BY THE PUBLISHER IN EXCHANGE FOR A FAIR AND HONEST REVIEW. NERDOPHILES WAS IN NO WAY COMPENSATED FOR THIS REVIEW. OUR OPINIONS ARE OURS AND OURS ALONE.