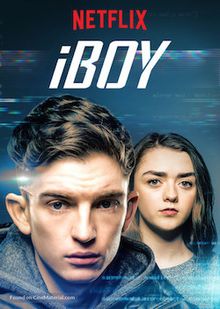 Release Date: January 27th, 2017
Cast: Bill Milner, Maisie Williams, Miranda Richardson, Rory Kinnear, Jordan Bolger, Charley Palmer Rothwell
Director: Adam Randall
Studio: Wigwam Films, Pretty Pictures, Netflix, XYZ Films
Distributor: Netflix, XYZ Films
Genre(s): Action, Crime, Sci-Fi
Based On: iBoy by Kevin Brooks


Rating:

Review Spoilers: Low

IMDB | Rotten Tomatoes | Wikipedia

The title, although a fitting summation of the film, gives off a certain level of tackiness you'd expect to see on a satiric marquee in a b-rate comedy. The film itself betrays that notion. I was actually pleasantly surprised.

The film is a modern-day romance disguised as an action/crime. It tells the story of Tom, portrayed by Bill Milner, who after awakening from a head trauma induced coma finds himself capable of controlling technology with his mind. With all of this newfound power, he makes it his calling to claim revenge on the attackers of his not quite requited love, Lucy.

Now, I know, it may be somewhat of a stretch to believe that having phone fragments embedded in your brain could give you superhuman abilities, but tell me was it any more of a stretch for a boy bitten by a radioactive spider to become a human spider?
What it did right: The dialogue, the pacing, the cinematography and the characters.
So, let's start at the top. The film was paced well and took hardly anytime at all to transition into the main story matter. The dialogue was well written, which served to support the pace between scenes. Each humorous line of dialogue was able to stand on its own and produce laughs from me without tiring me from an inability to summon genuine mirth.
Within the first few minutes, I was hooked. Most of the primary characters felt fleshed out with their own opinions and values, including each of their individual responses to the events they encountered. The characters were also well acted. Fans of Game of Thrones will be pleased to see Maisie Williams playing a role very different from that of Arya Stark. While her character in iBoy is still bold, she lacks much of the tomboyish, sly nature present in Arya Stark.
Williams' character in iBoy, Lucy, receives a just amount of screen time as she goes through interesting character development. She transitions through several reasonable changes in her character. Bill Milner's character, Tom, experiences proper development as well. He begins as somewhat of a wimpy teen, unable to stand up for himself or pursue what he really desires. After the accident, he gains a certain confidence that can only be attributed to his newfound abilities and his strong want to protect Lucy.
Witnessing his every move that brings him closer to being the hero his neighborhood needs is a great ride. The romance and general interactions between Lucy and Tom are deceptively natural. Williams and Milner have a likable chemistry that presents itself strongly on the big screen. The world itself was fleshed out as well, providing context for the environment that the story took place in.
What it did so, so wrong: The story structure.
At some point in the beginning of the third act, it felt as if a few whole scenes were missing. It didn't seem to be an issue with the pace of the story, but rather that the story jumped forward as if more was originally intended to occur in between.
If so, I believe it is very possible, maybe likely, that there were original scenes excluded from the story without the story being altered to make up for them. This turns the third act, which is arguably the most exciting part of a film, into a jarring sequence that seems to be out-of-place. If there were no original scenes excluded from the film and the film was originally written this way, then that makes the film even worse. For the sake of the rest of the film, this can be forgiven, but it is disappointing nonetheless.
Don't get me wrong, iBoy was a great film that I thoroughly enjoyed. There's always the next new spin on a genre or the next re-imagining of a narrative trope and iBoy comes off more as a current film that takes into consideration the state of the world around it and not a cheap film hinging on a fad.
There are several elements that set it apart from the slew of other modern superhero films we have seen in the past few years, among them is the subject that the story covers. iBoy is not just about a young man being blessed with superpowers and saving the day.
It is about a young man trying to acquire redemption for failing to protect the girl he loved in the moment when she needed him most. However, the spotlight is shared. The film is also about a young woman coming to terms with the brutal rape she went through in a place where she thought she would always be safe and learning to live again afterwards. So give it a watch, it's certainly worth it.