Okay, so, we're a week behind on this. We know. We're still getting the hang of things!
Still, this week we've got a lot of really great comics for you guys. We have reviews for fourteen comics courtesy of three of our wonderful staff members. We're looking at some of the best from BOOM! Studios, DC, Dark Horse, Image, and Marvel.
Our only series launching this week is Rebels #1 which is a historical fiction series set during the Revolutionary War, which is definitely worth a look. Also DC's Convergence is starting up and Ashley's picked up a coupe of the latest tie-in issues and The Question and Nightwing and Oracle are at last getting off to a great start. Plus we're taking a look at a slew of awesome offerings from Image Comics.
Did you read any of these issues this week, too?
If so, what did you think?
Let us know in the comments below!


Rebels #1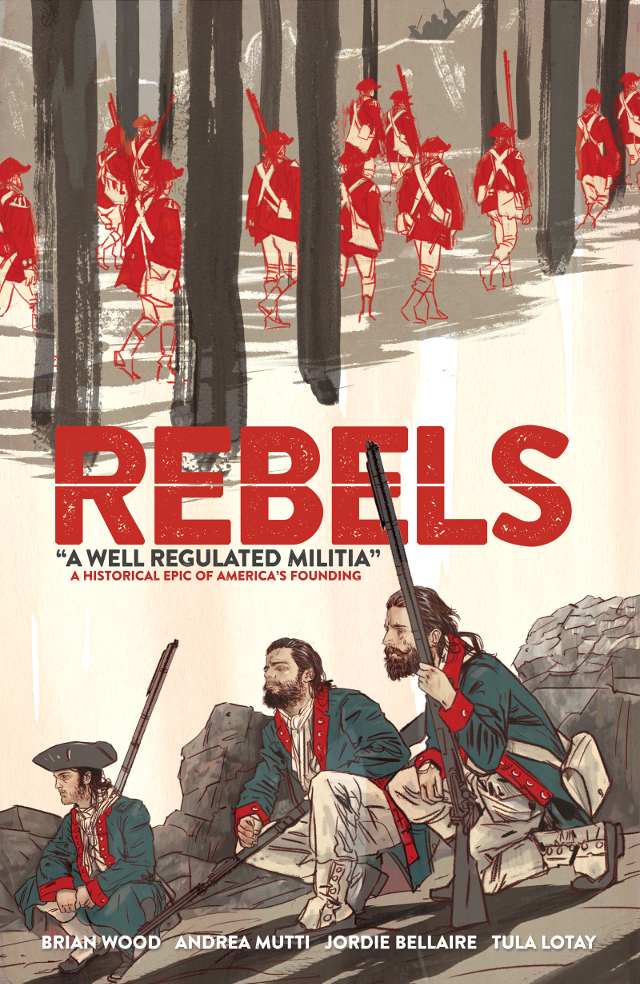 Author: Brian Wood
Artist: Andrea Mutti
Publisher: Dark Horse
Source: Dark Horse DRC
★★★★☆
If you're a history buff then Dark Horse's latest series – Rebels – is going to be the comic series for you. Rebels #1 introduces us to our main character, Seth Abbott, as he goes from disenfranchised farmer to revolutionary all thanks to the tyranny of British rule. It's a very honest look at the Revolutionary War era and it promises to be a fantastic series over all. Mutti's work is inspired and helps to bring it all together.
You can read more about this book in my full review of Rebels #1. I can't wait for the next issue so we can really start to see where this initial six-issue arc is going to take us.
Deep State #5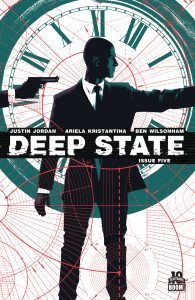 Author: Justin Jordan
Artist: Ariela Kristantina
Publisher: BOOM! Studios
Source: BOOM! Studios DRC
★★★☆☆
Deep State #5 kicks off a brand new story arc involving time traveling bullets and assassination attempts on 'Control' – Branch and Harrow's handlers. A political candidate and two lower level Control employees are shot under mysterious circumstances, no witnesses, no possible location that the shooter could've been hiding, before Harrow fills Branch in on the weapon they may potentially be dealing with.
Beyond the newest conspiracy theory they're tackling, we get hints of Harrow's past as Branch once again asks him if he's 'entire and effective,' which he responds affirmatively in something of a trance. What's up with that? Not to mention the mystery shooter recognizes Harrow – or someone that looks like Harrow? – as Heller. I'm almost more intrigued by Harrow's shadowy past than the cases they take on, but I'm looking forward to Deep State #6 for more answers.
Fables: The Wolf Among Us #18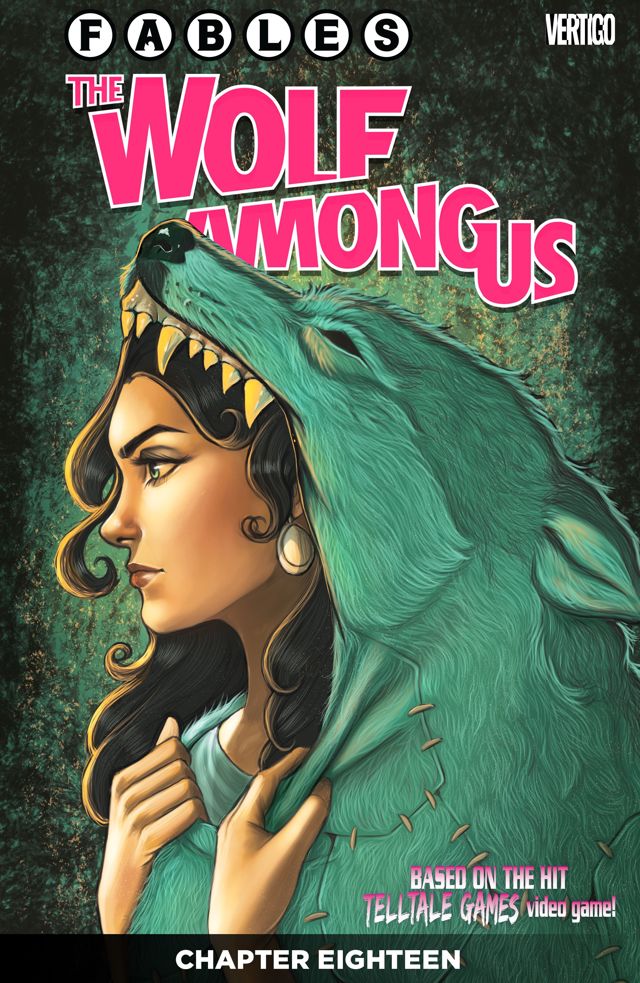 Writers: Matt Sturges and Dave Justus
Artist: Travis Moore
Publisher: Vertigo Comics
★★★★☆
Investigating the death of the bridge troll Lily, Bigby Wolf goes to investigate the Pudding and Pie in this prequel series inspired by the popular Telltale video game. Bigby gets closer to finding the truth while we see flashbacks to the Salem Witch Trials, where young Abigail Williams appears to be taking advantage of Ichabod Crane's love for her.
Still a solid quick read in what has been one of my favorite Fables spinoffs. Curious to see where the Salem Witch Trial subplot goes.
Saga #27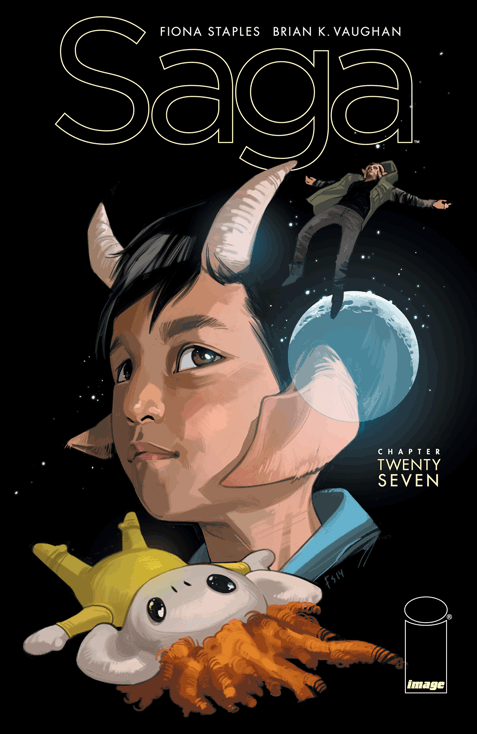 Writer: Brian K. Vaughn
Artist: Fiona Staples
Publisher: Image Comics
★★★★★
In what Vaughn describes as their take on a bottle episode, we see Marko's experience with Fadeaway go horribly awry as he flashbacks and hallucinates his past. Prince Robot IV and Ghüs have to work quickly to save him and Yuma from dying of an overdose.
This series is still so great every month it comes out. A fun look into Marko's past with Ghüs being the best.
Rat Queens #10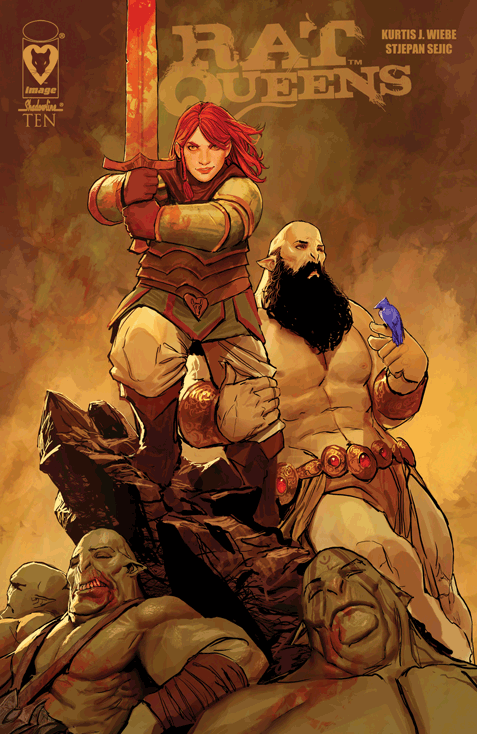 Writer: Kurtis J. Wiebe
Artist: Stjepan Sejic
Publisher: Image Comics
★★★☆☆
Bringing the "Far Reaching Tentacles of N'Rygoth" arc to a close, the Rat Queens fight for their lives to stop the spawn of a tentacle god from leveling Palisade.
The end of this arc felt a little rushed, but there are still fantastic character moments to be had. Sejic's facial expressions are the best and I'm so happy he's on the team going forward.
Spider-Woman #6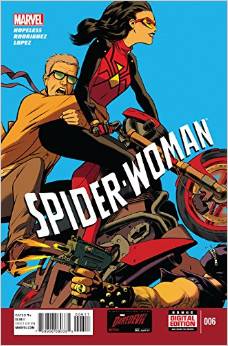 Writer: Dennis Hopeless
Artist: Javier Rodriguez
Publisher: Marvel Comics
★★★★★
Picking up where the last issue left off, Jess goes to investigate the small time villains to follow the trail to who might be posting the ransom for their loved ones.
This series might just fill the She-Hulk/Hawkguy hole in my heart. Beautiful art and colors, snappy writing, and I appreciate that Jess shares a building with She-Hulk and Howard the Duck. Which, speaking of…
Howard the Duck #2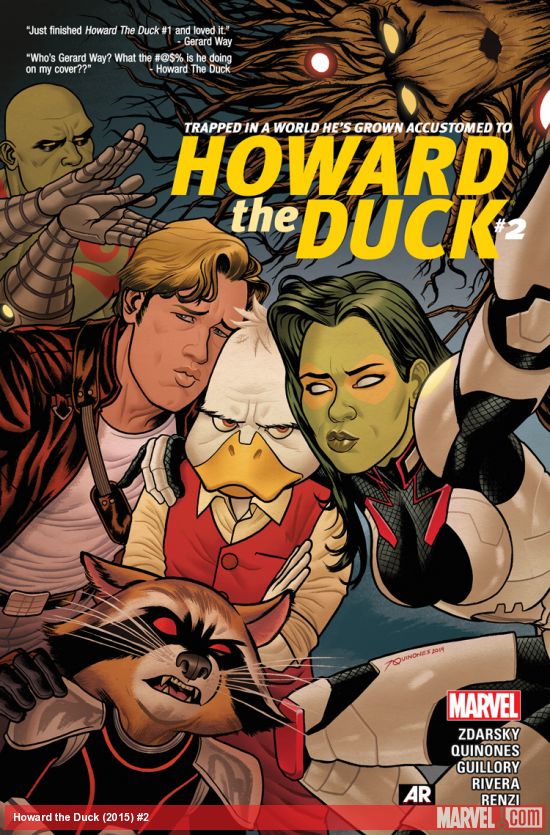 Writer: Chip Zdarsky
Artist: Joe Quinones
Publisher: Marvel Comics
★★★★☆
Out in space, Howard teams up with Rocket Raccoon to escape the Collector before he comes back from CosmoCon. Guest starring the Guardians of the Galaxy and a constant use of the word 'sexy.'
Give Chip a Guardians book or Peter Parker and the Terrible, Horrible, No Good, Very Bad Day. This book continues to be hilarious while also giving some heart to Howard. Also, I nearly died laughing at CosmoCon. There might have been actual wheezing.
All New Hawkeye #2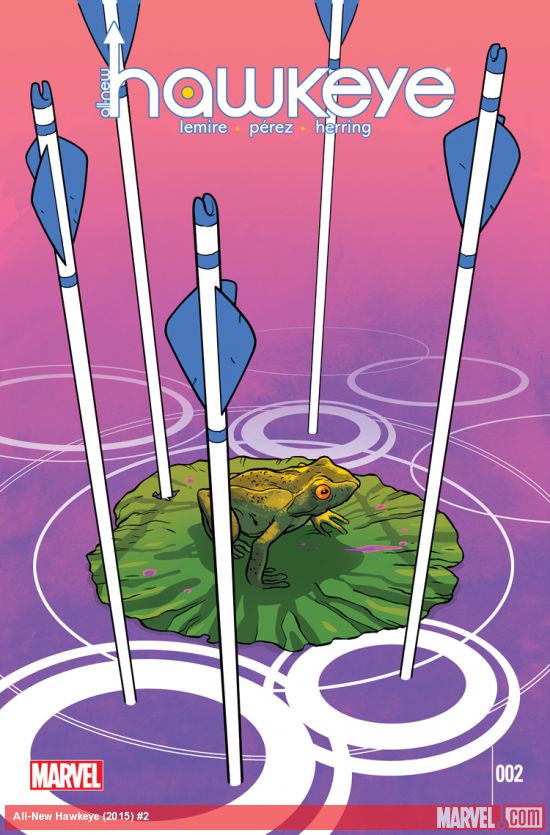 Writer: Jeff Lemire
Artist: Ramon Perez
Publisher: Marvel Comics
★★★☆☆
Picking up on both threads, we see Clint and Kate finish their mission by saving the children from HYDRA, though they seem rather nervous about it, and a flashback to how Clint and Barney ended up running away with the circus.
Okay, I'm starting to feel this one a little more. Art continues to be gorgeous and there's one scene with Clint's deafness that's handled really well. Still not 100% on it though.
Convergence: The Question #1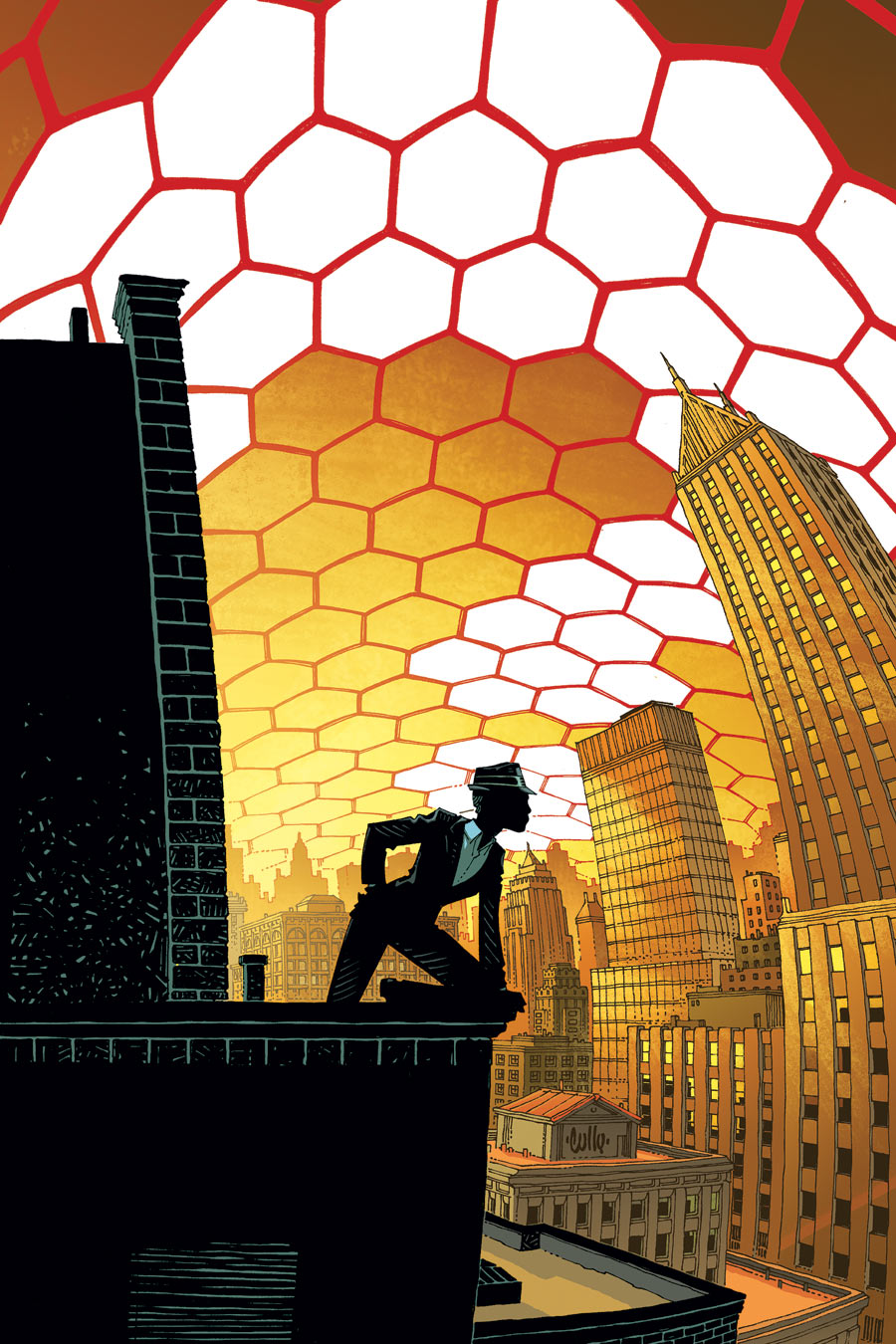 Writer: Greg Rucka
Artist: Cully Hamner
Publisher: DC Comics
★★★★★
On the day the dome comes down for the pre-Flashpoint Gotham, Renee Montoya has to talk Harvey Dent down from the ledge. As the dome drops, an old friend comes back to haunt her.
Crying forever because it's Greg Rucka writing The Question and The Huntress again. No spoilers on the ending, but another character he writes amazingly will be back too for #2.
Convergence: Batgirl #1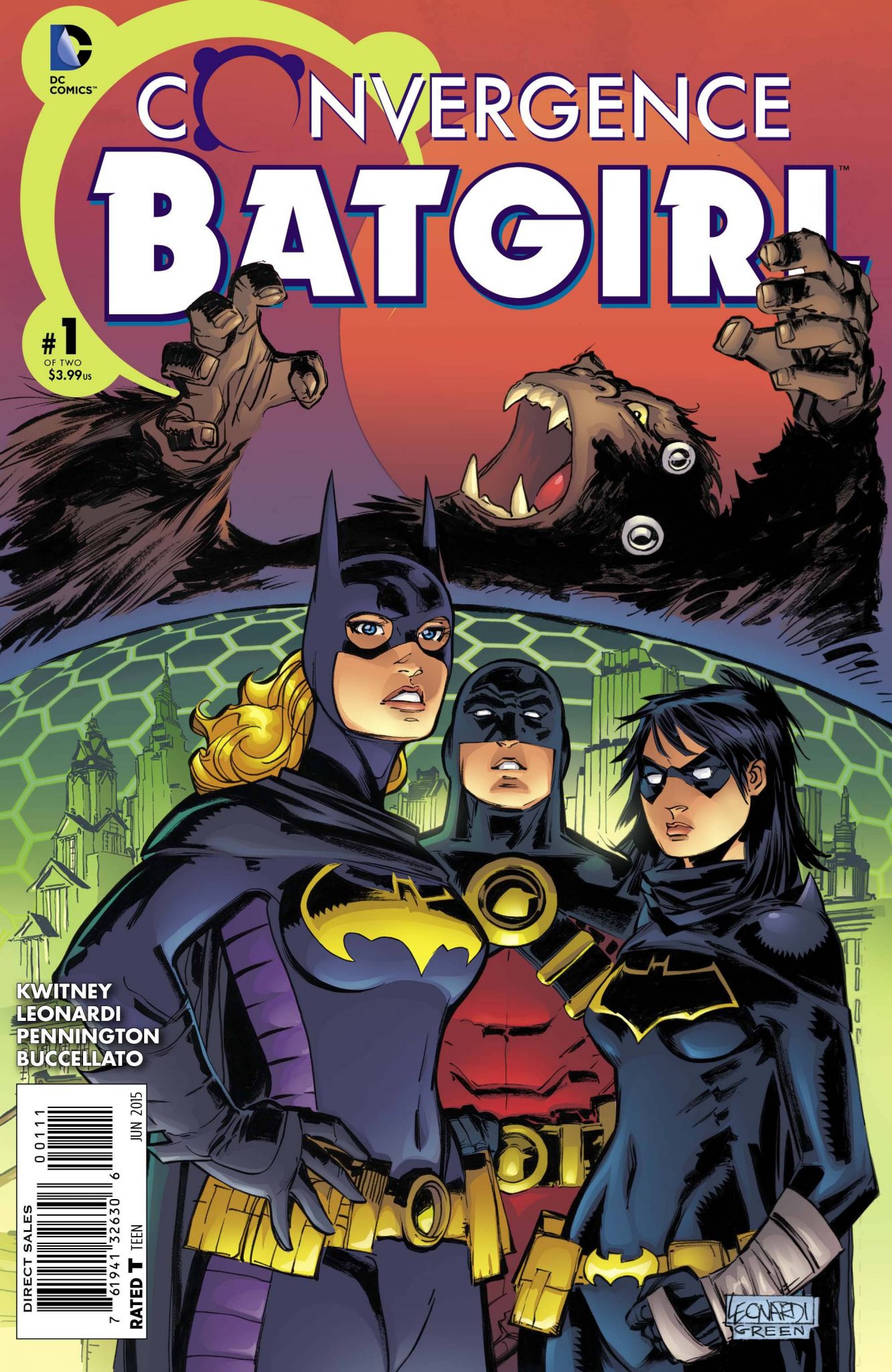 Writer: Alisa Kwitney
Artist: Rick Leonardi
Publisher: DC Comics
★★☆☆☆
The dome drops on Gotham and Batgirl is called back into action. The problem is that Stephanie Brown has not been Batgirl for a while. With help from Black Bat and Red Robin, she manages to jump back into action… sorta.
I wanted to like this one more, but it felt a bit scattershot. It's nice to see Steph and Cass back though. I missed them.
Convergence: Nightwing and Oracle #1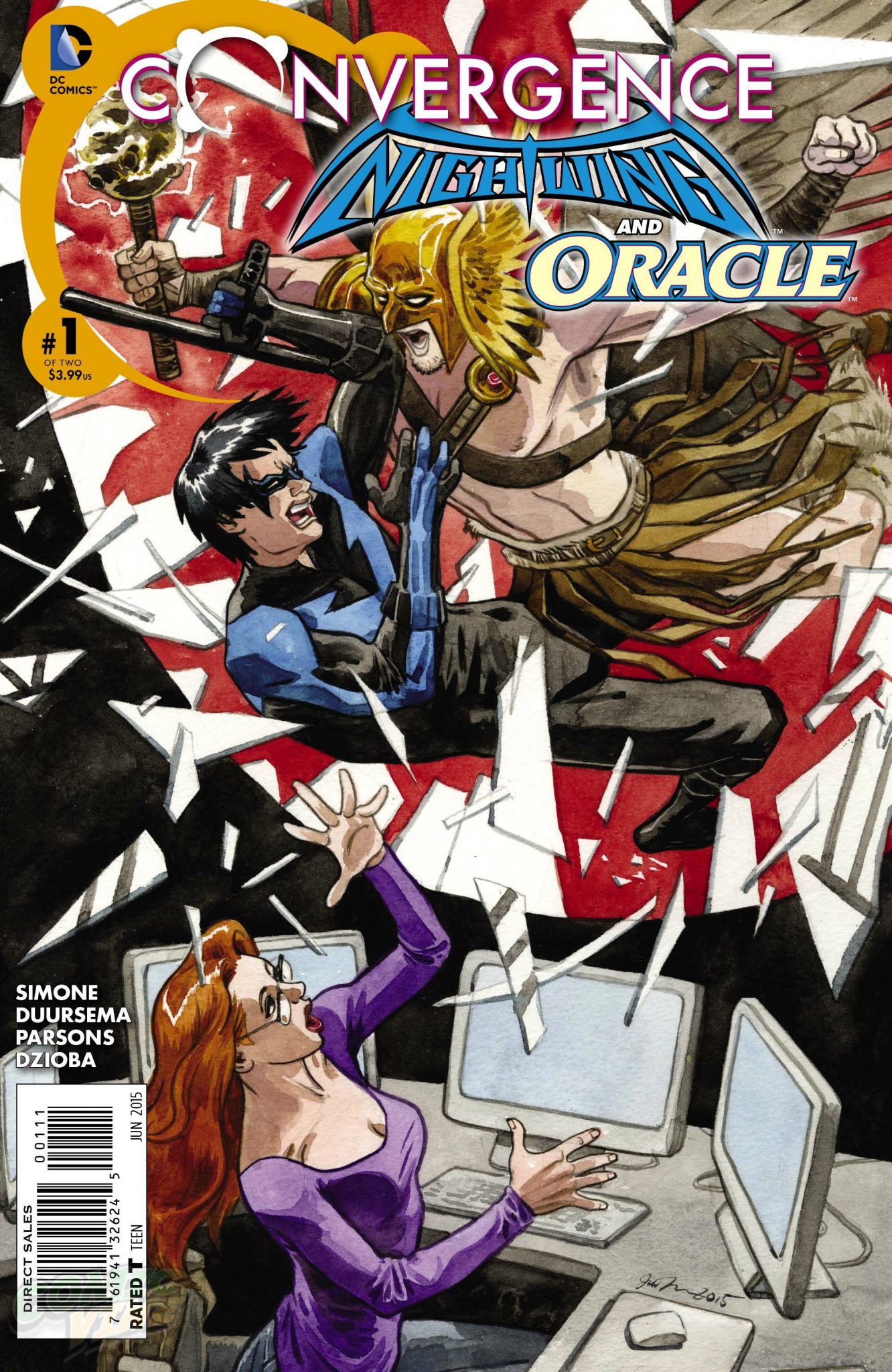 Writer: Gail Simone
Artist: Jan Duursema
Publisher: DC Comics
★★★★☆
Barbara Gordon reflects on life in the dome and how it's wearing her down. When the dome comes down and Hawkman and Hawkgirl attack, Nightwing springs into action without her… or does he?
To quote Nicki Minaj on this… YOU CAN BE THE KING, BUT WATCH THE QUEEN CONQUER.
Captain Marvel #14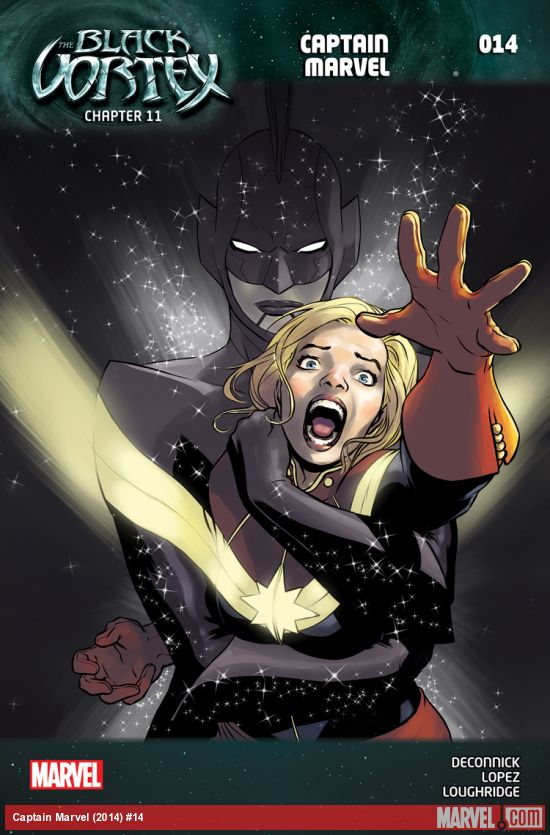 Writer: Kelly Sue Deconnick
Artist: David Lopez
Publisher: Marvel Comics
★★★☆☆
As chapter 11 of the Black Vortex storyline, Captain Marvel flies off with the mirror as part of the grand plan to end it. When she looks into it, will she accept the great cosmic power offered to her?
I was a little lost since I'm not following the Black Vortex story (waiting for trade), but there were moments that reminded me of why the unbreakable Carol Danvers is my girl.
ODY-C #4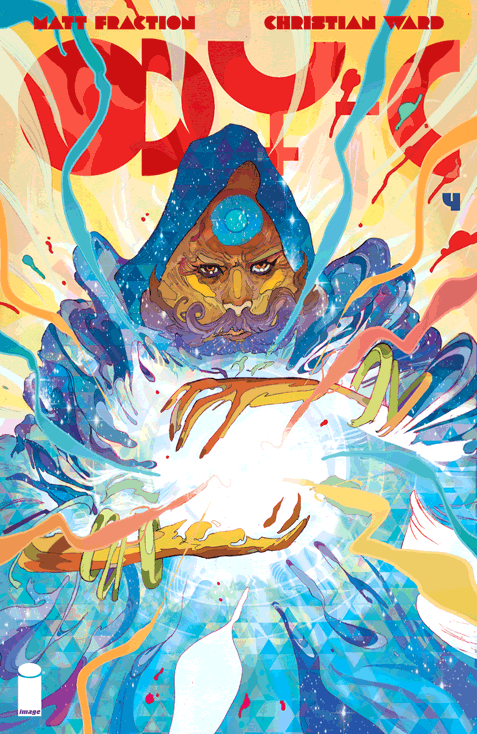 Writer: Matt Fraction
Artist: Christian Ward
Publisher: Image Comics
★★★★☆
Odyssia thinks on her feet to help her and her women escape the cyclops. Is that the end of their troubles? If you read the Odyssey, you know it isn't.
*laughs forever about the twist on 'No body'* Also, Zeus is the definite HBIC.
Southern Cross #2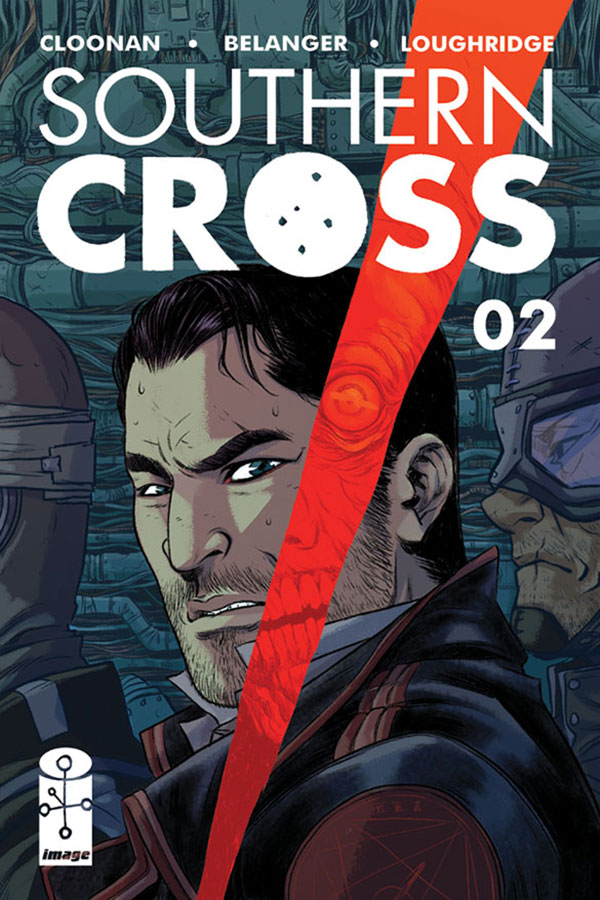 Writer: Becky Cloonan
Artists: Andy Belanger and Lee Loughridge
Publisher: Image Comics
★★★☆☆
When Alex's bunkmate goes missing, she goes on a hunt for answers about her, the Southern Cross itself and what happened to her sister. It's very possible that she won't like the answers she finds though.
I still don't know what's going on with this book, but the suspense is so tightly woven that I feel like I have to keep going. DAMN YOUR BRILLIANCE, BECKY CLOONAN.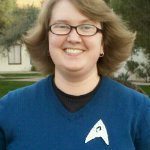 Sam Wildman is a co-founder and co-editor at Nerdophiles. She reviewed Rebels #1 this week and loves the idea of more publishers putting out more historically set comics. Live free or die! @samaside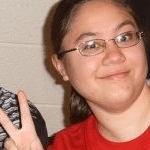 Kylee Sills is an associate editor at Nerdophiles. She reviewed Deep State #5 this week and would probably only use time travel to marathon Netflix shows until she'd seen them all. @kyleewho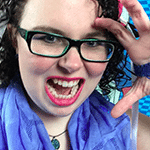 Ashley Leckwold is a blogger and has been with Nedophiles since 2013. This week she reviewed pretty much everything. @misskittyf
Review copies of Rebels #1 and Deep State #5 were provided by their respective publishers. All other issues were purchased for review by staff members (aka Ashley). Featured image from Deep State #5.