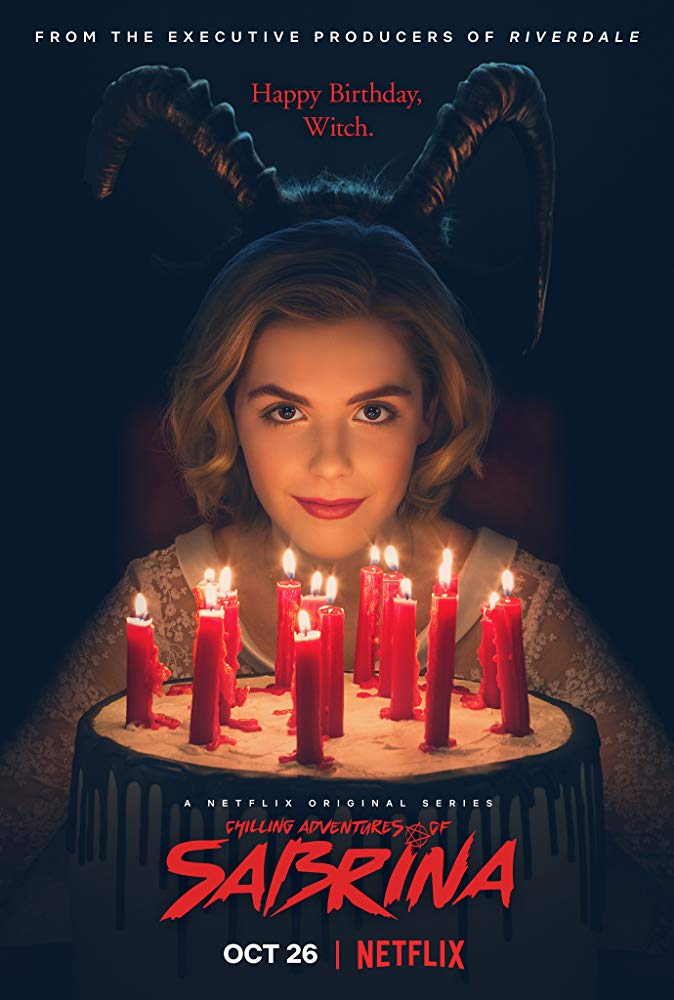 Title: The Chilling Adventures of Sabrina
Cast: Kiernan Shipka, Ross Lynch, Lucy Davis, Chance Perdomo, Michelle Gomez, Jaz Sinclair, Richard Coyle, Miranda Otto, Tati Gabrielle, Adeline Rudolph
Episodes: 10 streaming now on Netflix
Ah, a girl's sweet 16. Sabrina Spellman's birthday has it all: cake, candles, and a blood-ritual pledge to the Dark Lord.
From the very start of The Chilling Adventures of Sabrina, we learn that this is not the heartwarming, Melissa Joan-Hart episodic series full of lighthearted situational comedy. To the show's great detriment, there are no roguish talking cats here (sorry, Salem). Instead, Sabrina is a younger, darker story. It's dripping with pulpy, teenage drama mixed with a dash of horror and mystery. It's the perfect witch's brew of television.
The series follows the half-witch Sabrina Spellman, masterfully played by Mad Men's breakout star, Kiernan Shipka, as she prepares to choose between the mortal realm and the witching world. On the eve of her 16th birthday, Sabrina will have to decide if she forsakes her friends and her human life to become a full witch. Oh, and if she wants to give up her free will and serve the Dark Lord, a.k.a. Satan, for eternity.
Just normal teenage girly things.
While Sabrina wrestles with her dual nature, she also attends high school with her friends and boyfriend. Our new Sabrina is dreadfully, fantastically #woke. She starts a club for women to support women, WICCA (*gags at the name every time*), and she fights injustice wherever she sees it #transinclusivefeminism.
At home, she is mothered by her two well-meaning, if misguided, aunts. The kinder half, Hilda, is a well-meaning witch who wanders rather reluctantly through her obligations to the Dark Lord. Her sister, Zelda, is a macabre delight. Think Morticia Addams with blonder hair.
The series strikes the tone between scary and spooky perfectly. I'm a notorious chicken when it comes to horror, and aside from a few jump scares, this series has been just right for my lily-livered tendencies.
If anything, I want more of Sabrina's witchiness, and less of her high school drama. It's not that I'm not interested in her friends and her chemistry with her boyfriend Harvey. I'm just so much more interested in the lore of the witching world. Everything about the series' supernatural world is fascinating – from its intricate laws to its customs and spells- the witch side of the series leaves me spellbound. Plus, if I wanted a heap of unrealistic teenage drama, I'd watch Riverdale (#Riverdaleburn). I'm only through episode 3 of the series, so I'm hoping that it strikes a balance more on the magical side in later episodes.
You should absolutely watch The Chilling Adventures of Sabrina – it's aesthetically, magnetically bewitching. Perfect for Halloween. With its retro, out-of-time vibe, it's a visual treat. Contrasts between foggy woods and bright red coats, blurry lenses and dripping blood are all lens candy. With a compelling lead and captivating lore to match, it's nothing short of entrancing.