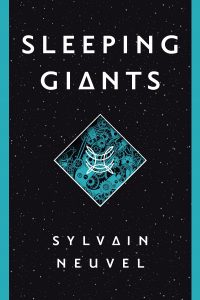 Author: Sylvain Neuvel
Release Date: January 24, 2017
Publisher: Del Rey Books
Genre(s): Science Fiction, Fantasy
Series: The Themis Files
Review Spoilers:
GoodReads | Amazon

A young girl falls through the earth into the waiting palm of a giant hand, changing the world forever. Seventeen years later, that same girl, Rose, is in charge of a top secret mission to unlock the secrets of the hand. Published in paperback format today,
Sleeping Giants
is the first novel in the Themis Files trilogy.
Presented through a series of recorded interviews and personal diary entries, the story unfolds in a relatively linear fashion, skipping forward through reports to convey major events in the characters' lives and the development of the giant alien robot.
Likened to World War Z (the book) because of the format it is presented in, I would put forth a more apt comparison with Pacific Rim. Rose works with a team assembled by the mysterious interviewer – including Kara, a headstrong Army pilot, Ryan, her co-pilot, Vincent, a near-prodigal linguist, and Alyssa, a geneticist who wants to unlock secrets at any cost.
From one single hand springs forth all of the pieces to build the entire robot and a series of slight mishaps gives it pilots and possibly a purpose. There is a lot of political intrigue, spy tactics, and a lot of character turmoil to go around, with the fate of something humanity has never seen before on the line.
Unfortunately, I think the formatting of this book was its biggest weakness. There is only so much information that can be conveyed in this style and only so many ways the author can jam it into what is meant to be conversations. It turns an otherwise interesting book into something of an information dump, though the choice not to provide every single report collected does assist in conveying a movement of time.
There's also a love triangle that feels sort of forced in order to move the story along, but that may be another limitation of the style in which the story is presented. While readers get a sense of the ominous interviewer doing his best to subtly manipulate the rest of the characters to do his bidding, it's hard to grasp onto the other characters in the same way. The interviewer says something vague and the interviewee – whoever it is – generally says something snarky back. Everyone tries to be clever at all times.
That being said, I really did enjoy Sleeping Giants a lot. It's an enjoyable, quick read that does bring about a giant alien robot for humanity to play with. There's something to be said for Rose's hope and curiosity, Kara's determination, Vincent's bettering of himself, and all of the other character's involved in the project. If you can suspend disbelief enough to go along with some of the hand-wavey science and politics put into the book, it's very easy to get lost in the tale of humanity's discovery that we are not alone in the universe.
As it is only the first book in a trilogy, the book does end without a firm wrap-up and there is a crazy cliffhanger that will have readers clamoring for the next book and they won't have to wait long. Waking Gods, the second book, is being released sometime in Spring 2017 so there's no better time to jump into the series than right now!


A REVIEW COPY OF SLEEPING GIANTS WAS PROVIDED BY THE PUBLISHER IN EXCHANGE FOR A FAIR AND HONEST REVIEW. NERDOPHILES WAS IN NO WAY COMPENSATED FOR THIS REVIEW. OUR OPINIONS ARE OURS AND OURS ALONE.