I am thrilled to be hosting a spot on the BRAVELY by Maggie Stiefvater Blog Tour hosted by Rockstar Book Tours. Check out my post and make sure to enter the giveaway!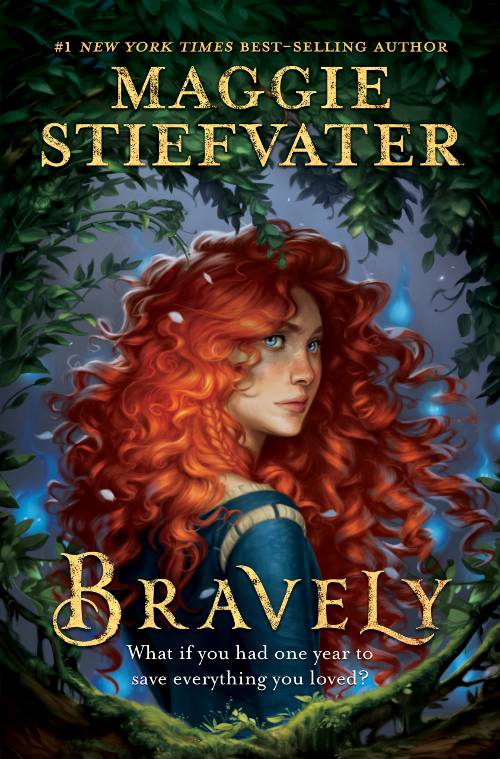 Title: BRAVELY
Author: Maggie Stiefvater
Pub. Date: May 3, 2022
Publisher: Disney Press
Formats: Hardcover, eBook, Audiobook
Pages: 384
Find it: Goodreads, Amazon, Kindle, Audible, B&N, iBooks, Kobo, TBD, Bookshop.org
Set after the events of Brave, Maggie Stiefvater tells a new chapter of Merida's story in Bravely. Like the readers who were first introduced to her and her family as children, Merida is older now. And just as the complacency of her life at home begins to get to her adventure calls again in the form of looming doom for her family and home at the hand of two gods who could spell ruin for everything she knows and loves. Merida strikes out again this time over the course of a year to once again change her fate in an engaging story that will appeal to readers who love Brave fiercely as much as those with just a passing interest.
I passed on a lot of the past Disney offerings that offered up retellings – especially the darker retellings of Disney stories. So I was very excited about Bravely as it would continue Merida's story instead. I wasn't in any way disappointed. Maggie Stiefvater is an incredible author and did a fantastic job with the story. I would love to see more stories like this with other Disney characters: empowering stories about princesses coming into their own and experiencing all new adventures that grow with the readers.
About The Book
What if you had one year to save everything you loved?
ONE PRINCESS. Merida of DunBroch needs a change. She loves her family—jovial King Fergus, proper Queen Elinor, the mischievous triplets— and her peaceful kingdom. But she's frustrated by its sluggishness; each day, the same. Merida longs for adventure, purpose, challenge – maybe even, someday, love.
TWO GODS. But the fiery Princess never expects her disquiet to manifest by way of Feradach, an uncanny supernatural being tasked with rooting out rot and stagnation, who appears in DunBroch on Christmas Eve with the intent to demolish the realm – and everyone within. Only the intervention of the Cailleach, an ancient entity of creation, gives Merida a shred of hope: convince her family to change within the year – or suffer the eternal consequences.
THREE VOYAGES. Under the watchful eyes of the gods, Merida leads a series of epic journeys to kingdoms near and far in an attempt to inspire revolution within her family. But in her efforts to save those she loves from ruin, has Merida lost sight of the Clan member grown most stagnant of all – herself?
FOUR SEASONS TO SAVE DUNBROCH – OR SEE IT DESTROYED, FOREVER. 
Giveaway
1 winner will receive a finished copy of BRAVELY, US Only.
a Rafflecopter giveaway
About Maggie Stiefvater
Maggie Stiefvater is the #1 New York Times bestselling author of The Raven Cycle, the Shiver trilogy, and other novels for young and adult readers. She is also an artist, an auto enthusiast, and a bagpiper. She lives on a farm in the Shenandoah Valley with her husband, two children, and an assortment of fainting goats.
Website | Twitter | Facebook | Instagram | Goodreads | Amazon | BookBub
Tour Schedule
Week One:
Week Two:
Week Three:
Week Four:
Week Five: