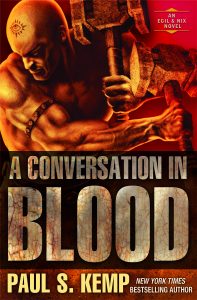 Author: Paul S. Kemp
Release Date: January 24, 2017
Publisher: Del Rey Books
Genre(s): Fantasy
Series: The Tales of Egil & Nix
Review Spoilers: Mild
GoodReads | Amazon

Jumping into a series without having read it from the start can be daunting, but
A Conversation In Blood
welcomes new readers with open arms and quickly immerses them in the rough and tumble, magical world of Egil and Nix – the series' two main protagonists.
Egil is the only priest of a discredited god, while Nix is a roguish thief with only enough knowledge of magic to get them into trouble and not always out of it. They're not-quite-respected business owners who recently found themselves with a lot of downtime after, presumably, the events of the previous book, A Discourse in Steel.
Hints at previous adventures, friends, and foes have me interested in starting the series from the beginning, as A Conversation in Blood does well to cover events without spoiling too much of their outcome. Clearly, something devastating happened to leave Egil and Nix in this state, but the hows and the whys are explored only so far as readers need to know about the plates.
Speaking as a reader whose entry point into the series was A Conversation in Blood, I can say that it was an excellent place to start. While a history with these characters may have given readers the extra nod-and-wink callbacks to previous books, Paul S. Kemp did a fantastic job of bringing new readers up to speed quickly. On some previous mission, one that's left both of our infamous heroes in a slump, Nix picked up some magical plates and when he starts investigating their purpose, the real adventure starts.
The characters really make up the heart of the story, with Egil and Nix's relationship front and center, easily defined by their witty banter and dedication to taking care of one another as only the best of friends can display.
But there's also Tesha, the owner of the Slick Channel, their brothel and frequently there to remind them to toe the line, Gadd, the mysterious and grouchy bartender, Mamabird, who serves to re-center them before the real chaos reigns, and Jyme – an old friend whom I was immediately endeared to despite his true introduction in the book previous. Each and every one of them feel real and intrinsic to the story being told.
After running afoul of a wizard looking to take possession of the plates, Nix, Egil, and Jyme team up on a mission to protect them not only from people who might use them for selfish reasons, but also an abomination that can't be stopped with magic or man-made weapons. While frequently funny, as Egil and Nix can rarely take anything too seriously, their latest adventure pulls at unexpected heartstrings and really does keep audiences breathlessly cheering on their efforts to the very end.
There is a dark humor that underlies most of the book, which ties into the philosophical underpinnings towards the end. Egil and Nix ask some difficult questions, of themselves and of their world, that Kemp handles masterfully with something of a deus ex machina built right into the storytelling.
Fast-paced and entertaining, A Conversation in Blood masterfully blends magic with sword and sorcery in a way that is accessible to readers and might just convert some fans to the fantasy genre. Kemp gives a lot of heart to these characters and doesn't shy away from action and adventure, making for one fun read from start to finish.


A REVIEW COPY OF A CONVERSATION IN BLOOD WAS PROVIDED BY THE PUBLISHER IN EXCHANGE FOR A FAIR AND HONEST REVIEW. NERDOPHILES WAS IN NO WAY COMPENSATED FOR THIS REVIEW. OUR OPINIONS ARE OURS AND OURS ALONE.