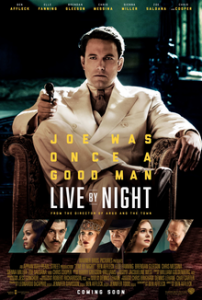 Release Date: January 13th, 2017
Cast: Ben Affleck, Elle Fanning, Brendan Gleeson, Chris Messina, Sienna Miller, Zoe Saldana, Chris Cooper
Director: Ben Affleck
Studio: Appian Way Productions, Pearl Street Films
Distributor: Warner Bros. Pictures
Genre: Crime Drama

Review Spoilers
: Low
IMDB | Rotten Tomatoes | Wikipedia
Live By Night, the latest collaboration between Ben Affleck and author Dennis Lehane tells the tale of Joe Coughlin's lengthy career as a criminal, taking the winding route from the Great War, through the Depression and beyond. Affleck has shown his chops behind and in front of the camera before, but does this entry in that filmography hold up? Let's get into it.
Very briefly, the plot follows the rise of Joe Coughlin from outlaw to organized crime big guy. Beginning in the 1920s Joe is just a street punk, robbing folks but never wanting to be a part of organized crime. He is in love with Emma Gould (Sienna Miller) who, as it turns out, is the mistress of the head of the Irish gang, Albert White.
What transpires is a tale of betrayal and revenge, pursuit of power and in it's own way, for good. It's as much about what Joe is willing to do to come out on top as it is what he isn't. Running the eastern seaboard from Boston to Florida over the span of a decade, the story covers a lot of ground literally and figuratively.
And that may be the flaw to the whole thing. It is a massive, sprawling story featuring numerous interesting characters all with their own subplots that could fill their own movie. Instead, they all inhabit in the limited available space in Live By Night, coming in at 129 minutes.
The setting is handled well, the set ups for each character's arcs are intriguing, literally everything about this movie is something to like, the problem is it gets no time to breathe, to develop. We jump from year to year in speedy manner, rarely seeing any real challenges or relationships develop.
Throughout the film this had me salivating over just how good this could have been as a miniseries. To find out in the credits that it was based on a book was no surprise. We are spoiled now in that we as an audience have seen just how great television can be to tell long form stories, while most of Hollywood has yet to embrace it.
This is the perfect type of property that could have been huge on television. Not all books are, despite what their rabid fan-base would tell you. But this one could have been. Or, if the desire was to make a film that badly then a lot of work should have been done to streamline the plot. I can imagine how difficult a prospect that is, especially given how great each idea is, when you spend your time in the movie not enjoying but thinking, 'This is good, but man it could have been better," it greatly detracts from the film.
Live by Night is a great looking movie, has slick style, solid (enough) story, and interesting characters hampered only by the inherent limitations of a two hour movie. I look forward to a hopeful Director's Cut that goes on for 3 or 4 hours. It could be amazing.