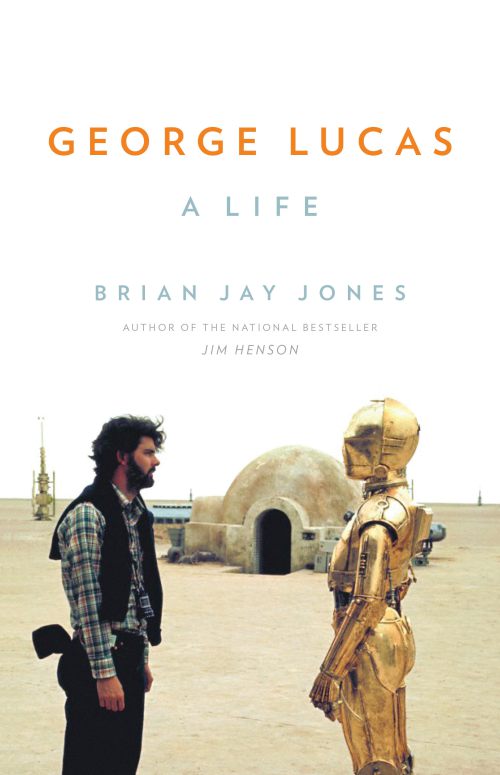 Author: Brian Jay Jones
Release Date: December 6, 2016
Publisher: Little, Brown and Company
Genre(s): Biography, Non-Fiction
Review Spoilers: Low
GoodReads | Amazon

At times both beloved and reviled by the generations of fans he's inspired, George Lucas is nonetheless a pop culture icon. He's an enterprising filmmaker who has challenged and changed the movie industry throughout his decades-long career. He's also, of course, the man who gave us
Star Wars
. While he may have stepped away from the series that made him a household name, his influence on filmmaking, storytelling, and pop culture in general cannot be understated.
But how much do fans really know about George Lucas?
A cursory look of his Wikipedia page can give you the basics but it's hardly in-depth. Despite being a life long fan of Star Wars, I admittedly know very little about the man I've both idolized and questioned skeptically over the years. That was one of the reasons that despite my general preference for fiction, I was very excited about Brian Jay Jones' George Lucas: A Life.
George Lucas: A Life is a fantastic overview of Lucas's life – from his childhood in Northern California through his college days, to his work on Star Wars, and into the modern day. Brian Jay Jones does a fantastic job of weaving together an engaging narrative pulled from interviews, articles, publications, and other resources spanning decades. His writing style is very approachable and he tells his story with great care.
In a nod to the Star Wars franchise, the book is separated into three sections: Hope, Empire, and Return.
The first section focuses primarily on Lucas's youth from his childhood into his early filmmaking days cumulating with the release of American Graffiti. The second section then proceeds into the Star Wars era and focuses a lot on the development of the iconic space opera and the behind-the-scenes work that went into the series. The third and final section, then, explores what came after. There's a bit more of an emphasis on Lucas' personal life, as well as the way his personal life shaped the stories he was telling. It inevitably focuses on the ultimate build up to the prequel series releases and the eventual sale of Lucasfilms to Disney.
In a lot of ways, the third section was the most interesting part to me. Most people know about THX 1138, American Graffiti, Star Wars, and Indiana Jones. But the third section, Return, talks a lot about Lucas' personal projects at Skywalker Ranch, the unique technology they developed, and the very distinct culture that grew up around Luacs' personal sort of retreat.
It also gives some insight into things you may not have thought about before. For example, the darker tone of Indiana Jones and the Temple of Doom owes a lot to Lucas's divorce and personal life while the return of Indiana Jones in the Young Indiana Jones series is due to a passion for finding fun ways to educate.
All in all, the book offers a truly comprehensive look at Lucas and the events and friendships that would shape his life and career. I won't say I gained a new respect for the man because unlike some lifelong Star Wars fans, I never really lost that deep appreciation for the world he gave us. (Though I do admit to sometimes questioning his choices.) But I will say that reading George Lucas: A Life was a thoroughly enjoyable experience. As someone who tends to spend the bulk of their time reading fiction, Jones managed to completely hook me from the first page, which is hard for non-fiction books to do.
With almost a full year to go still before the release of Episode VIII and months before the next Star Wars books are released or Rogue One finds it's way to blu-ray and DVD, George Lucas: A Life is a great way to kill time and gain a new perspective on the man behind the franchise. I highly recommend it to any fan of Star Wars or Lucas' other iconic works.


A REVIEW COPY OF GEORGE LUCAS: A LIFE WAS PROVIDED BY THE PUBLISHER IN EXCHANGE FOR A FAIR AND HONEST REVIEW. NERDOPHILES WAS IN NO WAY COMPENSATED FOR THIS REVIEW. OUR OPINIONS ARE OURS AND OURS ALONE.