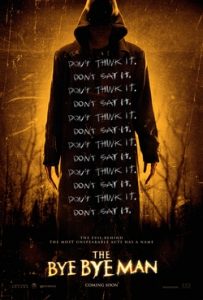 Release Date: January 13th, 2017
Cast: Douglas Smith, Lucien Laviscount, Cressida Bonas, Doug Jones, Carrie-Anne Moss, FAYE DUNAWAY
Director: Stacy Title
Studio: Huayi Brothers Pictures, Intrepid Pictures, Los Angeles Media Fun
Distributor: STX Entertainment
Genre: H…hor… I can't even call it that.

Review Spoilers
: Who cares? Some.
IMDB | Rotten Tomatoes | Wikipedia
No. Just no.
According to The Bye Bye Man twitter (started in November 2015) this 96 minute turd was supposed to release in theaters 6/3/16. Maybe it did? Two tweets later and the release had jumped to 12/9. That stuck around for about two more tweets (and three months) before being pushed back to the absolute only date to guarantee any sort of box office: Friday the 13th.
Even the makers of this movie knew what kind of garbage it was, and I'm honest to god surprised it ever saw the light of day. The director Stacy Title was nominated for an Oscar back in 1994 for her short 'On the Waterfront' with her husband, the writer of the flick (and Survivor contestant) Jonathan Penner. Guess that's where they peaked.
Am I certain this movie isn't the first written by computer script? No, no I am not. That this movie could be entirely made and not a single person question the internal logic of the plot, the scariness of the phrase 'Bye Bye Man' amongst others is shocking.
The acting is laughable, the writing is trite and absolutely silly. The dialogue is cringe inducing. That the conceit of this movie is that no one can say the words 'bye' twice and 'man' in conjunction, lest it summon a boogeyman (with that name) to drive you mad is offensively dumb. The moments scattered throughout where it's clear the writers wanted to have some sort of deep meaning to the movie are ham-fisted. It felt like a foreign knock off of a knock off of a store brand version of It Follows, lacking all the talent and style that saw that film becoming a favorite.
Look at that spooky guy sitting in the library up at the top. That's right this movie features one of my favorite scenes in all cinema, which should have a TV Tropes entry for it: Googling the Monster. Here the character goes to the school library to google 'Bye bye man' which some how shows zero results. Then googles his school library (because they don't have their own resource engine for the homepage) to search their stacks. It's awful.
Honestly, I could go on and on at length about just how much of a dumpster fire of a movie this is but that is an insult to the entertainment inherent in fire and the utility of dumpsters.
Do not go see this movie.